Two Chinese Hackers Targeted U.S. COVID Vaccine Research, Military Intelligence, Prosecutors Allege
An indictment filed earlier this month against two Chinese nationals alleges they repeatedly hacked into computer systems around the world for more than a decade and recently targeted efforts to produce a vaccine for the new coronavirus.
The hackers, who were identified as 34-year-old Li Xiaoyu and 33-year-old Dong Jiazhi, are both wanted by the FBI.
The assistant attorney general for national security, John Demers, announced the charges Tuesday with representatives from the FBI and the U.S. attorney for the Eastern District of Washington. Xiaoyu and Jiazhi both face 11 counts that include conspiring to steal trade secrets and commit wire fraud, identify theft and unauthorized access of computers.
Though the indictment alleges Xiaoyu and Jiazhi both worked on behalf of the Guangdong State Security Department, a branch of China's Ministry of State Security, it also accused them of pursuing their own financial gain during some of the alleges incidents.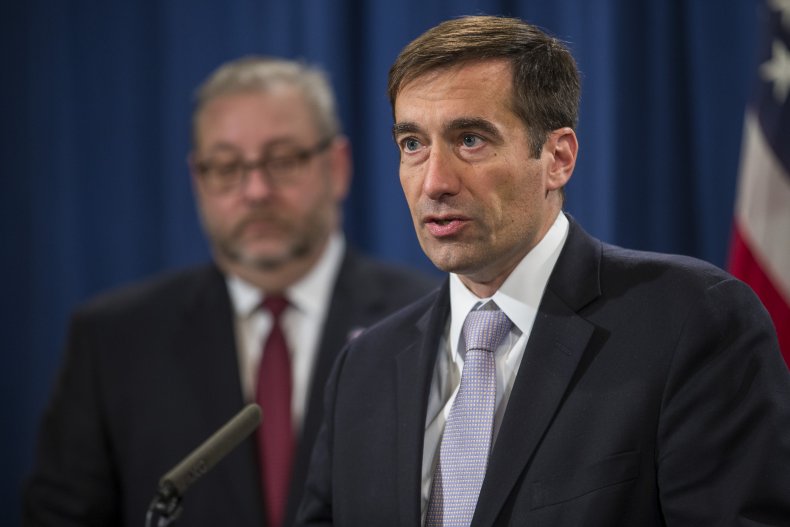 The indictment "highlights how the Chinese government is willing to turn a blind eye to prolific criminal hackers operating within China's borders," Demers said in a statement about the charges.
"China has now taken its place, alongside Russia, Iran and North Korea, in that shameful club of nations that provide a safe haven for cybercriminals in exchange for those criminals being 'on call' to work for the benefit of the state, here to feed the Chinese Communist Party's insatiable hunger for American and other non-Chinese companies' hard-earned intellectual property, including COVID-19 research," Demers said.
The accusations came less than two months after the FBI and the Cybersecurity and Infrastructure Security Agency warned Americans that they suspected China was targeting U.S. companies' COVID-19 research efforts.
Xiaoyu and Jiazhi allegedly hacked into the computer systems of businesses in the tech, education, civil and pharmaceutical industries, as well as military satellite and communications programs. Individuals—including a community organizer in Hong Kong and a former Tiananmen Square protester—were also allegedly targeted.
The U.S. first came across their activities when Xiaoyu and Jiazhi allegedly hacked into U.S. Department of Energy computers in Hanford, Washington, according to U.S. Attorney William D. Hyslop for the District Eastern District of Washington. The indictment said some of the alleged victims were in the U.S. but others were spread out around the world. Xiaoyu's and Jiazhi's latest targets were companies working on COVID-19 research, vaccines, treatments and testing, the indictment alleges.
"The Defendants stole hundreds of millions of dollars' worth of trade secrets, intellectual property, and other valuable business information," the indictment alleges.
The U.S. Department of Justice said in a news release that the "terabytes" of data that the hackers allegedly stole "comprised a sophisticated and prolific threat to U.S. networks."
FBI Deputy Director David Bowdich said in a statement the charges against Xiaoyu and Jiazhi served both to punish their alleged actions and to put the Chinese officials behind them "on notice."
"There are serious risks and consequences for stealing our technology and our intellectual property," Bowdich said. "China is facing a degradation of their image on the world stage as a trusted partner."
Newsweek reached out to the Chinese ambassador to the U.S. but did not receive a response in time for publication.