Two Colorado Students Suspended From School After Handling Toy Guns During Virtual Classes
Two Colorado middle schoolers were recently suspended from their schools in separate incidents in which they both appeared to have toy guns during their online classes.
One boy, 12, is a seventh grader at Grand Mountain, a K-8 grade school just south of Colorado Springs. The other, 11, attends sixth grade at Bell Middle School in Golden, a town just west of Denver.
In both situations, teachers spotted the boys playing with a toy gun during their virtual classes. The Grand Mountain student was attending his online art class on August 27 when his teacher saw him flash a neon green and black toy handgun across the screen, with an orange tip and the words "Zombie Hunter" printed on the side, KDVR reported.
The teacher notified a school administrator, who then suspended the boy for five days. The administrator also called the El Paso County Sheriff's Office to conduct a welfare check, according to a copy of the sheriff's report obtained by Newsweek.
Another Grand Mountain seventh grader was involved in the situation, the report states. It is unclear whether this student was suspended as well.
"It was really frightening and upsetting for me as a parent, especially as the parent of an African American young man, especially given what's going on in our country right now," the boy's father, Curtis Elliott, told KDVR.
According to the sheriff's report, the boys' art teacher "said she assumed it was a toy gun but was not certain." The deputy showed Elliott recorded footage from the Zoom class, which Elliott says shows his son flashing the toy across the school computer screen "for maybe one or two seconds at the most."
"It would've been a lot easier for me to understand if my son had made a threat," Dani Elliott, the boy's mother, told KDVR.
The Elliotts said their son is traumatized after the whole ordeal, particularly by deputies telling him his behavior could have led to criminal charges. They plan to transfer him to a charter or private school instead of allowing the boy to return to Grand Mountain.
"I expressed the seriousness of the situation to [redacted] and explained how this could potentially lead to criminal charges in the future," the sheriff's deputy wrote in his incident report. "I reiterated the importance of being present and paying attention to his education classes while doing the online learning curriculum."
The deputy wrote that his "main priority" was to ensure everyone was safe and that the boys were not playing with a real handgun. Before leaving the Elliotts' home, the deputy wrote that he verified it was indeed a toy gun.
Samantha Briggs, a spokeswoman for Widefield School District 3, wrote in an email to Newsweek that she could not comment on details of the incident or disciplinary action due to privacy laws.
"We follow board policies and safety protocols consistently, whether we are in-person or distance learning. We utilize our School Resource Officers, who are trusted and trained professionals who work in our schools with our children, to ensure safety," Briggs wrote. "Safety will always be number one for our students and staff.
The situation presents a complex issue that many teachers and school administrators will be faced with over the next few months: Can a school hand out punishments, like suspension, for issues that don't physically occur inside the school building?
"The virtual setting is not the same as the school setting," Curtis Elliott told KDVR. "He did not take the toy gun to school. He's in the comfort of his own home. It's a toy."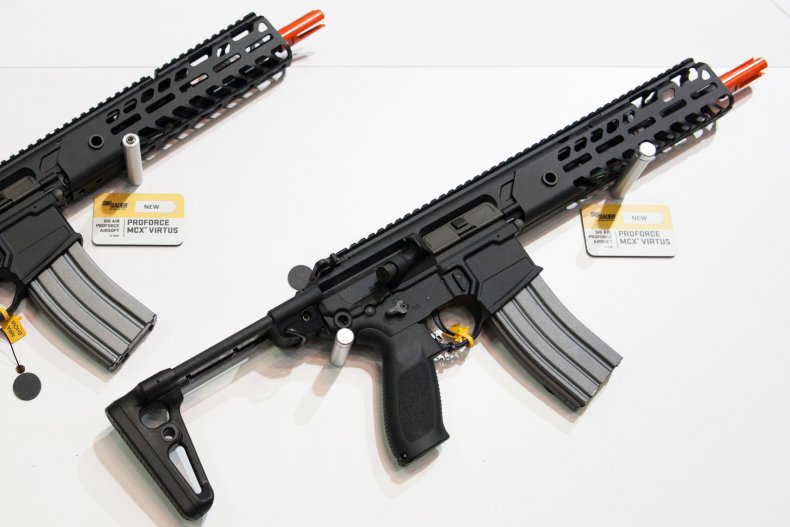 The incident is similar to one that occurred at Bell Middle School earlier this week. Administrators suspended a sixth grader for four days after he played with his Airsoft gun during a Zoom class, KDVR reported.
The 11-year-old said he had finished a quiz early, so he began playing with the Airsoft pistol in his room. A teacher didn't notice it until hours later, when she was reviewing the recorded class.
The boy was "posing with what looked like a toy gun," according to an email written by the teacher and obtained by KDVR. The boy showed the gun and put in the gun clip on camera "for a few minutes," the email states.
A school resource officer reported the incident to the Wheat Ridge Police Department as a request for a welfare check involving a toy gun, according to KDVR.
"We are not saying it was appropriate that he do it. What we are saying is that it is a gross overreaction," the boy's father, Justin Blow, told KDVR.
Blow's son said he understands how serious firearms are and told KDVR that he would "never bring even a toy to the actual school." Because he was inside his own home, he "felt that that was OK," adding that he also believed his computer's camera was turned off.
Cameron Bell, a spokeswoman for Jefferson County Public Schools, confirmed the incident, telling KDVR that "the student has been disciplined according to our district code of conduct."
According to the district's disciplinary policies, when deciding to suspend or expel a student, administrators may consider the student's age, disciplinary history, seriousness of the violation, the threat posed to any student or staff and the likelihood that a lesser intervention would properly address the violation.
Newsweek contacted the district for further comment but did not hear back in time for publication.