Two Days Before Christmas, George Washington's Resignation Shocked the World | Opinion
It was a truly revolutionary act at the end of the Revolutionary War. An act that defied precedent, history and human nature itself. When General George Washington resigned his commission on December 23, 1783, in front of the Continental Congress in Annapolis—America's capitol at the time—he did what no conquering general had done since Cincinnatus back in ancient Rome: He returned to civilian life.
Even King George III was stunned by the news. "If Washington does that, he will be the greatest man in the world," he told American-born artist Benjamin West. King George III was right. It was—and still is—one of the most important moments in American history. To understand the nature of Washington's selfless act, it's best to give some historical context about the moment. And the man.
When Washington was appointed commander-in-chief of the American forces in 1775, he was put in charge of an army that didn't exist. One he'd have to create and train almost from scratch. "There wasn't much of an army, and there wasn't really anybody in the American forces who had ever moved large bodies of troops around before, and the British were very good at that, and that showed in the early battles," explained Larry Arnn, president of Hillsdale College, one of the few colleges in America that requires the study of our nation's founding. "But he had a grand strategic sense, and that sense was that this is a big old country, and they are going to have a hard time subduing it. And so one of his aims was to preserve his army, and he did manage to do that."
That was no small task, given the circumstances, Arnn added. "Congress wasn't paying them because it didn't have any money. And it didn't have any money because the states wouldn't give it any money, although they promised to. So most of Washington's career in the Revolutionary War was a tremendous mess."
Washington's selflessness and sacrificial service were as critical to his army's success as his perseverance, grit and strategic talents.
"He lived with the troops, and he was away from home for years and years, and he loved his home," Arnn noted. "He was altogether away from his home for close to nine years, and he missed it and wrote lots of letters about it, and he suffered with the troops. And he kept it together. He kept his army together. And he made it very hard for the British to win, because they really had to conquer the land."
The fighting finally ended when British General Charles Cornwallis surrendered at Yorktown in October of 1781. But the official treaty between the United States and Britain—with John Adams, Benjamin Franklin and John Jay doing the negotiating—would not be signed until September 1783.
Not long after the Treaty of Paris was signed, Washington headed to New York City to share a personal farewell with many of the men he'd fought side by side with for years.
Soon thereafter, he proceeded to Annapolis to make history in what is now Maryland's Old Senate Chamber. It was an emotional speech, according to those who were present. David Howell reported "a most copious shedding of tears," and James McHenry noted that "[Washington's] voice faltered and sunk," according to MountVernon.org, the official website of Washington's impeccably preserved home.
It was a short, beautiful speech, which ended with these words:
"I consider it as an indispensable duty to close this last act of my official life by commending the interests of our dearest country to the protection of Almighty God, and those who have the superintendence of them to his holy keeping. Having now finished the work assigned me, I retire from the great theatre of action, and, bidding an affectionate farewell to this august body, under whose orders I have so long acted, I here offer my commission, and take my leave of all the employments of public life."
"It's this final action by him that makes him the most respected general in history, at least for me," explained Lieutenant Colonel Sean Scully, academy professor and American division chief at the United States Military Academy at West Point.
"Almost everything he did was the first thing any American had done in that position, and most significantly, he always viewed himself as a servant of the Continental Congress," Scully continued. "He never attempted to usurp their power, and he realized that for the revolution to be true to its values, its top military commander had to remain below those people elected to represent the American cause. It's this commitment to the subjugation of the military to the civilian government that is Washington's greatest legacy, at least to military officers like myself."
That notion—that generals in this country serve us—was and still is a revolutionary one. Washington practically invented the idea of a civilian army that serves at the request of its duly elected leaders.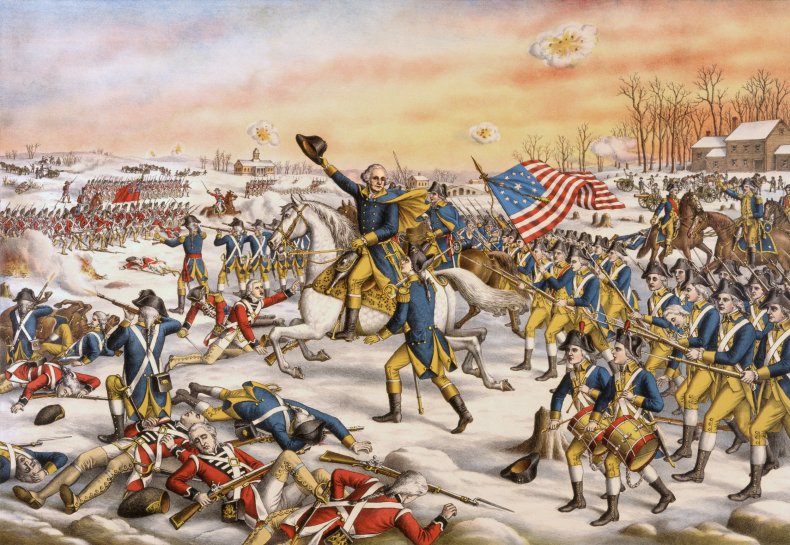 Perhaps no writer has written more—and better—about our nation's founding than David McCullough. He has provided some great insight into the importance of Washington resigning from the heights of military power.
"If there's a message in Washington's life, it's a willingness to serve, and not just talk about what you're going to do. But to act. It takes both. Absolute selfless service to country, in war and peace. For no pay. Nothing in it for him," McCullough has said. "And then when he gets the ultimate power, as almost nobody could imagine, he gave it up. Willingly. Of his own choice. And he was the conquering hero, and could have been anything he wanted: czar, king potentate, whatever—he could have made the presidency into a totally different kind of office. But he relinquished power and said, 'No, I'm going back to Mount Vernon.'"
McCullough wasn't finished.
"His picture, really should be back in every school room as it used to be," he implored. "This isn't ancestor worship. This isn't old fashioned history. This is reality. This is truth. To be indifferent to people like Washington, to be uninterested in people like Washington, is really a form of ingratitude. We ought to be down on our knees every day thanking God we are a part of this country, and we ought to know about the people who made it possible, and thank them in effect by showing interested in them. In their world. In their time."
When American painter John Trumbull learned of Washington's selfless act, he described it as "conduct so novel, so inconceivable to people, who, far from giving up powers they possess, are willing to convulse the Empire to acquire more."
Trumbull immortalized that fateful day in Annapolis. His painting hangs in the Rotunda of the Capitol, alongside other scenes of historic significance, including Trumball's own The Signing of the Declaration of Independence.
"Who controls the past controls the future," George Orwell wrote in 1984. Those words were true then, and they're truer now. As progressive revisionist historians take aim at our nation's founders—with The New York Times' "1619 Project" the most notable example—it's more important than ever to tell this important story about Washington anywhere and everywhere we can.
The America we know is unimaginable without Washington's selflessness, his service—and his humility two days before Christmas back in 1783.
Lee Habeeb is vice president of content for Salem Radio Network and host of Our American Stories. He lives in Oxford, Mississippi, with his wife, Valerie, and his daughter, Reagan.
The views expressed in this article are the author's own.