Two Dead, Dozens Injured and More Missing After Burst Dams Devastate Southeast Brazil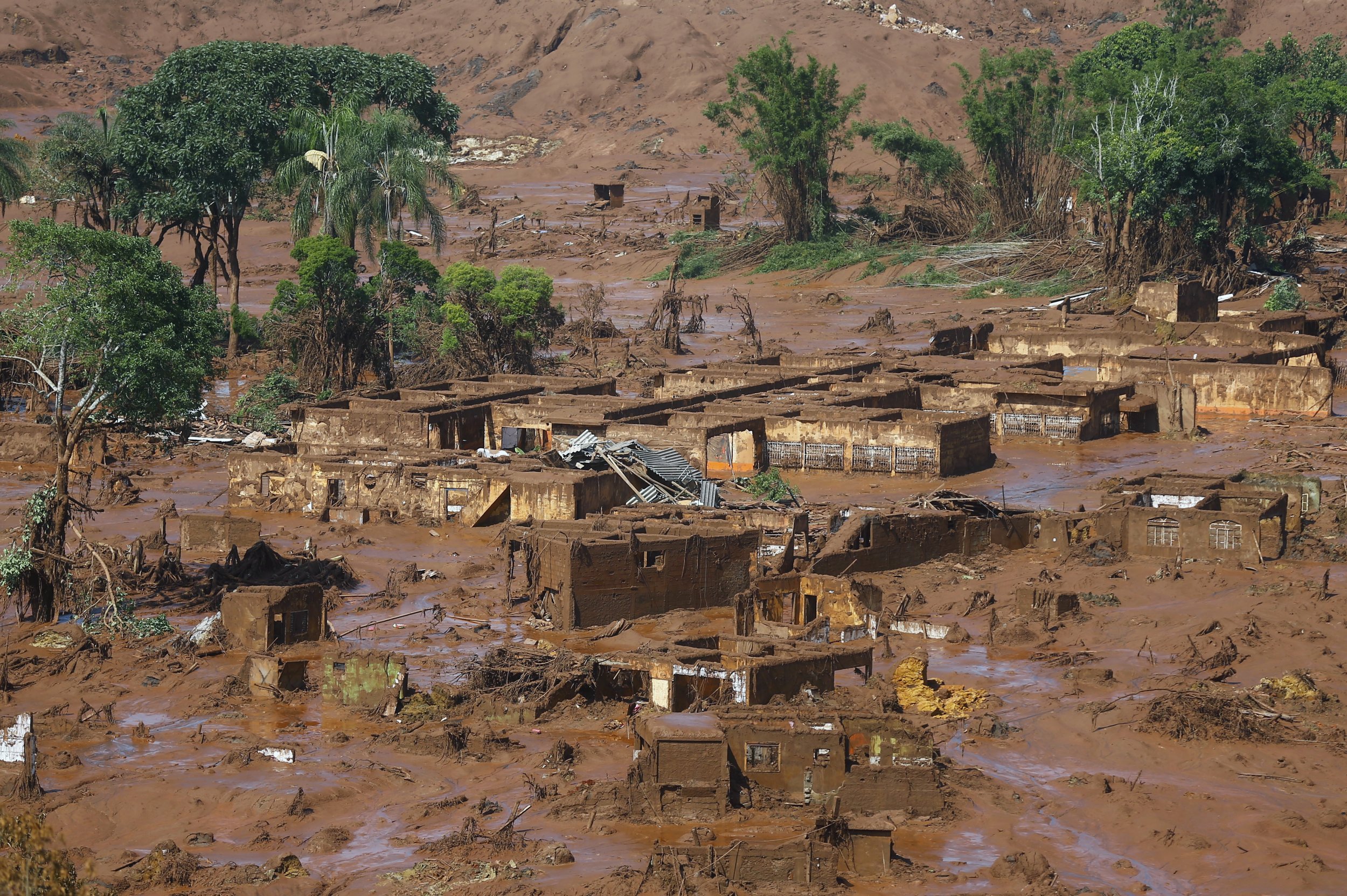 At least two people were killed and 30 others injured after two dams collapsed at a Brazilian iron ore mine, officials said on Friday, as rescuers searched for the missing under mud and debris from colossal floods that devastated a village.
Mine operator Samarco's chief executive officer said a tremor in the vicinity of the mine may have caused the dams to burst Thursday afternoon, but that it was too early to establish the exact cause. The company said one of the dead was a mine worker.
Firefighters who rescued 30 injured from the village of Bento Rodrigues put the toll at two dead and said the count was likely to rise as pouring rain slowed their search and mudslides knocked out roads and cell towers. The massive floods hit at least six villages.
"I heard screaming and saw the water coming fast, about 15 to 20 meters high (49-66 feet)," said survivor Antonio Santos, a construction worker who was at home when the dams broke. Bento Rodrigues is 150 km (93 miles) southeast of Belo Horizonte, Brazil's third largest city and the capital of the mining state of Minas Gerais.
"Within 10 minutes the whole lower part of the village was destroyed, about 80 percent of it," he said in a gymnasium crowded with survivors in the nearby city of Mariana.
Santos said he knew of four people who were swept away, including two children and two adults in their 50s.
Firefighters said they did not know if they would find all of those swept away by the wall of water released by the successive bursting of the two dams holding iron ore tailings and waste from the adjacent mine.
Television footage from the scene showed Bento Rodrigues, population 600, devastated by the fast-moving floods that tore off roofs, leveled trees and swept away cars. The floods extended as far as the town of Barra Longa, 80 kilometers (50 miles) away. The town was partially underwater.
Hundreds of families were evacuated from the area after escaping to higher ground, Duarte Junior, the mayor of Mariana, 25 km (16 miles) from the mine, told television channel GloboNews after declaring a state of emergency on Friday morning.
Samarco, a joint venture of BHP Billiton and Vale said it had no date to restart the 30,000-tonne-per-year mine and was evaluating whether to declare force majeure to allow it to break delivery contracts.
The head of emergency planning at Samarco, the joint venture company that runs the mine, told GloboNews of reports of seismic activity in the area in the hour leading up to the incident.
The University of Sao Paulo's seismic center reported four weak tremors near Mariana and the neighboring town of Ouro Preto in the hour before the disaster. The center recorded tremors magnitude 2 to 2.6 before the dams burst, but said it could not say they caused the disaster without more extensive research.
CEO Ricardo Vescovi said Samarco had been working on the drainage system for the dams. On Thursday, there was no sign of a breach immediately after the tremor, he said.
STOCKS, BONDS HIT
The collapse paralyzed operations at the mine, a joint venture between Vale and BHP Billiton, the world's top iron ore miners, and raised fears of an expensive cleanup.
Shares of Vale were off 5.2 percent in Sao Paulo trading and BHP Billiton dropped 5.7 percent in London.
Samarco's 4.125% 2022 dollar bonds dropped by more than 10 points on Friday before recovering slightly. By mid-morning, they were bid at a cash price of 75 cents to the dollar, down from an average of 82 cents to 83 cents earlier in the week, according to MarketAxess data.
Analysts at Clarksons Platou Securities said on Friday that the likelihood of a lengthy stoppage at the Germano mine, which accounts for about one-fifth of seaborne pellet market, could lift iron ore prices. Samarco produces 30 million tonnes per year of pellet, used to make steel.
While Samarco shut down production immediately, it was not clear how long the disaster would keep the mine from operating and what the impact would be on supplies. Iron ores prices were not affected and continued to fall on Friday.
Pellet prices have plunged by one-third this year to their lowest in six years amid a global glut and waning Chinese demand.
Samarco officials said on Friday the Santarém dam in the Germano complex had collapsed along with the rupturing of the Fundão dam on Thursday. The firm said it was too early to know the reasons for the disaster or the extent of carnage.
The dams had valid licenses from environmental authorities, who last inspected them in July, according to Samarco. The reservoirs are composed primarily of sand and inert tailings, a mining waste product of metal filings, it said.
Tailings ponds, masses of finely ground waste rock mixed with water left over from extracting more valuable minerals, can contain harmful chemicals, adding to fears of potential contamination of the nearby Gualaxo do Norte river.
Samarco said there were no chemical elements that were health risks.
Samarco's iron ore is transported down a slurry pipe from Germano to Espirito Santo, where it is turned into pellets and shipped to customers including the Libyan Iron and Steel Co (Lisco), one of North Africa's biggest steelmakers.
It was the second major tailings dam disaster in Minas Gerais in 12 years. In 2003, 1.2 billion liters of waste from a tailings dam at a closed cellulose mill broke, flooding local rivers, cutting off fresh-water supplies to more than 600,000 people, and killing fish all the way to the Atlantic Ocean.
Two Dead, Dozens Injured and More Missing After Burst Dams Devastate Southeast Brazil | World