On October 8, New York health officials announced that a Bronx teen died following complications from a vaping-related illness, marking the state's first death in a national epidemic. Less than 24 hours later, the Utah Department of Health released a statement confirming that state's first vaping related fatality.
In both cases, the victims were under 30 years old.
A press release from the Utah Department of Health reported that the Utah resident vaped THC, a chemical contained in marijuana, prior to their death. The UDOH tells Newsweek that the person was not hospitalized.
According to the Centers for Disease Control, over one thousand cases of lung injuries related to electronic cigarette use have been reported. In 80 percent of cases, the victims were under 35 years old, and 37 percent of the sickened were 20 years old or younger.
While many use e-cigarettes as a less harmful alternative to smoking regular cigarettes, the recent illnesses have demonstrated the importance of further investigating the potential dangers of vaping. In August, New York's health commissioner, Dr. Howard Zucker, stated, "While many people consider vaping to be a less dangerous alternative to smoking cigarettes, it is not risk free."
In a statement Wednesday, UDOH state epidemiologist Dr. Angela Dunn commented, "This death is a sad reminder of the severity of these unexplained illnesses."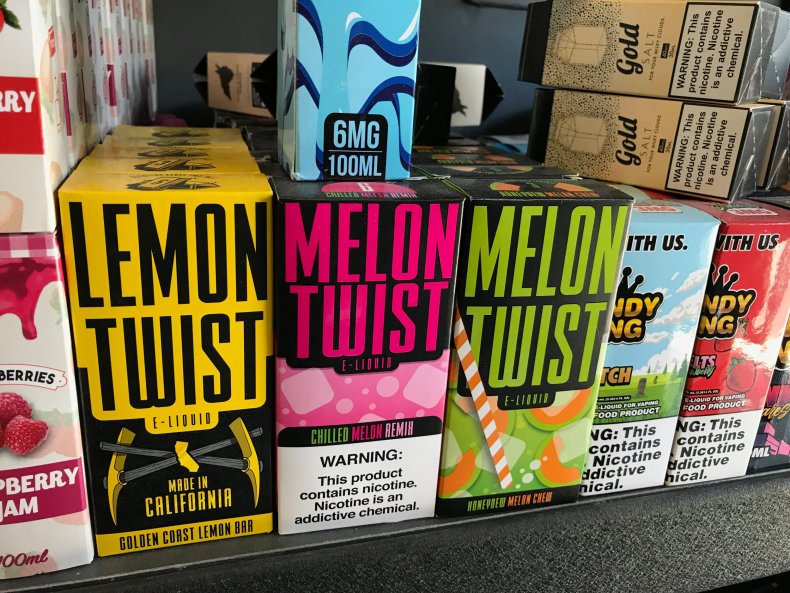 Recent legislative efforts surrounding the sales of e-cigarettes targets the sweet and fruity flavors that companies often advertise and how teenagers and young adults are seemingly targeted by them.
In March, the Stop Appealing Flavors in E-Cigarettes for Kids (SAFE Kids) Act was introduced by Senators Dick Durbin and Lisa Murkowski. Bolstered by bipartisan support, the bill would place strong restrictions on e-cigarette flavors to deter companies from encouraging children to try vaping.
On Tuesday, the day the first New York vaping fatality was announced, Senator Chuck Schumer, one of the SAFE Kids Act's co-sponsors, spoke about the dangers of vaping at Long Island's Great Neck South High School.
While the Senate prepares to debate the SAFE Kids Act, New York state legislators have been working to ban the sale of flavored vape products within their jurisdiction. So far, those efforts have been unsuccessful. On October 3, an appellate court ruled that e-cigarette manufacturers could continue to sell their flavored products within the state.
In a statement following the ruling, Zucker wrote, "It is undeniable that the vaping industry is using flavored e-cigarettes to get young people hooked on potentially dangerous and deadly products. ... While the court's ruling temporarily delays our scheduled enforcement of this ban, it will not deter us from using every tool at our disposal to address this crisis. Make no mistake: this is a public health emergency that demands immediate action to help ensure the well-being of our children, and we're confident that once the court hears our argument they will agree." The next New York state hearing on the flavored vaping ban will take place on October 18.
The CDC states that the specific chemical linked to these injuries has yet to be identified and recommends avoiding vaping, especially THC products.
Uncommon Knowledge
Newsweek is committed to challenging conventional wisdom and finding connections in the search for common ground.
Newsweek is committed to challenging conventional wisdom and finding connections in the search for common ground.