Two Die in France During World Cup Celebrations
Two men died in France as the country erupted in ecstatic celebration after beating Croatia 4-2 to win the World Cup championship on Sunday.
One death occurred in the eastern city of Annecy, when a man jumped into a shallow canal and broke his neck, according to British newspaper Metro. The second death took place when a man in his 30s crashed his car into a tree in the country's northern Oise region, the New York Daily News reported.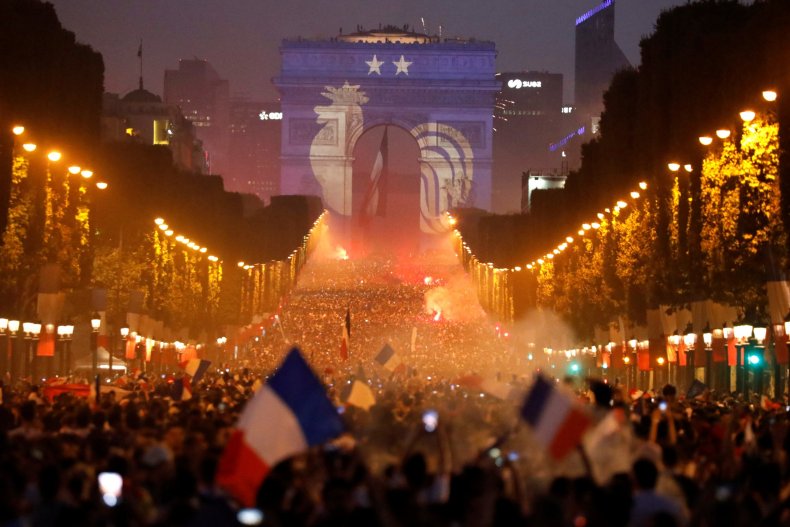 "Despite numerous efforts, the victim died. Today, we call on pedestrians, motorists and cyclists to be very careful," the Oise Fire Department wrote on Twitter. "The party must not end in tears."
After France beat Croatia, celebrations exploded across the country. One million fans flooded the streets of Paris, with revelers swarming the famous Avenue des Champs-Élysées. Fans partied in the streets through the night, setting off firecrackers and dancing in the streets.
"People climbed atop every newspaper kiosk and bus stop in the area to wave flags and lead the crowds below in cheers. The French national anthem, the Marseillaise, rang out, cars honked horns and fans perched on motorcycles cheering for their team," German media company Deutsche Welle reported.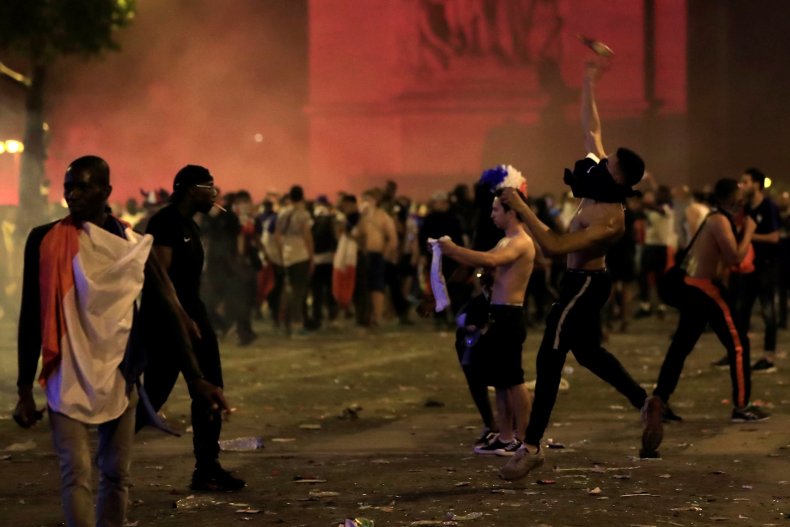 But the celebrations were not all peaceful, and police clashed with fans. The Interior Ministry reported 292 arrests throughout the country, according to The Guardian.
"Rioting broke out soon after midnight as large crowds refused to disperse," a police official said, according to Metro.
In Paris, about 30 celebrants broke into a drug store on the Champs-Élysées and proceeded to steal bottles of wine and champagne. Police attempted to disperse the crowd around midnight, English-language publication The Local reported. Youth responded by throwing rocks and bottles at officers, who then deployed water cannon and tear gas.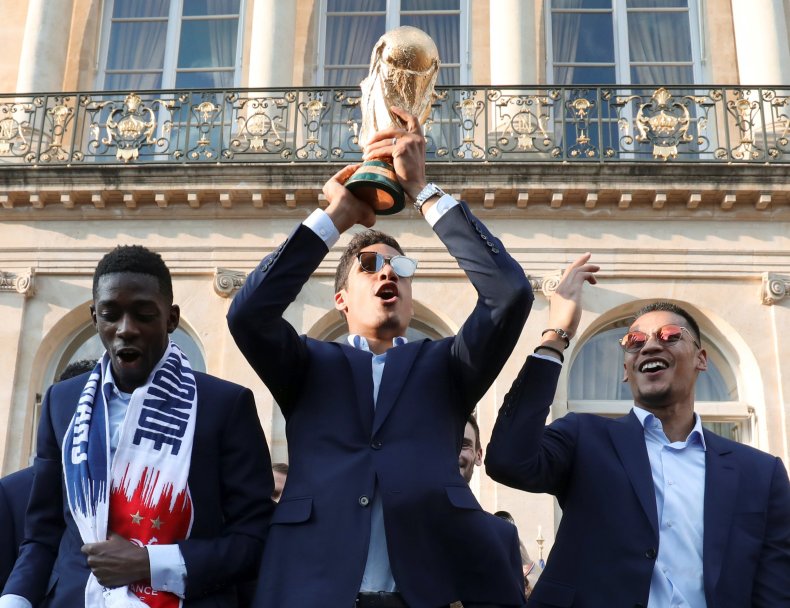 In Marseille, some of the individuals celebrating reportedly threw items at police, and riots broke out in Lyon. Near the northeastern city of Nancy, a motorcyclist struck and seriously injured two small children.
France had attempted to avoid chaotic celebrations. The government deployed 110,000 security forces prior to the World Cup final to ensure safety at public viewing areas and allow celebrations to proceed safely if the team won. Some of the security measures were motivated by historical precedent. When France won its first World Cup title in 1998, three car crashes and one death occurred when elated fans drove toward the city center.