Two-Dose Coronavirus Vaccine Shows Promise After Initial Testing Phase
Newly released data from a preliminary trial of Moderna's two-dose vaccine candidate to prevent COVID-19 suggests that the vaccine could be safe for use across all age groups.
The company presented interim data from a Phase 1 trial of the vaccine during a Centers for Disease Control and Prevention Advisory Committee on Immunization Practices meeting on Wednesday. The presentation included new data from two groups of participants, one aged 56 to 70 and another aged 71 and older, which suggested that the vaccine may be as effective among older people as it is for younger groups.
Moderna said that the vaccine was "generally safe and well-tolerated" among all age groups when given in two divided doses of 100 micrograms each, spaced 28 days apart. The vaccine caused the immune systems of the older participants to produce potentially virus-neutralizing antibodies at similar levels as were previously found in participants aged 18-55, while all participants receiving the vaccine produced more antibodies than those seen in people who have recovered from COVID-19.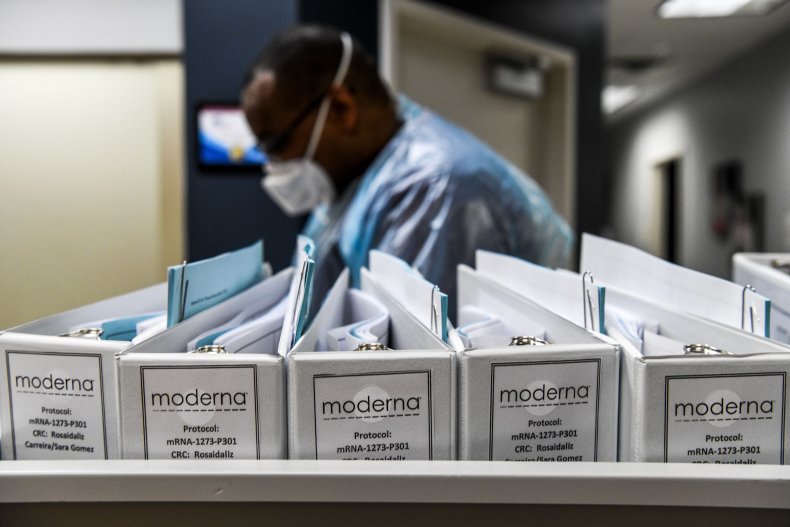 In addition to the production of antibodies, the trial also found that the vaccine is able to stimulate T-Cells, which are a key component of the immune system. Scientists are unsure of the role T-Cells play in the body's ability to fend off COVID-19 specifically, but they are known to be crucial in other illnesses caused by viruses.
The trial is yet to be peer reviewed, while the new data involved two groups of only 10 participants each. A much larger Phase 3 trial of the vaccine is currently underway, with over 15,000 participants having been enrolled so far. Phase 3 trials are the final clinical trials vaccines and drugs go through before potentially being approved, providing data of a quality that offers more definitive conclusions about both safety and efficacy.
Moderna's vaccine candidate is one of several being developed using messenger RNA, a newer approach that has yet to result in any vaccines that have been approved for use in humans, although it could potentially produce a vaccine much faster than those developed using traditional methods.
Moderna stock value increased by more than 6 percent after the new data was released. On August 11, the company signed a $1.5 billion deal with the Trump administration earlier this month to manufacture and deliver 100 million doses of the vaccine.
COVID-19 has infected over 24.3 million people worldwide as of Wednesday, being responsible for almost 830,000 deaths. Many of the more than 16.8 million who have recovered the virus have been left with serious complications that include potentially long-lasting damage to the lungs, heart and other vital organs.
Newsweek reached out to Moderna for comment.