Two Earthquakes Rattle Southern California
Two earthquakes have rocked Southern California early this morning, with hundreds of residents reporting the tremors.
One 3.5-magnitude quake hit San Bernardino County east of Los Angeles at 1:28 a.m. while another of similar magnitude rattled the Mojave Desert near Ridgecrest just over an hour later, the U.S. Geological Survey reported.
The first quake to hit the state was recorded at nearly 10 miles deep and struck near Loma Linda.
Over an hour later at 2:56 a.m., a smaller but slightly more intense 3.6-magnitude earthquake was felt at the Mojave Desert near Ridgecrest.
The quake hit near Little Lake and measured 4 miles deep, according to the USGS.
Hundreds of Californians took to Twitter to report the quakes, with many saying they felt tremors from as far away as Palo Alto and Mountain View.
"I was already half asleep playing Sims then I felt the earthquake, now I'm fully awake," one woman said.
"Always love to see Cali immediately go to twitter to ask if anyone felt that earthquake as if only they did," read another Twitter post.
Others appeared more flippant, with one resident writing: "There was an earthquake? Didn't even notice" as another joked, "it's not big enough to wake up Californians."
The magnitude of an earthquake measures the energy released at the source of the quake.
Quakes between 2.5 and 5.4 magnitude are often felt but rarely cause much damage, according to Michigan Tech.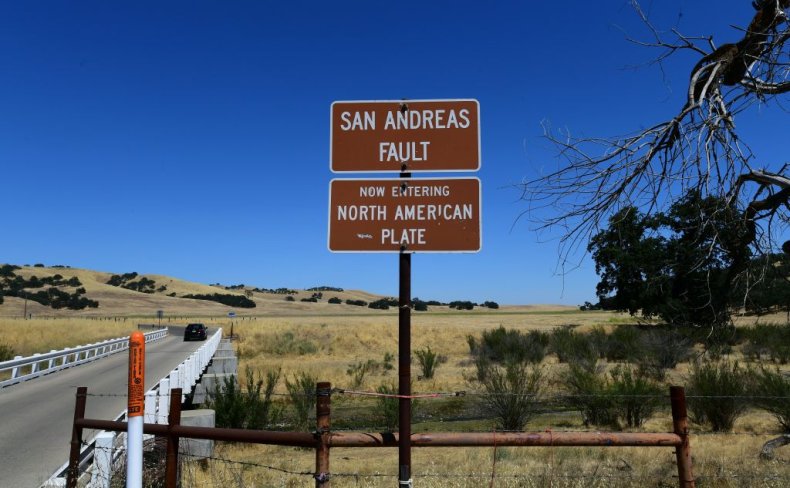 Both the San Bernardino County and the Mojave Desert lie along the San Andreas Fault which runs for 750 miles through California.
The San Andreas Fault is one of the most dangerous tectonic plates in the world. It separates the North American and Pacific plate, extending around 750 miles through California. Three major cities sit near the fault: Los Angeles, San Francisco and San Diego.
The southern San Andreas Fault is capable of producing earthquakes of magnitude 7 and above, potentially placing millions of those living in the region at risk.
The lack of a major rupture along the fault for over 300 years has left scientists wondering when the next "big one" (magnitude 7 or above) may hit.
Last month, Newsweek reported how a swarm of more than 400 earthquakes hit California in the area between the San Andreas fault and the Imperial fault.
And last week, the USGS warned that the earthquake swarm on the San Andreas Fault may mean parts of California are at risk of a big earthquake this week.
"In a typical week, there is approximately a 1 in 10,000 chance of a magnitude 7+ earthquake on the southernmost San Andreas Fault," a statement from the USGS read. "That probability is significantly elevated while swarm activity remains high."