The Two Faces of Trump on Law and Order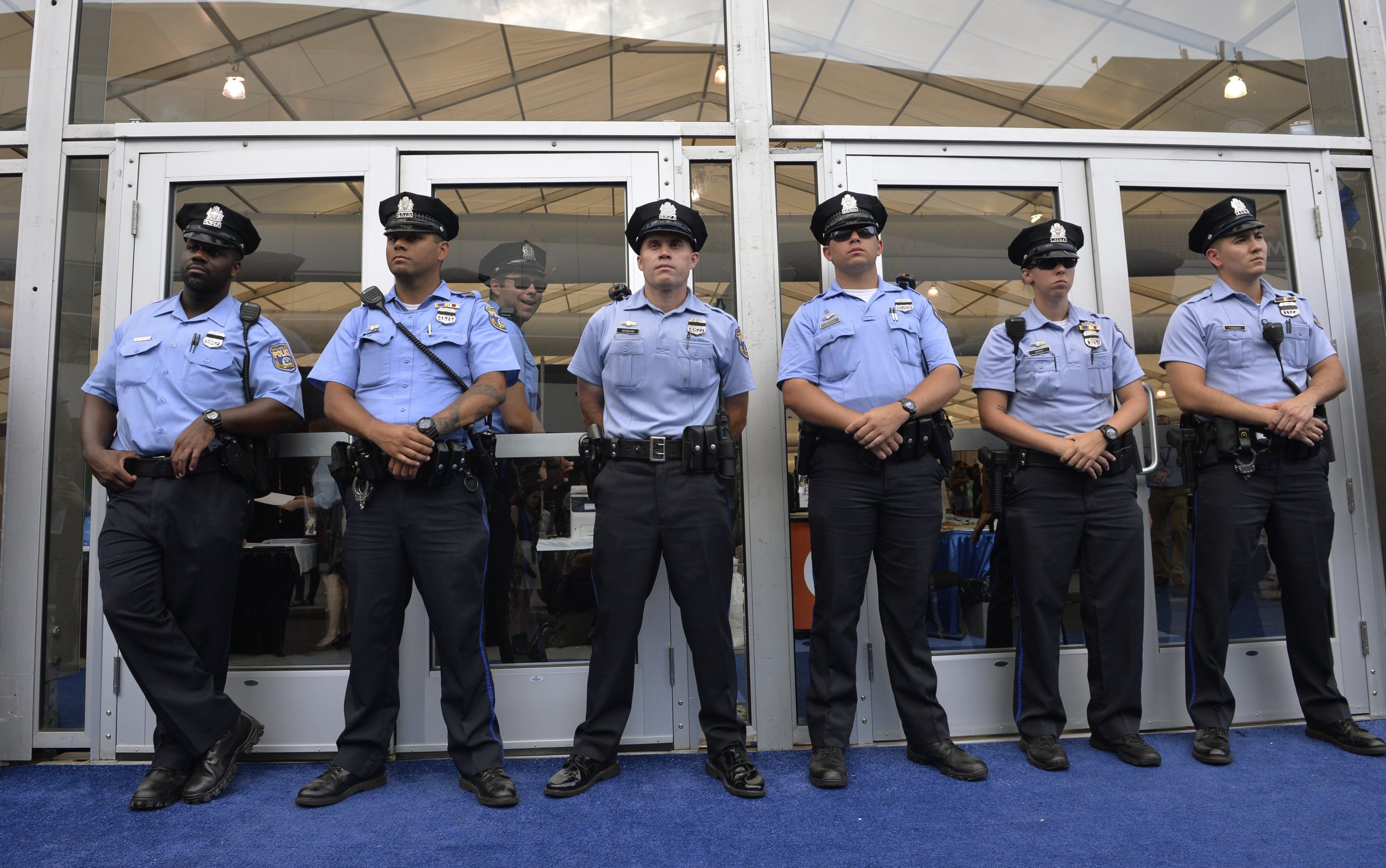 This article first appeared on the Marshall Project site. The Marshall Project is a nonprofit news organization focused on the US criminal justice system. You can sign-up for their newsletter, or follow The Marshall Project on Facebook or Twitter.
In September, the Fraternal Order of Police (FOP), the nation's largest police union, is likely to give its endorsement to Donald Trump.
Even before the union's slap at Democratic Convention organizers for featuring the bereaved mothers of black civilians but not the widows of slain police, Trump had been solicitous of the 330,000-member organization.
The Trump campaign submitted detailed answers to the union's lengthy candidate questionnaire, while the Hillary Clinton campaign declined to participate.
A Trump endorsement would be unsurprising, given the Republican nominee's declaration that he intends to be a law-and-order president. The FOP has not endorsed a Democrat since Bill Clinton's tough-on-crime campaign in 1996.
(James Pasco, executive director of the FOP, said he made repeated efforts to get a questionnaire from Hillary Clinton. The Clinton campaign did not respond to requests for an interview.)
More surprising is the tone of the answers Trump (or more likely a Trump underling) supplied to the union's questions. Trump on the stump seems to promise that he will restore law and order single-handed.
"The crime and violence that today afflicts our nation will soon—and I mean very soon—come to an end," he declared at the Republican Convention. "Beginning on January 20, 2017, safety will be restored."
In contrast, the campaign's answers to the police union are a litany of reasons why such a feat would be impossible. Again and again, this version of Trump points out the limits of a president's power to control crime and violence. He defers to states, or to local governments, or to Congress. He says repeatedly that the Constitution constrains the power of the federal government.
In response to one question, about laws that reduce Social Security payments for people who also draw a government pension, Trump responded, "The actions you are asking me to support are those that should be considered by Congress without the interference or influence of the president or others in the executive branch. We have, in this country, had far too much of imperialism in the chief executive."
Here are a few more excerpts:
On threats and violence against law enforcement (Page 6)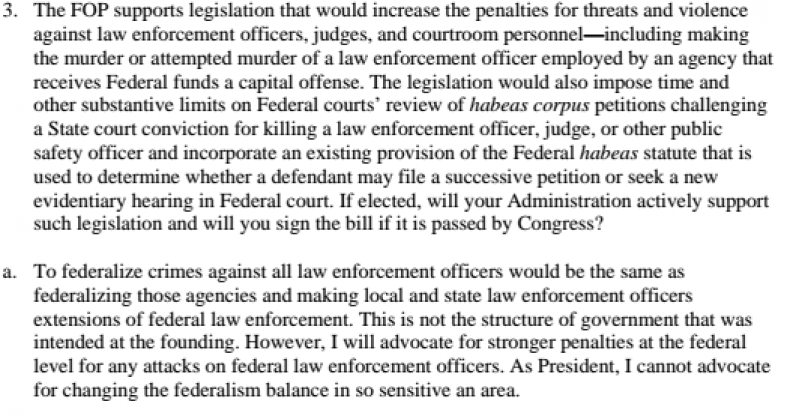 5. For what crimes do you believe that the death penalty is appropriate?
a. Existing law already prescribes penalties at the federal, state and local level. The legislative process will determine what crimes will have a death penalty attached.
On hate crimes for police killings (Page 5)
2. Following the assassinations of New York City police Officers Rafael Ramos and Weijan Liu, the FOP called on the Congress and the Obama administration to expand federal hate crimes law to protect law enforcement officers. At this writing, a House bill, H.R. 4760, has been introduced. Will you pledge that your administration will work with the FOP and Congress to enact a bill like H.R. 4760?
a. Hate crimes across the board should be examined and legislation brought up to date. It is far too easy for the rhetoric to outstrip the actions of otherwise responsible individuals on all sides of this argument. If Congress sends bipartisan legislation to me that provides a more comprehensive understanding of what hate crimes might be, I will gladly sign that legislation.
On federal funding for state and local police (Page 8)
11. Federal funding for state and local law enforcement is a very real concern, especially given the increased homeland security responsibilities of state and local agencies and the impact of deep cuts to our most critical programs in the past two years. How will you work to restore full federal funding for traditional law enforcement programs like the hiring program administered by the Office of Community Oriented Policing Services, the Edward Byrne Memorial Justice Assistance Grant (Byrne-JAG) programs, the State Criminal Alien Assistance Program (SCAAP) and the Bulletproof Vest Partnership (BVP) program?
a. Funding priorities are to be determined by cooperation between the executive branch and the Congress. If these programs are determined to receive increased funding and we are still able to reduce the deficit, balance the budget and begin to buy down the federal debt, then they will receive the attention they deserve.
On two issues, Trump sounds like himself, only a slightly subdued version:
On gun control and the Second Amendment (Page 9)
15. Because of the increased politicization of firearms issues and the lack of any meaningful public safety component in many legislative proposals, the FOP took a position that it would not support any additional "gun control" measures until after a full evaluation of the effectiveness of the sweeping changes to firearms law that passed in 1994. Will your administration seek to push any additional "gun control" measures? If so, what public safety benefit do you expect to achieve, and why should the FOP reconsider its current position on this issue?
a. The Second Amendment is sacrosanct and will in no way be modified in my administration. Gun control laws are not the answer to gun violence.
14. True immigration reform requires action by the federal government. The FOP believes that any legislation reforming our nation's immigration system must provide for greater security at our nation's borders, aggressive enforcement of immigration law internally and enhanced penalties against businesses and individuals that exploit and traffic in illegal laborers. Do you agree? What elements do you see as most important for a comprehensive reform of our immigration laws, and what steps will your administration undertake to enact reform?
a. My administration will pursue the law of the land to its logical extent. We will build a wall on the southern border. We will apprehend, detain and deport those who are here illegally, and we will work to ensure that our legal system of immigration provides security as well as opportunity to those who might want to come be part of the American dream.
Marshall Project staff writer Simone Weichselbaum has spent more than a decade covering urban criminal justice issues. She worked as a staff writer for the New York Daily News and the Philadelphia Daily News. She holds a graduate degree in criminology from the University of Pennsylvania.
The Two Faces of Trump on Law and Order | Opinion