Two Florida Men Convicted For Shooting Man Dead Over $5 Necklace in Restaurant Parking Lot
Two male Florida residents were convicted in Georgia this week in relation to a shooting in October 2016 that left one man dead and a woman wounded over a $5 costume necklace.
Dylan Marquis Ledbetter, 25, and Demarious Kevauh Greene, 23, on Thursday were charged with malice murder, felony murder, aggravated assault, armed robbery and possession of a firearm after they shot and killed a man in the parking lot of Pappadeaux Seafood Kitchen in Marietta, Georgia on October 7, 2016, reported the Atlanta Journal-Constitution. Ledbetter was also given an additional charge of aggravated assault on a police officer.
Anthony and Cynthia Welch dined at the Pappadeaux Seafood Kitchen for a birthday celebration, and were later approached by Ledbetter and Greene on their way back to their car in the restaurant's parking lot. The two shot dead Anthony Welch with a .380 caliber firearm as he attempted to protect his wife, before they ripped the $5 costume necklace from her neck, according to the Cobb County District Attorney's Office. After obtaining the jewelry, they then shot Cynthia Welch and quickly fled the scene by car. Welch has since recovered from her gunshot injuries.
Ledbetter and Greene became suspects of the crime after police connected the incident to another armed robbery involving two men at The Outlet Shoppes at Atlanta, located in Woodstock, Georgia, which took place four days later. Surveillance footage of the Woodstock robbery led authorities to obtain details on Ledbetter and Greene's car.
On October 15, 2016, authorities confronted Ledbetter and Greene as they drove into a gas station. When Ledbetter saw police approaching, he drove away from the scene, hitting a cop car and another vehicle as he maneuvered his vehicle out of the gas station. After a chase, both men were arrested by authorities.
Cobb Assistant District Attorney Jesse Evans told jurors that the murder was "senseless" and "cold-blooded."
"It didn't have to happen," he said in court. "Cynthia and Anthony Welch did not deserve this."
Cobb District Attorney's Office spokesperson Kim Isaza said Ledbetter and Greene both face up to life in prison without parole. They will be sentenced on May 30 at Cobb County Superior Court.
Marietta, a city northwest of Atlanta, has one of the highest crime rates — 40 per one thousand residents — in America compared to all communities of all sizes, according to Neighborhood Scout. More than 77 percent of communities in Georgia have a crime rate lower than Marietta's, whose roughly 61,000 residents have a one in 25 chance of becoming victim to either a violent or property crime in the area.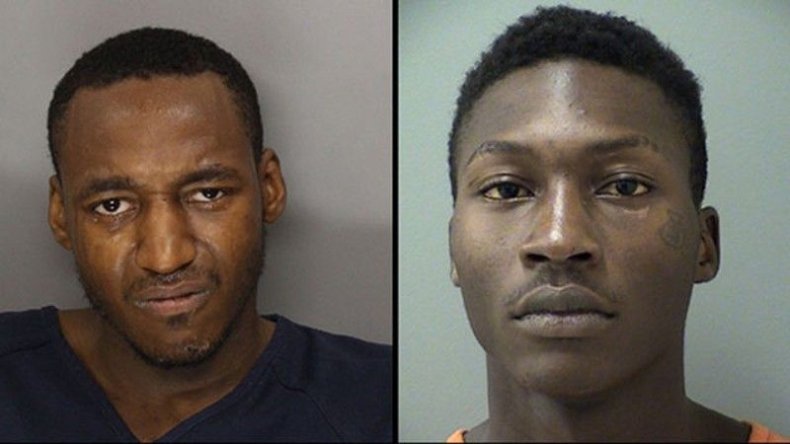 Two Florida Men Convicted For Shooting Man Dead Over $5 Necklace in Restaurant Parking Lot | U.S.