Two Florida Trump Supporters Injured in Drive-by Shooting, Say Police
Two individuals participating in a rally supporting President Donald Trump in Fort Lauderdale, Florida were shot with a pellet gun on Friday, resulting in minor injuries.
According to WSVN, Trump supporters had gathered near the Coral Ridge Mall. Reportedly, the alleged shooter fired into the crowd from a moving vehicle. The suspect fled from the scene before law enforcement officers arrived. Victims of the shooting were treated at the scene by first responders.
The weapon used in the shooting was "an unknown type of pellet gun," read a statement sent to Newsweek on Friday by the Fort Lauderdale Police Department.
"The motive behind this incident is unknown at this time," wrote Sergeant DeAnna Greenlaw of the FLPD. "This is an active investigation."
Although the presidential election is technically over, results from nationwide voting are still being tabulated. Trump is trailing Democratic presidential nominee Joe Biden in both the popular vote and in the electoral college. Trump has alleged that election workers in some areas are engaging in some form of election fraud, causing some individuals to protest.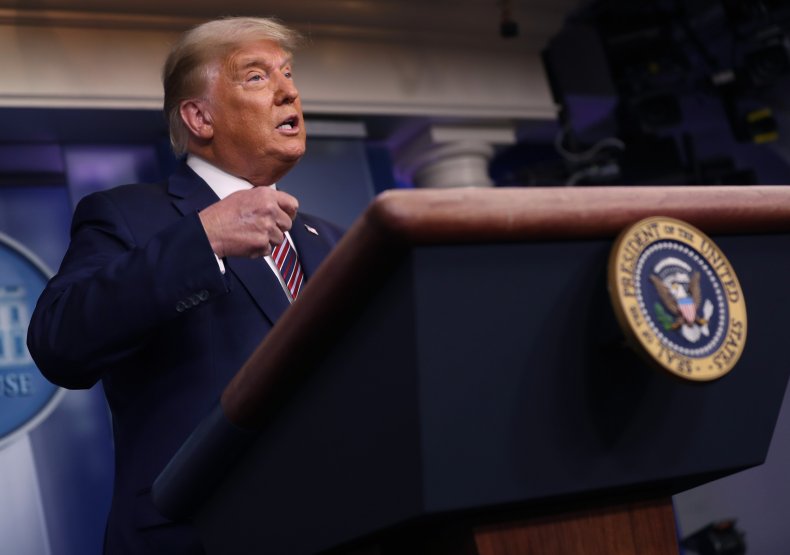 In Maricopa County, Arizona, Trump supporters gathered in front of the county elections department demanding that all of their votes be counted. On Thursday, some demonstrators were observed carrying firearms which is legal in Arizona, an open carry state. Deputies of the Maricopa County Sheriff's Department closed the election center Thursday night to both the public and members of the media.
Despite the size of the crowd on Thursday, the crowd was "peaceful" and no arrests or citations occurred, according to a statement emailed to Newsweek on Thursday.
Trump's legal team has filed federal lawsuits in some battleground states such as Pennsylvania to have the mail-in ballot tabulation process stopped. According to the Pennsylvania lawsuit, Republican observers had not been allowed proper access to the counting process.
On Wednesday, Pennsylvania Governor Tom Wolf said the lawsuit was "simply wrong."
"It goes against the most basic principles for our democracy," Wolf said during a Wednesday news conference. "It takes away the right of every American citizen to cast their vote to choose our leaders."
On Friday, U.S. Supreme Court Justice Samuel Alito ordered all election centers in Pennsylvania to segregate mail-in ballots received after 8:00 p.m. on election day. Alito also called for those segregated ballots to be counted separately.
Alito issued the order after the Republican Party of Pennsylvania claimed it could not verify that election workers were following guidance issued by Pennsylvania Secretary of State Kathy Boockvar. State officials were required to respond to Alito's order by Saturday afternoon.