Two Found Dead in Tesla After Firefighters Battle Car Fire For Four Hours
Two people were found dead after a fiery crash involving a Tesla in Texas, authorities have said.
The Woodlands Fire Department said it was called to a reported fire in the Carlton Woods subdivision in The Woodlands shortly before 9.30 p.m. on Saturday night.
In a statement shared on Facebook, the fire department said that while firefighters were en route, several more calls came in reporting an explosion.
Another caller reported that a car had crashed and burst into flames on Hammock Dunes Place, the fire department said.
KRTK reported that the car was a Tesla Model S and the explosion occurred after the vehicle ran off the road.
The Tesla had been traveling from a cul-de-sac on Hammock Dunes Place when it failed to negotiate a curve, and ended up crashing into a tree and bursting into flames.
According to the station, the Tesla's batteries continued to ignites despite the efforts of firefighters to extinguish the blaze. It took them four hours—and used 23,000 gallons of water—to finally douse the flames completely.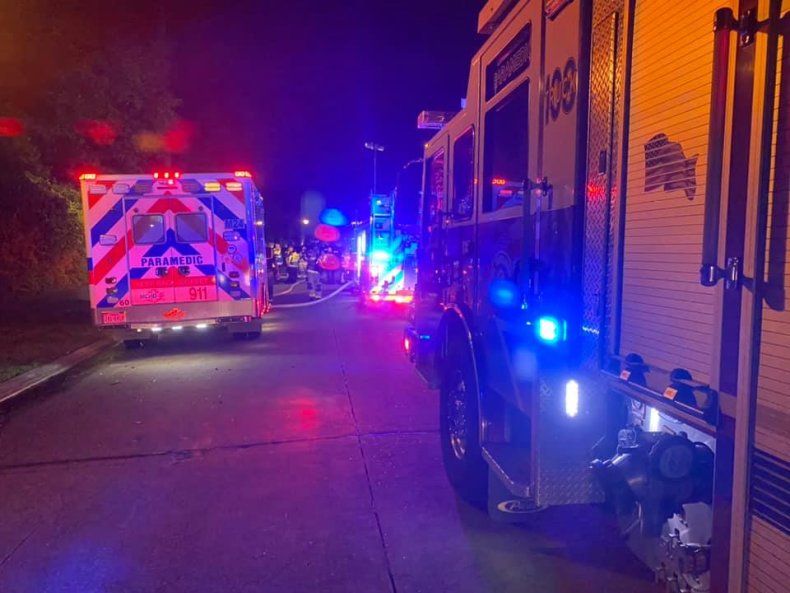 When the fire was controlled, fire-fighters located two men dead inside the vehicle. One was in the front passenger seat and the other was in the back passenger seat, according to KTRK.
Their identities were not immediately released by authorities.
Harris County Precinct 4 and the Harris County Fire Marshals Office are investigating the incident.
Tesla vehicles come equipped with autopilot system, but it wasn't clear if the vehicle in Saturday's crash was using the feature.
Tesla drivers have crashed while driving in autopilot mode in the past.
Last month, a Tesla driver reportedly using the vehicle's autopilot features crashed into a Michigan State Police patrol car.
On Saturday, Tesla CEO Elon Musk, citing the company's Q1 2021 safety report, tweeted: "Tesla with Autopilot engaged now approaching 10 times lower chance of accident than average vehicle."
"In the 1st quarter, we registered one accident for every 4.19 million miles driven in which drivers had Autopilot engaged," the report said.
"For those driving without Autopilot but with our active safety features, we registered one accident for every 2.05 million miles driven. For those driving without Autopilot and without our active safety features, we registered one accident for every 978 thousand miles driven."
As a comparison, the report said the National Highway Traffic Safety Administration's most recent data shows there is an automobile crash every 484,000 miles in the United States.
Newsweek has contacted Tesla for comment.