Two Gunmen Open Fire on Party Bus During Birthday Celebration, Killing Two
Two people were killed after at least two gunmen opened fire on a party bus in California during a 21st-birthday celebration.
The targeted attack began at about 12:20 a.m. Tuesday on eastbound Interstate 580, authorities said. The bus was carrying about a dozen women to Oakland from San Francisco, authorities said.
The shooters began firing at the large passenger bus near the Seminary Avenue off-ramp, following the vehicle onto streets in East Oakland. Officials estimate that about 70 shots were fired from at least two guns.
"Multiple victims sustained gunshot wounds with varying degrees of injuries. Two victims succumbed to their injuries. The victims were transported to Highland Hospital in Oakland for medical treatment," the California Highway Patrol (CHP) said in a press release.
The Alameda County Coroner's Office said that one person died on the bus and another died after being transported to Highland Hospital. Five other victims, including the birthday celebrant, were wounded and taken by ambulance to the hospital. One victim is being treated in the intensive care unit.
The CHP had little information about the suspects or their vehicle at this time. The agency is being assisted by the Oakland Police Department in the investigation.
"Looking at a young lady who was injured, reminds me of my own children," Oakland Police Chief LeRonne Armstrong told reporters Tuesday afternoon. "This has to stop, and we all need to take a stance against gun violence in the city of Oakland that has taken the lives of multiple young people over the last four days in this city."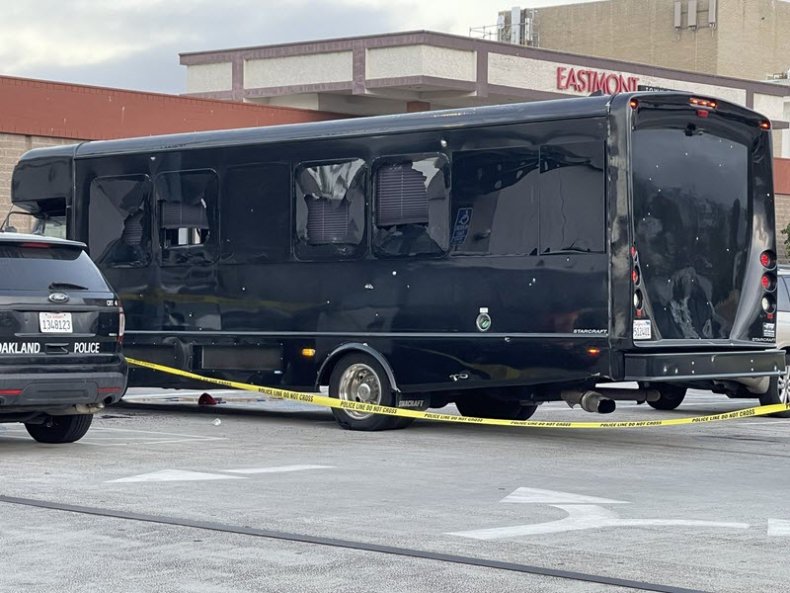 Authorities have not released any information about the victims, other than that they are all women. However, family members and friends have identified the two victims as 19-year-old Alayaisa Thurston and 16-year-old Zoey Hughes. On Tuesday evening, a vigil was held in Modesto for Hughes.
Police said that, based on their preliminary findings, the shooting was not a random event, adding that it is unclear what the motive behind the attack was at this time. Officials are asking anyone with information to call the CHP tip line at (707) 917-4491. A $40,000 reward is being offered in the case.
The shooting comes after Oakland marked its 50th and 51st homicides over the weekend after two 17-year-old boys were shot.
"It just demonstrates how completely out of control gun violence is in Oakland right now," Oakland Police Officers' Association President Barry Donelan told KGO-TV.
Newsweek reached out to the CHP for comment but did not hear back before publication.