Two Hostages Killed by the LAPD in Just Over a Month After No Deaths in the Past 13 Years
The Los Angeles Police Department (LAPD) have released dramatic bodycam footage showing the moment they accidentally killed a woman being held hostage by a man who was holding a knife to her throat.
Elizabeth Tollison was the first hostage to be killed by the department in 13 years during the incident on June 16.
"Tragically, this was another case where officers were forced to make split-second decisions based on the actions of a violent individual," LAPD Chief Michel Moore said at a press conference. "This was a tense situation that unfolded very quickly, and it's every officer's worst nightmare."
Weeks later, 27-year-old hostage Melyda Corado was shot dead by LAPD officers, caught in the crossfire of a shootout at a Silver Lake Trader Joe's on July 21.
In the case of Tollison, police were responding to reports of a man with a large knife assaulting a woman outside the Central Lutheran Church in Van Nuys.
Footage shows that when police arrived, the suspect later identified as 32-year-old Guillermo Perez, was holding a knife and a folding metal chair.
Officers repeatedly tell Perez to drop the weapon, while one arms himself with a bean bag shotgun—a less lethal police weapon which fires sacks of metal pellets.
The officer fires rounds from the bean bag shotgun before Perez drops the chair and approaches Tollision. He forces her in front of him and places the knife to her throat.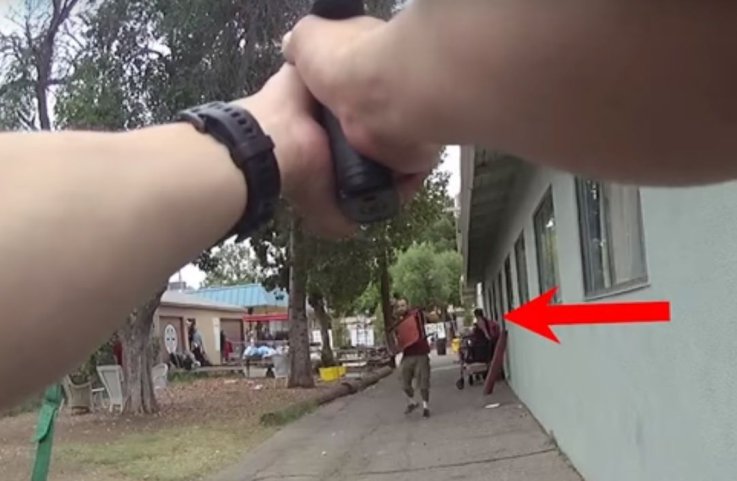 According to police, witnesses described seeing Perez moving the knife in a "sawing motion" and cutting her throat.
At this point, three officers fired their handguns at Perez a total of 18 times, killing him. Tollison was also hit twice and collapsed. She was taken to a nearby hospital where she succumbed to her injuries.
Tollison, reported be homeless, required a walker and Moore suggested she was either too frightened or not psychically able to move away from Perez outside the church, reports the Los Angeles Times.
The three officers involved in the shooting were later named as Cristian Bonilla, Eugene Damiano and Andrew Trock, all from the Van Nuys division.
An investigation has now been launched into whether the officer's conduct, including firing more than dozen times, aligned with their hostage training.
Perez was a documented gang member who was previously arrested for assault with a deadly weapon and domestic violence, according to the LAPD. Police later found a woman suffering from lacerations to the hand, which they believe is linked to the original 911 call.
The release of the video comes as the LAPD are under the spotlight for accidentally killing Corado during a hostage situation last month. The Trader Joe's grocery store manager was caught up in crossfire while officers were trying to shoot suspect Gene Evin Atkins.
Police say Atkins shot his grandmother, kidnapped his 17-year-old girlfriend and shot at officers while they pursued him in his car before running into the Trader Joe's and taking hostages.
Speaking to KCRW, Moore described hostage situations as a "lose-lose situation" for police in the wake of the Trader Joe's incident.
"If the officers don't use deadly force and allow the gunman to continue, and he goes out and continues to shoot others, then the officers will be criticized for not using deadly force," he said.
"If they use deadly force, and an innocent bystander as in this instance is tragically shot, the officers will be criticized for using deadly force."
Two Hostages Killed by the LAPD in Just Over a Month After No Deaths in the Past 13 Years | U.S.