The Fate of Two Human Rights Lawyers Missing in Syria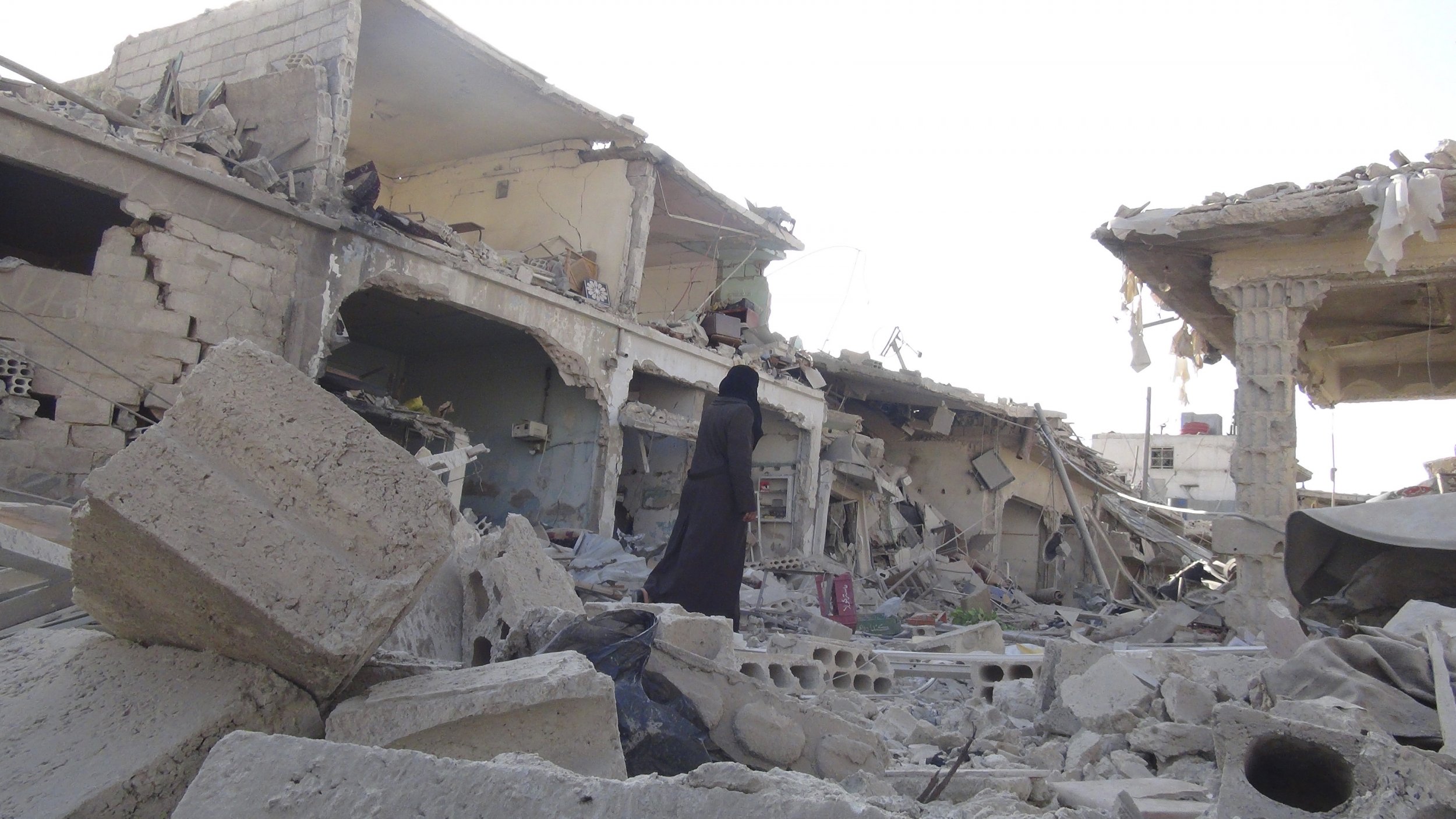 This is the story of two Syrians who vanished.
Both are human rights lawyers. Both worked at times inside Douma, a "liberated" city of 300,000 people north of Damascus, outside government control. Both were dedicated to documenting abuse on each side of the 4-year-old Syrian conflict. Both have families and are admired and respected. They knew each other and sometimes collaborated.
Both were seized by armed men, but their captors are on opposing sides.
Mazen Darwish, 41, is one of Syria's most prominent political activists and a free speech advocate. Three years ago this week, he was taken from his office at the Syria Center for Media and Freedom for Expression (SCM) in Damascus. His captors were thought to be officers of the intelligence arm of the Syrian Air Force, one of the most powerful and brutal divisions in President Bashar Assad's security forces.
Darwish was thrown into prison and accused of "publishing terrorism acts" and other related charges. According to his wife, Yara Badr, he said he was brutally tortured during the first nine months of his detention. At one point last year, Reuters reported Darwish might face the death penalty. He was held in a Damascus prison near the airport that is renowned for horrific conditions and torture until January 31, 2015, when, without explanation, he was moved to Hama Central Prison.
Neither Badr, who was arrested with him but later released, nor Bassam al-Ahmad, a colleague now in Istanbul, know the reason why Darwish was moved.
"I think the move signifies a lot," says Badr, now in Beirut. "It means there is no release soon and that it will be difficult to get Mazen back to Damascus where the court is. Also, it is hard for his family and lawyer to see him because the road to Hama is so dangerous."
In contrast, Razan Zaitouneh, 37, is believed by friends to have been taken not by Syrian government officials but by a faction of rebels fighting Assad. Her colleagues and various human rights groups are not certain who took her, but they point the finger at the Army of Islam, a component of another organization called the Islamic Front, much less radical than ISIS.
Zaitouneh's friends have come to the conclusion it is the Army of Islam because it operates in the area close to her office. To reach her meant crossing five checkpoints—difficult, but not impossible for Assad regime forces to have done.
Zaitouneh has been missing since December 2013, when she was dragged from her office along with three colleagues—Samira Khalil, Wael Hamada (Zaitouneh's husband) and Nazem Hamadi. The group is now known to activists as the Douma4. On the day they disappeared, the brother of one of the victims was on a Skype call and heard the armed men enter the office and shout out, "We are here to get you!" and that the people in the office were enemies of Islam. Then the screen went dark.
Zaitouneh had come to Douma, a free zone that was the scene of heavy battles, to hide from Syrian regime authorities, who had accused her of being a "foreign agent."
She was a high-profile activist who had become one of the faces of Syria's opposition. She had been awarded the Sakharov Prize for Freedom, the Anna Politkovskaya Award (named after the murdered Russian journalist and human rights activist) and the International Women in Courage Award.
Since the day they were taken, there has been no word of the Douma4. There have been no offers of prisoner exchange or hostage negotiations.
In Darwish's case, his family does have some information. "I try to see Mazen once a month," says Badr. She says for the first several months of his disappearance, she had no news on whether her husband was alive. "The [first] prison Mazen was in—in Damascus—was hard to reach. It is in an area that gets heavily shelled. Families visiting their relatives who are inside have actually been killed while they were simply visiting."
She says she will continue to try to see him in Hama.
"When they took us, they took away our wedding bands," says Badr. "That hurt the most. Now they are holding Mazen under terrorist charges—terrorist! He was a human rights lawyer."
After last week's release of a video of Jordanian pilot Muath al-Kasasbeh being burned to death, there is even more concern about those held by ISIS and similar groups.
At the time of her kidnapping, Zaitouneh was working not only as a lawyer and activist, but also for the Local Coordination Committees, which operate throughout Syria and are responsible for planning and organizing opposition events. Zaitouneh also had a third role working for an organization providing civil services called Local Development and Small Projects Support.
"This was important work. You forget, even during war, people get married, people die and have children," explains Fadi Dayoub, a Syrian activist. "You need civil registers. You need people to look after sewers, roads and the fields where people plant food. Razan did things that were hugely important in helping civilians," he says, adding: "The people who took her did not like that."
Dayoub says that before Zaitouneh was abducted, she had been threatened: "They killed her cat and dumped it on the door of her office," he says. "This was a message to the public: There is no need for civil and municipal services unless you are part of their [jihadist] faction."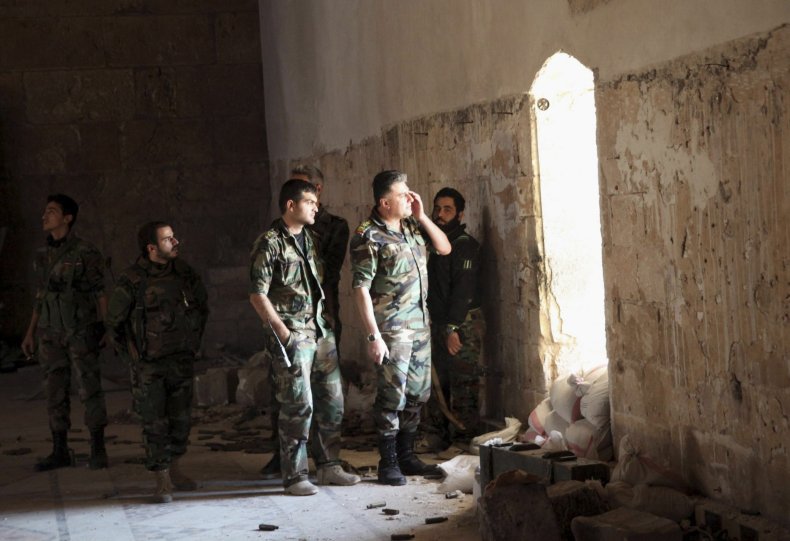 It is difficult to calculate the number of missing and detained in Syria after four years of conflict. But Bassam al-Ahmad from the VDC says: "Those we can document by name, we believe to be 36,000 held by regime, and around 1,200 by ISIS. But if we are talking about estimated figures, we are sure that the numbers are bigger." The Syrian Organization for Human Rights gives a higher figure.
The president of the International Federation of Human Rights, Karim Lahidj, says conditions for detainees are terrible. "In the jails of the regime…torture and abuse are the norm. The overwhelming majority are arbitrarily detained."
The war in Syria has left 220,000 dead, nearly 4 million refugees and an estimated 9 million internally displaced people, according to the latest United Nation figures.
Staffan de Mistura, the U.N.'s special envoy to Syria, issued a passionate plea in January that the conflict must end. He called the Syrian war the "largest humanitarian tragedy since World War II" and described the suffering and fear of the civilians facing barrel bombs, mortars, kidnappings and detention as a "disgrace…it is a true tragedy."
A U.N. plan for local cease-fires, or "freezings," would have a bottom-up diplomatic approach and would be started in Aleppo, Syria's largest city, now under heavy bombardment. The freezing plan has been met with a tepid reaction, especially from the Assad regime.
The Swedish-Italian de Mistura, whose two predecessors--Kofi Annan and Lakhdar Brahimi--quit in frustration, is known for his creative approach to negotiations. In Sarajevo, Bosnia and Herzegovina, he famously negotiated to get smugglers to use donkeys to bring blankets to the freezing and starving population. He is clearly disappointed, but not thwarted by the political gridlock and stalled peace process. He formerly headed U.N. missions in Iraq and Afghanistan, and has been meeting with fighters on the ground, as well as with U.S. Secretary of State John Kerry in Geneva in January and Russian and other power brokers engaged in ending the conflict. He has met Assad twice, most recently in November.
Russian-initiated talks in Moscow in late January concluded with no tangible results. The main Syrian political opposition, the Western-backed National Coalition for Syrian Revolutionary and Opposition Forces, shunned the meeting, saying it would only take part in talks that lead to Assad leaving power. The regime—and those close to it, such as the Iranians, Hezbollah and the Russians—insists Assad will remain in power. The talks ended with a promise to meet again next month.
The National Coalition for Syrian Revolutionary and Opposition Forces, founded in 2012, has experienced prolonged and bitter internal fighting and is criticized for not representing the people inside Syria. The fruitless Geneva II talks in January 2014 were so fractured that some rival rebel groups could not stay in the same hotel together.
The election of a new leader for the coalition, Khaled Khoja, a 49-year-old doctor from Damascus, could offer a glimmer of hope. Khoja has promised to forge a "real connection with local activists" and provide local services. He recently returned from Latakia and is planning a series of meetings inside Syria over the next few weeks.
Khoja is also pushing for the international community to recognize secure buffer zones, putting pressure on neighbors like Lebanon and Turkey but also the big powers—France, the United States and Britain. But that would involve more military presence to operate a no-fly zone.
"Really, he is taking on this mission thinking of working more inside Syria, bridging a gap between ordinary Syrians and trying to bring more services inside the country," says Khalid Saleh, the opposition's chief spokesman in Istanbul. "In the past, there was a huge gap between the coalition and the people."
"It's true: We need to do two things better—provide services and play politics," he admits.
While they are playing at politics, thousands like Darwish and Zaitouneh are missing—held inside cells, basements, caves and underground facilities. Many of them will never be accounted for. Many will never see the end of the war.
Correction: An earlier version of this story incorrectly stated that Mazen Darwish was working for the Violations Documentation Center at the time of his capture. He was working for the Syria Center for Media and Freedom for Expression.