Two Guards at Detention Facility Die After Contracting Coronavirus as ICE Detainee Cases Continue to Rise
Two guards at a Louisiana correctional facility that houses immigrant detainees have reportedly died after contracting coronavirus, sparking fresh outcry over the conditions detainees and workers are being forced to endure amid the pandemic.
Relatives of Carl Lenard and Stanton Johnson told The Associated Press leadership at the Richwood Correctional Center in Monroe, Louisiana, had, at one point, prevented the guards from wearing face masks at the Immigration and Customs Enforcement (ICE) facility, where dozens of COVID-19 cases have been identified.
Both families told the press agency they believed their loved ones had contracted the virus while working at Richwood, which, as of Thursday morning, had seen 46 detainees test positive for coronavirus since ICE started testing for the virus.
The deaths of the two guards come on the heels of weeks of immigration advocates and members of the public calling on ICE to release immigration detainees to help curb the spread of coronavirus.
Groups like the American Civil Liberties Union (ACLU) have argued that immigration detention facilities, jails and prisons in the U.S. are not equipped to allow for the level of social distancing and access to sanitation required to keep detainees, inmates and workers safe amid the pandemic.
A number of federal judges have agreed, with judges in states like New York and Pennsylvania ordering ICE to release immigration detainees considered vulnerable to COVID-19 due to preexisting health conditions.
As of Thursday morning, 449 ICE detainees had tested positive for coronavirus, according to data published online by the agency. With 995 ICE detainees having so far been tested for COVID-19, that means nearly half, or 45 percent, of detainees tested have been found to have contracted the virus.
The Richwood facility currently has the second-highest number of confirmed coronavirus cases, with the Buffalo Federal Detention Facility in Batavia, New York, having the highest number, with 49 detainees testing positive for COVID-19.
Meanwhile, 36 ICE workers at detention facilities across the U.S. have also tested positive for the virus, while another 92 ICE workers employed outside of detention facilities have also tested positive.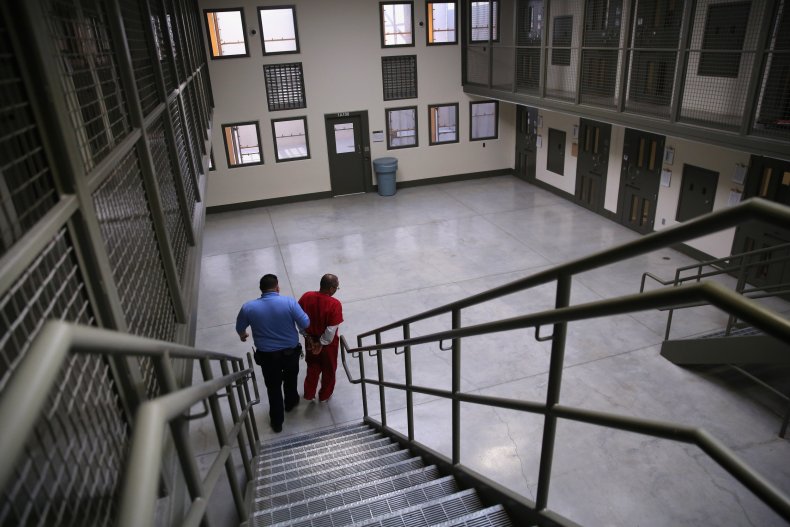 In a statement shared with Newsweek, Paola Luisi, the co-director of immigration advocacy group Families Belong Together, said she believed both Lenard and Johnson's deaths could have been avoided, had ICE acted on calls to release detainees and take stronger measures to respond to the coronavirus outbreak.
"They didn't have to die," Luisi said. "These deaths are a direct result of the complete and utter disregard for human life by immigration officials and the Trump administration."
"These were guards, who were allowed to go back into their communities after working in a facility that ordered them not to wear protective gear," she said. "If they weren't able to stay safe, imagine the people they are jailing and denying proper medical care."
Ultimately, Luisi said: "It's simple: You cannot socially distance in prison."
"We need to free vulnerable populations immediately and reunite them with their families not only because it's the right thing to do, but also because jails like these put the public health at risk," she said. "This is a time for our country to lean into its values of compassion, care, and coming together to confront a public health crisis and prevent more death."
In a statement sent to Newsweek, an ICE spokesperson sought to make clear that the two guards were not employed by ICE, but by LaSalle Corrections at the Richwood Correctional Center.
Newsweek has contacted LaSalle Corrections for comment.
Update: This article has been updated with comments from ICE.
Correction 4/30/20, 11:45 a.m. ET: The headline of this article was updated to reflect that the guards Carl Lenard and Stanton Johnson were not directly employed by ICE.