A Kentucky woman was reunited with two grandchildren after the infants were ripped from her home in a bathtub during last week's devastating tornado outbreak.
Clara Lutz told local media she was watching her 15-month-old and three-month-old grandchildren on December 10 when the deadly storm system hit her Hopkins County neighborhood. Knowing a tornado was just miles away, Lutz rushed to place the infants inside her bathtub, and cushioned them with blankets and pillows, along with a Bible.
"I felt the rumbling, I felt the shaking of the house. Next thing I knew, the tub had lifted and it was out of my hands. I couldn't hold on, I just—oh my God," Lutz recalled, according to local news station WFIE.
Lutz tried to hold the tub with all of her strength, but the storm quickly ripped it from her floor. Her entire house was then stripped down to the foundation, with rubble and debris flying everywhere.
Amid the chaos, Lutz was hit in the back of the head from the bathtub's water tank. Even so, she quickly got up and went searching for her grandchildren.
"I was looking everywhere to see where the tub may be," she told WFIE. "All I could say was 'Lord, please bring my babies back to me safely. Please, I beg thee.'"
Soon after, Sherriff's deputies arrived at the home, where they found the bathtub overturned in Lutz's front yard. The babies, both alive, had survived the chaotic weather event.
"I got in the sheriff's car down at the end of my driveway, and it wasn't long after that that they opened up the door and brought me Kaden, my 15-month-old. And they brought me my three-month-old, baby Dallas. They brought him to me. He had a goose egg on the back of his head, we didn't know what was wrong," Lutz told the news outlet.
Dallas was then taken to Vanderbilt Hospital in Nashville, where he found to have experienced some brain bleeding. However, the bleeding quickly subsided and both children were reported to be healthy, according to WFIE.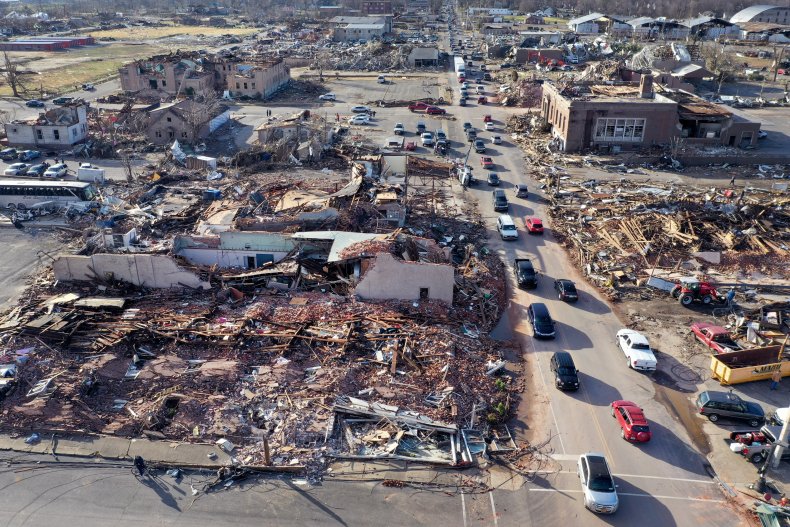 Last week's storms tore through six U.S. states, leaving at least 88 people dead and dozens more unaccounted for. The majority of deaths occurred in Kentucky, where at least 74 people—ranging in age from two months to 98 years—have been confirmed dead. However, earlier this week, Kentucky Governor Andy Beshear warned that officials expect to find additional bodies.
"This has been the most devastating tornado event in our state's history. What it has done here is indescribable. The level of devastation is unlike anything I've ever seen," Beshear said.
In addition to Kentucky, the tornadoes killed at least six people at an Amazon warehouse in Illinois, as well as four in Tennessee, two in Arkansas, and two in Missouri.