Two Kamala Harris Campaign Members Test Positive for COVID, VP Candidate Cancels Upcoming Travel
Senator Kamala Harris has canceled her upcoming campaign travel schedule after two campaign members tested positive for COVID-19.
Late Wednesday, Harris' communications director Liz Allen and another non-staff flight crew member involved in Harris' campaign were found to be infected with the coronavirus, according to the campaign's statement.
Although Harris was not in close contact, as defined by the Centers for Disease Control and Prevention, with either individual, her campaign made the decision to cancel her travel plans through Sunday "out of an abundance of caution and in line with [the] campaign's commitment to the highest levels of precaution."
The vice presidential candidate will continue to campaign virtually and return to in-person campaigning next week.
The campaign has begun a contact tracing process to notify everyone who came into contact with the COVID-19 positive individuals.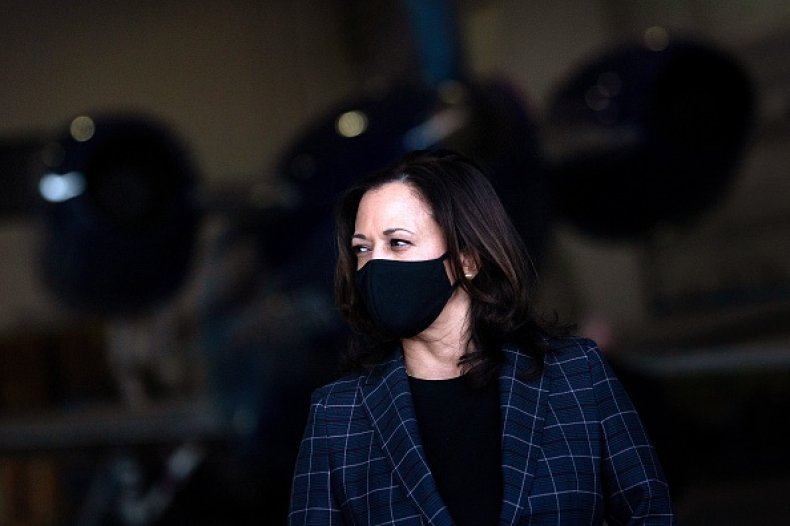 The campaign said that Democratic nominee Joe Biden also did not come in contact with sick staff.
"Neither of these people have had contact with Vice President Biden, Senator Harris or any other staffers since testing positive or in the 48 hours prior to their positive test results," the statement from Biden's campaign manager Jen O'Malley read.
Biden is still expected to participate in Thursday's town hall event on ABC News.
The campaign said that after the two staff members attended personal events in the last week, both were tested under the campaign's health protocols before they could return to work. However, before they left for these non-campaign events, the two individuals flew with Harris on October 8.
All three of them—Harris, Allen and the flight crew member—wore N95 masks and were not within six feet of one another for more than 15 minutes, according to the campaign.
Harris has taken two COVID-19 tests since flying with these two individuals, with the most recent being on Wednesday, and both tests have been negative.
The campaign is also canceling Thursday travel plans for Harris' husband, Doug Emhoff, despite the fact that Emhoff has tested negative for COVID-19 three times since October 8.
"These protocols help protect the campaign, the staff, and anyone who they may have contact with; the importance of having such protocols—which include testing before resuming duties, regular testing while working in-person, isolation after time off, and masking and distancing while on campaign duties—have been illustrated once again," O'Malley said.
The announcement comes weeks after President Donald Trump and at least 11 of his staff tested positive for COVID-19.
Newsweek reached out to the Trump campaign for comment but did not hear back before publication.