Two Kentucky 'Boogaloo Bois' Arrested By FBI Over Anti-Government Riots
Two Kentucky men connected with the far-right anti-government "Boogaloo Bois" movement, including one charged in connection with a riot that broke out in Louisville on January 6, have been arrested by the FBI.
John Subleski, age 32, of Louisville, Kentucky, and Adam Turner, age 35, also of Louisville, Kentucky, were arrested by the Louisville Division of the FBI on Friday.
Subleski is charged with "using a facility of interstate commerce" to incite a riot and "committing an act of violence in furtherance of a riot."
A criminal complaint referenced by the FBI in a press release states Subleski incited a riot in Louisville on January 6, writing on social media that it was "Time to storm LMPD [Louisville Metro Police Department]. The riot took place in tandem with the violence at the U.S. Capitol, which led to the deaths of five people.
The complaint against Subleski alleges that he was a member of the militia known as the United Pharaoh's Guard (UPG), who define themselves as the "Boogaloo Bois." "Boogaloo" is a term referencing a violent uprising or impending civil war.
Members of the group are also accused of pointing rifles at drivers, blocking intersections and barricading roads. Subleski was captured on video firing his rifle at a vehicle that went through one of his group's barricades.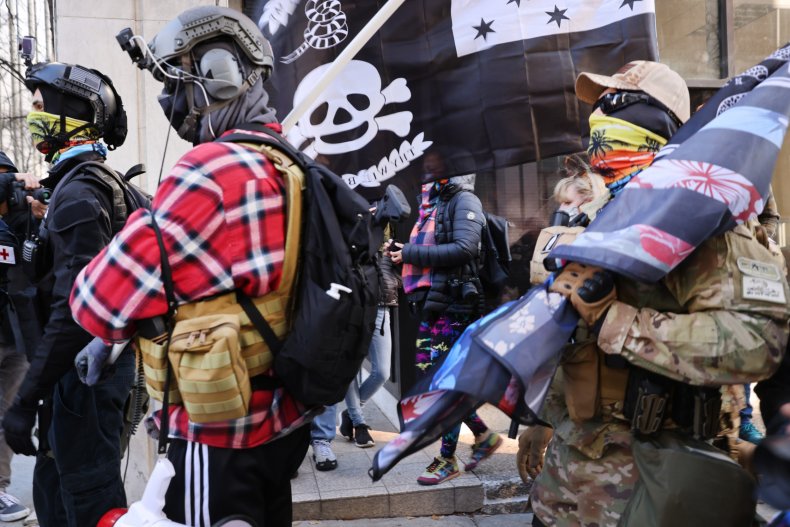 According to the Department of Justice, Turner, who also identifies as part of the UPG, confronted a police officer while traveling through St. Matthews, Kentucky, during a protest caravan on December 25.
Turner was reportedly carrying a pistol and handgun and was arrested for "menacing and resisting arrest." According to the Department of Justice, he made several social media posts after the arrest on Facebook and Twitter continuing to threaten police officers.
Acting Attorney Michael A. Bennett said in a statement: "I commend the outstanding work of the Louisville FBI's Joint Terrorism Task Force (JTTF) and our state and local law enforcement task force member agencies who work tirelessly every day to identify, locate, and apprehend for prosecution individuals who jeopardize the peace and safety of the citizens of the Western District of Kentucky."
FBI Special Agent in Charge Robert Brown added: "Today's decisive action underscores the exceptional partnership and professionalism of our JTTF membership. The citizens of the Commonwealth can take comfort in the fact we continue to work together every day to protect our communities from extremists seeking to do harm."
Both Subleski and Turner are set to attend separate preliminary and detention hearings on February 17. If convicted, each could face a maximum of five years in prison, a $250,000 fine and a three-year term of supervised release, the DOJ said.
The Boogaloo Bois is a violent, extremist, anti-government group calling for a "second civil war". Their supporters have been seen at anti-lockdown protests and counter-Black Lives Matter demonstrations across the country, dressed in military-style gear and Hawaiian shirts and carrying firearms.
In December 2020, a member of the Boogaloo Bois pleaded guilty to terrorism offenses after plotting to conspire with Hamas.