On June 26, 2018, Donna Nathan legally purchased a .38 caliber revolver and a box of bullets.
She paid $530.07 for the gun and the ammunition. It was the first gun she ever owned, and the last thing she ever touched. Later that day, she used it to kill herself at the Tree of Life in Audubon Park in New Orleans.
.
"Pat I'm sorry I love you," Nathan said in a suicide note to her partner.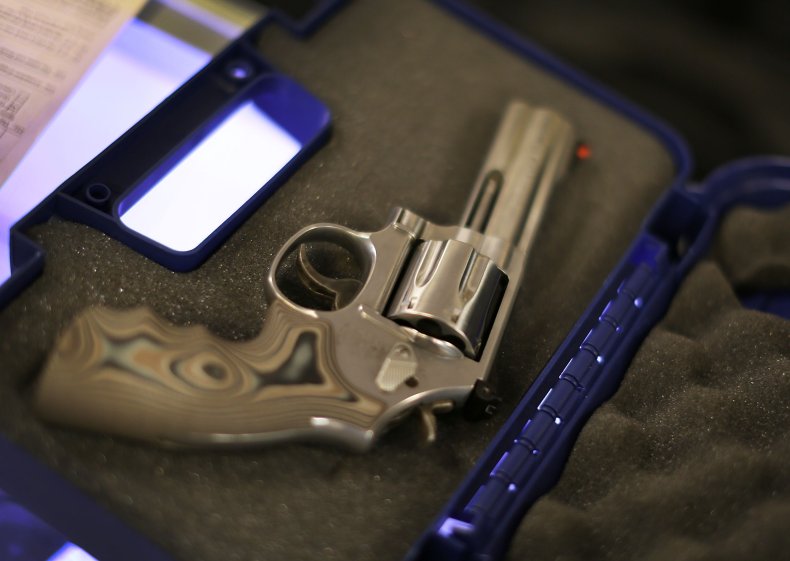 The 67-year-old New Orleans resident had long battled depression and bipolar disorder. She had voluntarily committed herself to a mental hospital several times previously in her life.
About 60% of gun-related deaths are suicides, the U.S. Centers of Disease Control reported. Nathan's suicide underscores an on-going debate in the U.S. about the availability of firearms.
Two law professors have proposed a plan they believe could help save lives: the right not to bear arms.
Ian Ayres, a professor at Yale Law School and Fredrick Vars, a professor at the University of Alabama Law School, believe people should be able to voluntarily waive their Second Amendment rights by signing a statement to be entered into the National Instant Criminal Background Check System (NICS) that would prevent them from buying a gun at a dealer.
Versions of "Donna's Law" are pending in 12 states and have passed in Washington state and Virginia.
"Unlike divisive restrictions, Donna's Law affects gun owners only by choice," the law professors wrote in an Emory Law Journal article. They said that many suicides are "impulsive." Only a "small minority" of those who attempted suicide but failed "go on to die by suicide" in the future.
"The idea is based on personal experience," Vars told Newsweek. "I'm bipolar and have been suicidal. I've gotten better. The idea of protecting myself against an impulsive decision during a period of depression was appealing to me. I've done extensive survey research and found that other people would find the option attractive."
Katrina Brees, Nathan's daughter, said she hopes Donna's Law will help others struggling with depression and bipolar disorder.
"Fred (Vars) is my hero and ally," she told Newsweek. "Working with him I've been able to heal by taking this horrible experience and finding support. Helping with this legislation has been rewarding."
Brees said she's an artist and her mother backed her endeavors. She works on floats for Mardi Gras, makes costumes, has organized a dance troupe called the Bearded Oysters and created a "bicycle zoo" named Krewe Kolossos as part of the festivities.
In 1982, Kennesaw, a city of about 34,000 in northwest Georgia, adopted an ordinance requiring the head of household to own a gun and ammunition. Ayres and Vars believe moving in the opposite direction and keeping guns out of hands of those battling depression and bipolar disorder would reduce suicides.
In 2017, the most recent year with complete statistics, the U.S. Centers for Disease Control and Prevention (CDC) said there were 47,173 suicides, including 23,854 by gun. The availability of guns has long been debated in view of suicides and mass shootings. Australia and New Zealand adopted different plans – and the results may be relevant to the debate in the U.S.
In April 1996, a 28-year-old gunman with a semiautomatic rifle shot and killed 35 people and injured 24 others in Port Arthur, a tourist destination in Tasmania, Australia. In response, Australia's federal, state and territorial governments banned semi-automatic rifles and pump-action shotguns while increasing restrictions on the sale of other firearms and ammunition. About 700,000 previously legal weapons were surrendered and destroyed as part of a mandatory national buyback program.
Australia has not experienced a mass shooting since.
In March 2019, a gunman killed 51 people and injured 49 others at two mosques in Christchurch, New Zealand. In response, the government banned military-style semi-automatic firearms within weeks of the event, with parliament voting 119-1 in favor.
New Zealand has not experienced a mass shooting since.
Since 1999, the United States has had 19 mass shootings that have killed 351 people and wounded 730 more.
The Pew Research Center said 30% of Americans said they personally own a gun and another 11% said they live with a gun owner. A large number of Americans – 44% – said they know someone who has been intentionally or accidentally shot, the 2019 survey found.
The Small Arms Survey in Geneva, Switzerland estimated that in 2017 there were 1 billion guns in circulation worldwide, including 857 million, about 85%, in civilian hands. U.S. civilians own about 393 million weapons, more than one gun for every man, woman and child in the country. The U.S. has less than 5% of the world's people, but about 48% of all its civilian-owned guns.