Two Men Have Accidentally Shot Themselves at Kroger Stores in Two Weeks, Despite Policy Asking Shoppers to Not Carry Guns
Kroger, a popular supermarket chain throughout the midwest and south, has seen not just one, but two bizarre incidents in which a man has shot himself in the company's stores.
The first incident happened in Huntington, West Virginia on September 9. An unidentified local man was visiting a Kroger gas station when he dropped his gun and was shot in the chest. He was taken to a local hospital, where his condition was listed as stable. No one else was hurt in the incident, though the store was temporarily closed to aide the police investigation.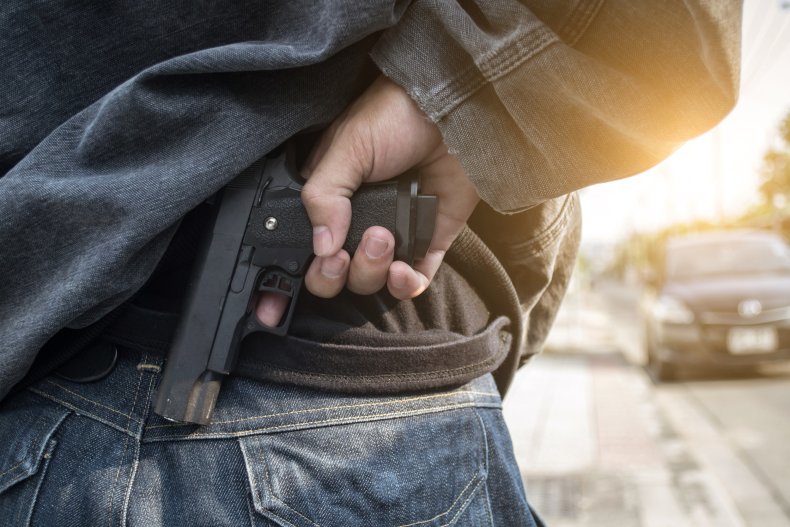 The second incident occurred Friday, when a man in a Memphis, Tennessee Kroger accidentally shot himself in the leg when a gun strapped to his hip went off. The man told officers reporting to the scene that he was adjusting his pants when he accidentally pulled the trigger and the gun went off.
Aside from the wound on his leg and a shredded pant-leg, he was unharmed. However, some level of damage was incurred to the store, as Local Memphis says Kroger declined to press charges against the man for vandalism.
The man had a permit to carry, but was still issued a city ordinance by Memphis police. He's due to go to court for this ordinance in November.
A witness noticed the man doubling over in pain as he shopped nearby. "It probably would have made me nervous, you know I probably would want to see if he's okay and then I probably would have mind my business," he told Local Memphis.
"Right there, that was careless and reckless to me," said another witness, Douglas Artry. "I don't know what that guy was doing for it to go off, I hate that it happened," continued Artry, who also carries a concealed weapon on his person. "Having it out where people can see it, to me that's asking for trouble."
There was also an incident in a Memphis Kroger in April where a manager was shot after breaking up a fight between two men on the premises. One man was arrested in the incident, and the victim was released after hospitalization for his wound.
Krogers has requested its customers not to openly carry their guns after two deadly mass shootings in southern Walmart Superstores—one, the infamous El Paso, Texas shooting and another in Southhaven, Mississippi. Those two shootings combined took 22 lives and injured over 20.
Other stores have also asked customers not to carry firearms while shopping, including Walmart. However, there have been a number of cases of Second Amendment activists testing the policy by carrying guns into stores.