Two Minneapolis Police Officers Placed on Leave Over Christmas Tree Decorations, Mayor Calls Tree a 'Racist Display'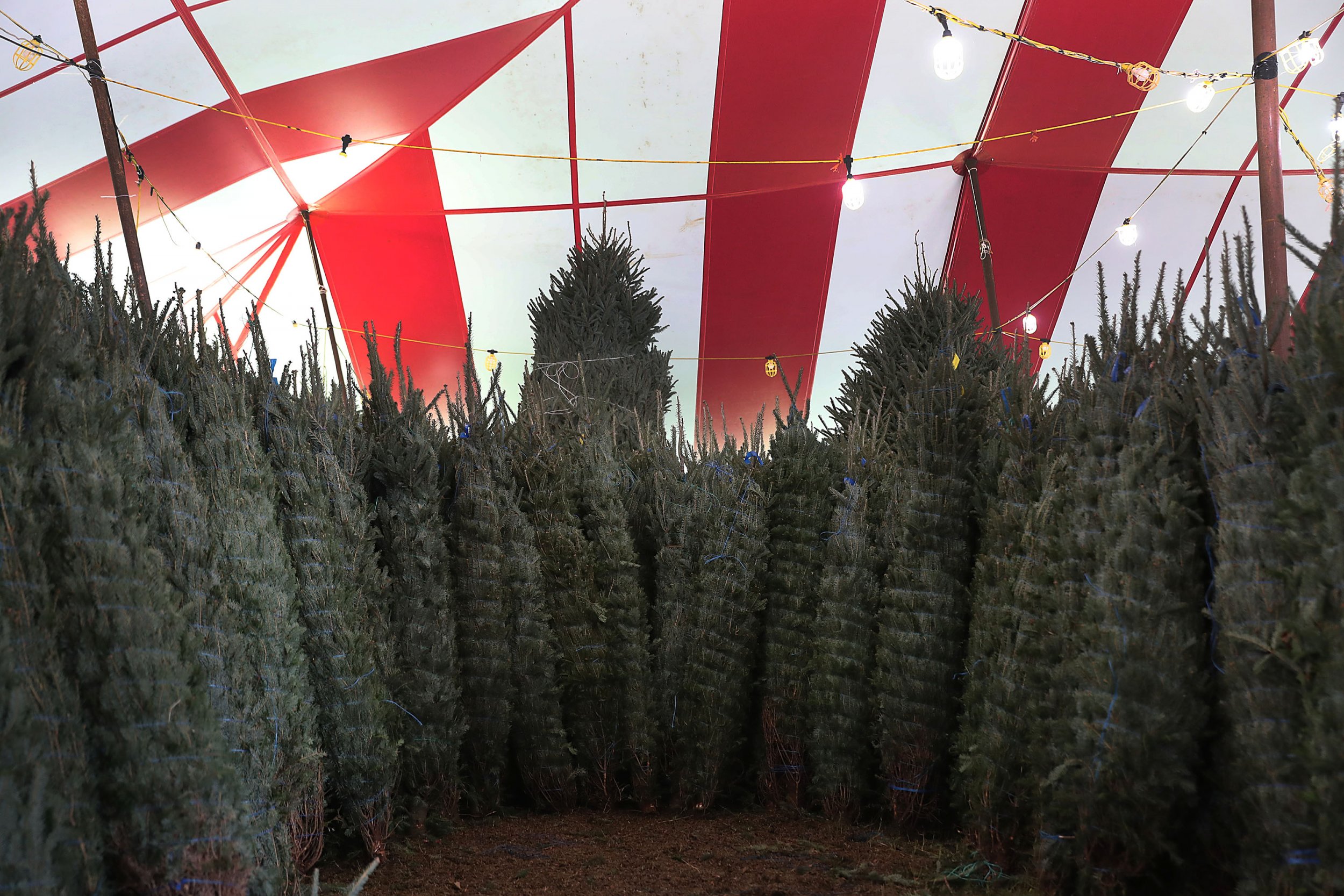 Two Minneapolis police officers have been put on administrative leave after decorations were placed on a Christmas tree that the city's mayor called a "racist display."
The photo of the Christmas tree was posted on social media last week. The tree is located in Minneapolis' Fourth Precinct that contained decorations – police tape, a pack of cigarettes, a can of malt liquor, a cup from Popeyes Louisiana Kitchen, a bag of Takis and a bag of Funyuns – that were believed by some to carry racial stereotypes.
The photograph also shows portions of the tree decorated with traditional Christmas ornaments in red, green, and silver.
The Minneapolis Star reports that the tree was put up in a precinct that has struggled with the community following the 2015 shooting of Jamar Clark, an unarmed black man.
Three years ago, the community saw 18 days of protests outside the Fourth Precinct station in response to the shooting.
Minneapolis Mayor Jacob Frey was quick to condemn the tree, saying that the officer responsible would be fired before the end of the day on Friday.
However, the mayor's spokesman, Mychal Vlatkovich, was forced to backtrack Frey's words, saying in a statement: "While Mayor Frey's earlier statement reflects his sentiment, he recognizes there is a legally required process that must be followed. He has full faith in Chief [Medaria] Arradondo to see that process through in a timely manner."
Arradondo said he was "ashamed and appalled" in a statement released on Friday by the Minneapolis Police Department. He added that the behavior goes against the department's values and that a full investigation has been launched.
Minneapolis City Councilman Phillipe Cunningham addressed the controversy with a Facebook post on Friday, stating that he talked to the Fourth Precinct's Chief Inspector to obtain answers about how the decorations could have gone up.
"I spoke to Inspector Biard this morning. Every year an officer is assigned to decorate the tree. As a prank, another officer hung some inappropriate ornaments after it was decorated," Cunningham wrote, adding that the inspector took the decorations down the day they were placed on the tree.
A press conference with community members on Friday outlined the concerns that many have about the tree and what it represents for Minneapolis residents.
"We knew what the message was right away. We got it. They wanted to send a message to us and we got it right away." Mel Reeves, a community activist, said. "In short form, it was to say to all you people that live around here, you all ain't nothing,"
Raeisha Williams, a former City Council candidate said, "We are tired of being the city's punching bag. Here we've had our holiday taken away from us. Destroyed. Manipulated. By hate, bigotry and racism."
In a separate Facebook post, Cunningham also addressed the message being sent by the tree.
"Reminders like this continue to infuriate me and so many in my community. They hurt EVERY gain made in improving community-police relations. On a personal level, despite being a [Council Member], I am still a Black man myself and these outrageous reminders only further my own feeling (of being) generally unsafe around police officers," Cunningham wrote on Friday afternoon.
Cunningham went on the say that if anyone could help "figure out how to fundamentally change the MPD culture" it would be Arradondo.
"The Chief has my full support as he leads the efforts to permanently eradicate this ugly racism from the police department," Cunningham said.
The investigation is ongoing by the Minneapolis Police Department's Internal Affairs Bureau. The officers have not been publicly named and will remain on leave until the investigation concludes.