With Two Months Until Election, One Democrat and Seven Republicans in Senate Appear Vulnerable
With about two months until Election Day, one Democrat in the Senate appears likely to lose his seat while polling suggests seven Republicans are vulnerable, fueling Democratic hopes of flipping the upper chamber of Congress.
When votes are cast on November 3, the Senate will have 35 seats up for grabs—12 of which are currently held by Democrats and 23 that are held by Republicans. In order to flip the GOP-controlled chamber, Democrats would need to gain at least four seats while maintaining all of their current seats. If they were to lose one seat and gain four, the Senate would have 48 Democrats, two independents who caucus with the Democrats and 50 Republican. This would mean the vice president would be the deciding vote on evenly split partisan votes.
The most recent Senate race ratings by The Cook Political Report showed that Senator Doug Jones of Alabama is the only Democrat in a contest that appears to be leaning Republican. Meanwhile, six Republicans—Senators Cory Gardner of Colorado, David Perdue of Georgia, Joni Ernst of Iowa, Susan Collins of Maine, Steve Daines of Montana and Thom Tillis of North Carolina—are in toss-up races, while Arizona's GOP Senator Martha McSally's contest appears to be leaning toward her Democratic rival.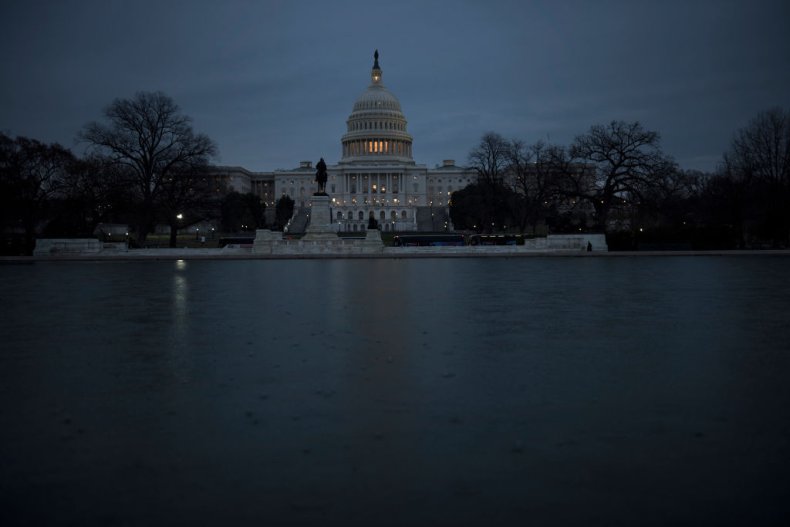 Two recent polls out of Alabama show Jones down versus his Republican rival Tommy Tuberville, a former football coach, by double digits. Polling conducted by Morning Consult from July 24 to August 2 showed Tuberville ahead by 17 percentage points, with the support of 52 percent of Alabamans compared with 35 percent who supported the incumbent Democrat. Another poll carried out from June 29 to July 2 by WPA Intelligence showed Jones down 10 points, with the backing of 40 percent of the Southern state's voters while Tuberville was supported by 50 percent.
Meanwhile, McSally in Arizona appears to be the Senate's most vulnerable Republican. A poll from Redfield & Wilton Strategies conducted from August 16 to 18 showed the GOP senator down by 19 percentage points against her Democratic opponent, former astronaut Mark Kelly. But a survey carried out from August 2 to 4 by OnMessage Inc. showed an evenly split race, with McSally and Kelly both backed by 48 percent of respondents. Another poll by Change Research from August 7 to 9 showed Kelly ahead by 6 percentage points.
In Colorado, Gardner appears to be down by about 6 to 11 percentage points, according to recent polling. Public Policy Polling data from August 18 to 19 showed Gardner trailing former Democratic Governor John Hickenlooper, with just 42 percent support compared to his rival's 51 percent. Morning Consult polling results from July showed Hickenlooper ahead by 6 points, supported by 48 percent of his state's voters, while the incumbent GOP senator was supported by 42 percent. A month earlier in June, Public Policy Polling showed Gardner down by 11 percentage points.
The race between GOP incumbent Perdue and his Democratic opponent Jon Ossoff appears much closer in Georgia. Polling by Garin-Hart-Yang Research Group from August 10 to 13 showed Ossoff leading Perdue by 2 percentage points, with 48 percent of the Southern state's voters backing him as opposed to 46 percent who supported the Republican senator. A survey carried out days later by Public Policy Polling showed an even split in support for the two candidates.
Ernst's race in Iowa appears to be close, but her Democratic rival Theresa Greenfield has come out slightly ahead in two recent polls out of the Midwestern state. Public Policy Polling from mid-August showed Greenfield with the support of 48 percent of Iowans compared to 54 percent who backed Ernst. A Data for Progress survey conducted from July 24 to August 2 showed Ernst down by 2 percentage points—backed by 43 percent of voters compared with 45 percent who supported Greenfield.
Recent polls out of Maine signal trouble for Collins as well. Her Democratic opponent Sara Gideon, who serves as the Speaker of the Maine House of Representatives, was ahead by 5 points in a poll by Public Policy Polling in mid-August. Gideon was supported by 49 percent of the northeastern state's voters while 44 percent backed Collins. A survey by Critical Insights carried out from July 28 to August 9 showed Gideon up by 8 points.
Daines in Montana, despite his race being rated a toss-up, appears to be better positioned to maintain his seat. Polling by Emerson College from July 31 to August 2 showed Daines with the backing of 50 percent of voters in the state compared with 44 percent who supported his Democratic rival, Montana Governor Steve Bullock—a lead of 6 percent. A survey from July by Spry Strategies showed a closer race, with Daines leading by just 3 percentage points.
The most recent polling from North Carolina, a survey by East Carolina University conducted from August 29 to 30, showed Democratic candidate Cal Cunningham just narrowly ahead of GOP incumbent Tillis by 1 percentage point. But polling from Change Research carried out a week earlier showed the Democrat with a lead of 10 points, with 52 percent of the state's voters backing his campaign compared to 42 percent who supported Tillis.