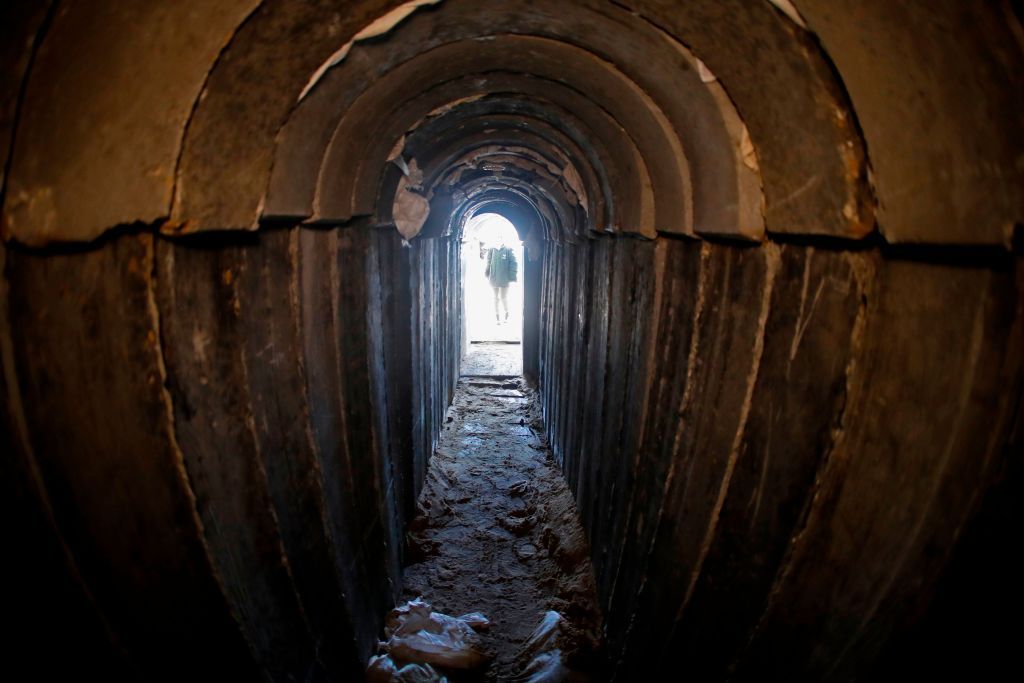 Two Palestinians were killed in a tunnel passing from the Gaza strip into eastern Egypt after the Egyptian military pumped toxic gas inside during a Monday raid.
Gaza's interior ministry, which is run by the Palestinian enclave's Hamas government, has said a 39-year-old Hamas officer, Abdul Hamid al-Aker, and 28-year-old Sobhi Abu Qarshin were killed by the fumes.
The Jerusalem Post quoted the Palestinian Wafa news agency as saying al-Aker was killed during a "security mission to inspect the tunnel." Abu Qarshin perished during a rescue attempt to save the older man.
A number of other individuals, part of Gaza's civil defense teams, also had to be rescued from the tunnels. They were taken to nearby hospitals where their condition was described as "moderate."
France24 Arabic reported that Palestinian officials were unable to say what poison gas was used in the tunnel. The use of such toxic gasses is an unprecedented measure by Egyptian security forces, which have been known to pump water and sewage into the elaborate underground passages that pass between Gaza and Egypt's restive Sinai peninsula.
Hamas officials say that tunnels are principally used for smuggling black market items like cigarettes but Israel has them an existential security threat, used to funnel in militant Islamists and weapons. Scores of tunnels have been destroyed in recent years.
In contrast to Cairo's first democratically elected president, the Muslim Brotherhood's Mohammad Morsi, who was seen as more sympathetic to the Palestinians and to Hamas, Egypt's current president Abdel Fattah al-Sisi is seen as a staunch oponnent of the Palestinian militant movement. He said in January interview with CBS that cooperation between Egypt and Israel in the Sinai, territory seized by Israel during the 1967 Six-Day War and not returned to Egypt until the 1980s, was at an all-time high. Under his rule Egypt has clamped down on the tunnels going into its territory.
Last month, the Egyptian military announced it had destroyed 37 cross border tunnels linking Gaza to the Sinai over the past year. Israel has also made concerted efforts in recent years to remove the tunnels. In the last year Israel has said it removed 15 tunnels used by terrorists to reach Israeli territory.
Israeli officials said one tunnel was built as a staging staging post for launching attack on the Kerem Shalom crossing, a border terminal between Gaza and Israel and Egypt.