Two People Shot After Fight Breaks Out During Party at Atlanta Hotel
Two people have been injured in a shooting at a party held in a hotel in Atlanta, Georgia.
It was the second shooting at the Intercontinental Hotel, off Peachtree Road, in a matter of weeks.
In the latest incident, an off-duty Atlanta police officer working at the hotel was alerted to a fight breaking out around 11: 50 p.m. on Saturday, December 12.
Police believe that one group was holding a party at the hotel, when a man entered and began talking to two women in attendance, reported 11Alive.
An argument then broke and the man pulled out a gun and fired twice before being subdued by others at the party and held until police arrived to take him into custody.
The two victims—identified by WSB-TV as Mark Neese, 39, and 29-year-old David Williams, 28—were taken to hospital and were both said to be in a stable condition.
The Atlanta Police Department has been contacted for an update on the investigation.
This is the second shooting at the Intercontinental Hotel this month.
Singer Ann Marie, real name Joann Marie Slater, was arrested on suspicion of shooting her long-time friend at the hotel on December 1.
Slater, best known for her 2018 song "Secret", was charged with aggravated assault and possession of a firearm during the commission of a felony following the shooting.
Police were called to a room at the hotel at around 6:25 p.m. where they found 24-year-old Jonathan Wright with a suspected gunshot wound to the head.
Police reported that Wright was "somewhat responsive" but was struggling to stay conscious because he had lost so much blood.
According to a police report seen by the Chicago Tribune, Slater was "screaming and crying hysterically" beside the bed where Wright was, but did not have any visible tears in her eyes.
She claimed the 24-year-old was accidentally shot in the head when a 40-caliber handgun fell off the bed or dresser and discharged.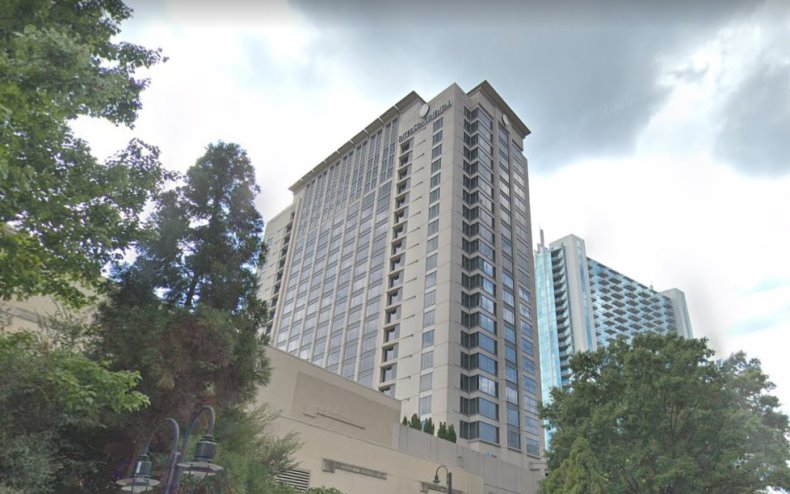 Police later found shell casings inside the hotel room—one at the bathroom door and another at the foot of the bed where the shooting allegedly occurred.
Slater was released from the Fulton County Jail shortly on Wednesday, December 9 on a $60,000 signature bond.
She is also facing a misdemeanor battery charge over a separate incident in November, reports the Tribune.