Two Philadelphia Police Officers Arrested, Charged With Illegally Detaining Man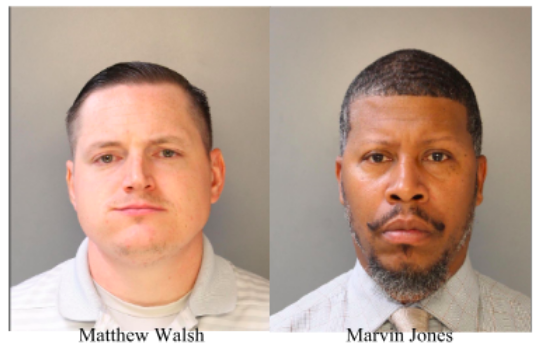 Two police officers in Philadelphia were arrested on Wednesday for allegedly illegally detaining a man in April. The two officers, who were assigned to the 14th District, were also suspended for 30 days with intent to dismiss, the department said.
Officers Matthew Walsh and Marvin Jones were charged with felony obstructing administration of law, as well as misdemeanor counts of false imprisonment, tampering with records and official oppression, The Philadelphia Inquirer reported.
The two were accused of stopping a man without necessary reasonable suspicion or probable cause in the 100 block of East Sharpnack Street, in Philadelphia, at around 10 a.m. on April 17. Police said the officers improperly searched the man and his vehicle before detaining him in handcuffs for about 15 minutes, according to WCAU.
Walsh and Jones drove the man a block away and then released him. The two officers submitted documentation that claimed the man was stopped for "apparently using narcotics" and stated that he was frisked because he failed to remove his hands from his pockets, police said in a statement provided to Newsweek.
The man later filed a complaint against the Philadelphia Police Department, prompting an investigation by the Internal Affairs Division. Officials reviewed surveillance video and concluded that the two falsified paperwork submitted after the incident.
Walsh and Jones were arrested by Philadelphia Police on Wednesday. No bond amount was set. Philadelphia Police Commissioner Richard Ross suspended the two men for 30 days, with the intent to dismiss the officers following the suspension period, police said.
The Philadelphia Fraternal Order of Police Lodge No. 5 told WCAU that it would supply the legal defense for both men. The officers "are entitled to due process," the FOP said in a statement to the station. The organization did not immediately respond to Newsweek's request for comment.
Walsh, 30, was a four-year veteran of the police force, while 48-year-old Jones has been with the Philadelphia Police Department for 10 years. According to court records reviewed by Newsweek, Walsh and Jones were both scheduled back in court for preliminary hearings on October 11.
No information was released about the citizen who was involved in the incident.
Two Philadelphia Police Officers Arrested, Charged With Illegally Detaining Man | U.S.