Two officers who were blamed for the deaths of 17 people should be given their jobs back and financially compensated for the time they were out of work, a judge ruled on Thursday.
Former Broward County Sheriff's Office deputies Brian Miller and Joshua Stambaugh were fired after investigators found they hid instead of intervening in the shooting. However, their firing came days outside the window dictated by state law and, therefore, should be reinstated.
"There were no victors on February 14, 2018, at Marjory Stoneman Douglas High School when Miller and Stambaugh failed to do their jobs, and it is BSO's belief that the deputies do not deserve their jobs back," the Broward County Sheriff's Office told Newsweek in a statement.
Both officers were accused of failing to act after responding to gunshots at Marjory Stoneman Douglas High School in 2018. An investigative commission found Stambaugh put on his bulletproof vest and took cover after hearing the shots. Instead of going toward the school, the commission determined he drove to a nearby highway.
Broward Circuit Judge Keathan Frink determined that arbitrators were right when they ruled the fired officers were entitled to their employment, as well as back pay and any other benefits they would have received had they not been fired, the Associated Press reported.
"Deadlines are set for specific reasons and the Sheriff's Office must adhere to those same guidelines as we demand from the citizens of Broward County," Jeff Bell, president of the Broward Sheriff's Office Deputies Association, said in a statement.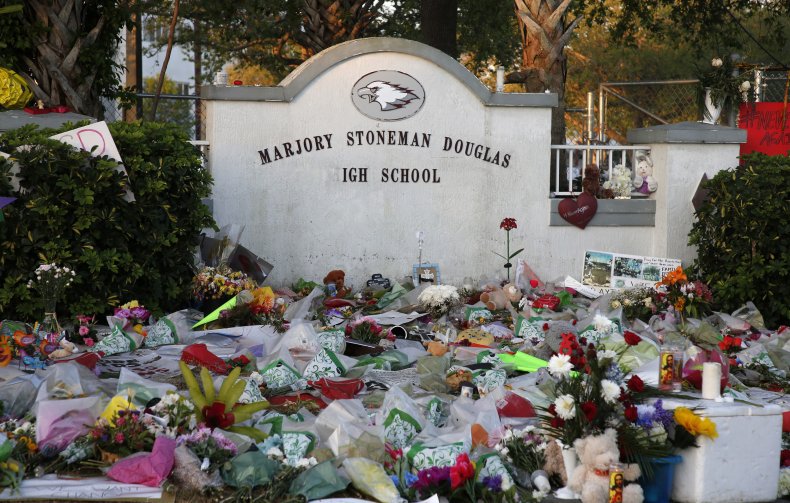 While the officers' union celebrated the victory as proof that Miller and Stambaugh were improperly terminated, the sheriff's office noted the judge's ruling was based on a technicality.
State law requires law enforcement officers to be disciplined within 180 days of the completion of an investigation. Arbitrators ruled last year that Sheriff Gregory Tony fired Miller two days after the deadline and Stambaugh 13 days after the deadline.
The sheriff's office appealed those decisions and after the judge's ruling, criticized the "inherently flawed" process for allowing law enforcement to avoid accountability.
Miller, the first supervisor to arrive on the scene, hid behind his car after hearing three or four shots.
A third officer, Edward Eason, who is awaiting an arbitrator's ruling on his termination, was accused of running the opposite direction of the gunfire. He's also been criticized for not making an official report after receiving a tip in 2016 that Nikolas Cruz, the suspected gunman, made threats on social media to shoot up a school.
Parents of students who were killed during the shooting were critical of the judge's decision. Lori Alhadeff, whose daughter Alyssa was killed, told the Associated Press the victims lost their lives because of Miller and Stambaugh and that it was "painful" to see "there is no accountability.
"If only my daughter's life could be reinstated on a technicality," Ryan Petty, whose daughter Alaina was killed, wrote on Twitter.
Andrew Pollack, the father of Meadow, also a victim of the shooting, reposted Petty's message on his own Twitter account.