'The Two Popes' Release Date: When is the Movie Out on Netflix?
Following its nomination for four Golden Globes, including one for Best Motion Picture-Drama, The Two Popes is getting a Netflix release just in time for Christmas. Starring The Silence of the Lambs' Anthony Hopkins as the retiring Pope Benedict XVI and Brazil star Jonathan Pryce as the new Pope Francis, The Two Popes is an imagined series of conversations between the two pontiffs, helmed by City of God and The Constant Gardener director Fernando Meirelles.
Speaking to GoldDerby, Meirelles said his aim in making The Two Popes was: "To make it very intimate.
"I told myself, instead of making the film about a pope talking to a cardinal, I wanted to make a film about two men who disagree on everything trying to find common ground.
"Very personal, very intimate. The camera is very close to them. There's a lot of jokes. You really understand who's behind that white cassock."
The Two Popes is one of four Netflix titles vying for Best Motion Picture awards at the Golden Globes, with The Irishman and Marriage Story also vying in the drama category and Dolemite is My Name competing for the musical or comedy award.
Pryce and Hopkins are also both nominated for their work on the film⁠—Pryce for Best Actor in a Drama and Hopkins for Best Supporting Actor.
When is The Two Popes out of Netflix?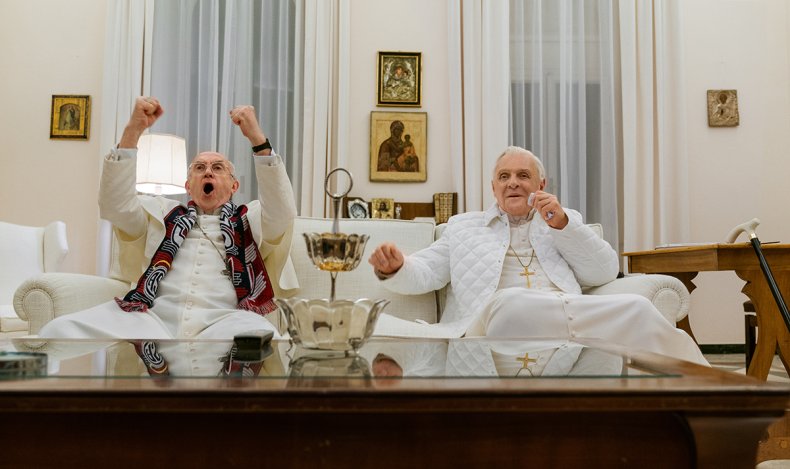 For those wanting to see the film before the Golden Globes 2020 winners are announced, The Two Popes is coming to Netflix on December 20. Like the majority of Netflix films and series, the 125-minute movie is expected to be released at one minute past midnight PT, or 3.01 a.m. ET.
Speaking about working with Netflix, Mereilles said to ScreenDaily: "This is a way to get lots of people to see your film. It gets some play in theatres and then it goes on the platform. Everything has changed. There's no way back."
Screenwriter Anthony McCarten revealed to Awards Daily how he helped get the movie made at Netflix. He said: "When I went into Netflix to tell them this story, I carried two photos: one of Jonathan and one of Tony—without asking them, of course. I plopped it down on the table, told the story and their eyes were on these two faces as I spoke to them. In the end, they said they'd do it. They asked if I had Tony and Jonathan and I said, 'Well, not technically not at this point. I'm sure they'll be interested in taking a look at it.' It never happens, but they both said yes."
The Two Popes will be released on December 20 on Netflix.
'The Two Popes' Release Date: When is the Movie Out on Netflix? | Culture