Two Powerful Lobbying Groups Are on Opposite Sides of the Stimulus Deal Deadlock
Liability protection is a sticking point in stimulus package negotiations and along with delivering for their constituents, legislators face pressure from lobbying groups with vested interests in the outcome.
At the top of the Republicans' stimulus package list is protecting businesses, schools and health care professionals from lawsuits, but top-ranking Democrats indicated there won't be a deal if it includes liability protection. It's an issue the Chamber of Commerce and the American Association for Justice (AAJ) have been "butting heads" over for years and with two of the most "connected and powerful interests in Washington" involved, Dan Auble, senior researcher for the Center for Responsive Politics (CRP), said the groundwork was laid to "exert pressure on both sides."
"The same groups now calling congressional offices to make their case have spent millions over the years to elect those same members," Auble said. "It's worth asking whether the issue would have even made it into the debate if powerful special interests were not involved."
The Chamber and AAJ ranked number one and 81 respectively out of 5,528 lobbying groups in 2019, according to Open Secrets, the CRP's website. For the 2020 election cycle, the Chamber is overwhelmingly supporting Republican candidates while the AAJ is backing Democratic candidates.
Both groups openly advocated for their position and sent letters making their stance clear to legislators. In June, the AAJ signed a joint letter with 58 other organizations opposing immunities, saying it would make it less likely that employers take the necessary steps to protect workers and further disadvantage already marginalized groups of people.
About two weeks later, the Chamber of Commerce wrote to President Donald Trump, Speaker Nancy Pelosi and Senate Majority Leader Mitch McConnell advocating for the measure. "Unwarranted lawsuits" threaten businesses' ability to operate and the economy's ability to recover, the letter said.
Although the Chamber and the AAJ are two of the most powerful groups in the discussion, they're far from the only ones with an opinion. In the second quarter of 2020 alone, Auble said 286 organizations lobbied on the topic of liability protections. It's more than twice the number of groups that did so in the entirety of 2019.
"Business interests typically make up 85 to 90 percent of lobby spending and 75 to 80 percent of campaign contributions. Lobbying is not everything, of course, and unions and membership organizations can and do use other means to exert influence but the fact remains that the forces with the most money behind them often get to set the agenda," Auble said.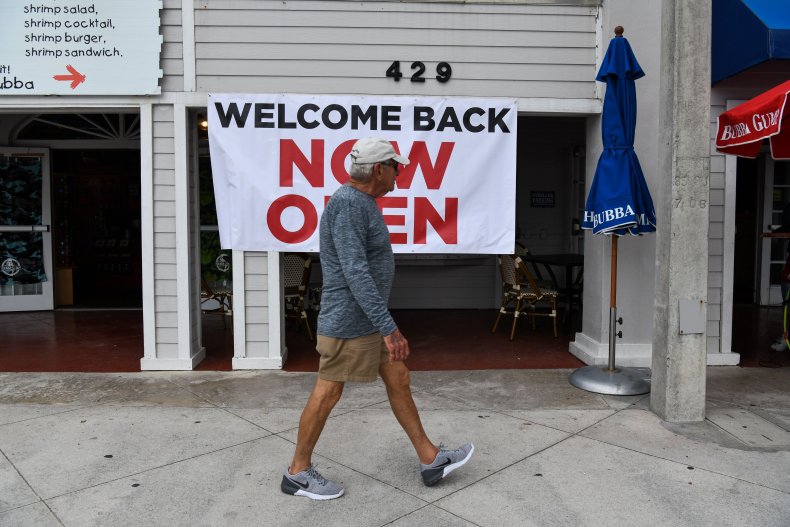 Senator John Cornyn's bill that Republicans introduced on July 27 temporarily limits a businesses' liability for personal injuries arising from alleged COVID-19 exposure. If the bill is passed, protections will be retroactive to December 1 and remain in place until October 1, 2024. To qualify for immunity, businesses must have made "reasonable efforts" to comply with public health guidelines and not engage in "willful misconduct or grossly negligent behavior."
Karen Harned, executive director of the National Federation of Independent Business (NFIB) Small Business Legal Center, told Newsweek they don't want to protect people who are "blowing this off." But, she complimented the bill for recognizing businesses should be rewarded if they're "trying to do the right thing and keep your employees and customers safe."
Harned, who said the NFIB has been "very open" about their support for the measure with McConnell and others, said lobbying is important because members of Congress can't have a person on their staff making constant assessments.
"I do think we have an important role to play," Harned said. "Congress knows how [our members] feel, and I think that's important because how else would they get this information? Particularly in instances like this when it goes down into the weeds so quickly."
In surveying its members, Harned said 70 percent were "very or somewhat concerned" about liability issues when they reopen. Without being able to definitively "pin down" where somebody contracted the new coronavirus, it would be easy for a person to file a nuisance suit, Harned said. For a small business, many of which are still financially hurting due to the pandemic, it can be more financially beneficial to cut a check than fight the claim, putting them at risk of having to close down for good.
"We've invested trillions of federal dollars in getting businesses back open, so now we can't let them fail because of frivolous lawsuits," Harned said. "Everybody is worried about this because they just don't need another shoe to drop."
McConnell said there's "no chance" he'll bring a package to the floor if it doesn't have liability protection. The hard line on this "very extreme bill" might indicate that McConnell doesn't want "anything to pass altogether," Senate Minority Leader Chuck Schumer told MSNBC on Tuesday.
On Friday, McConnell dismissed the notion that Democrats could "negotiate it away" during an interview with WHAS, a Kentucky radio station. He affirmed any deal that goes to the Senate floor will contain liability protection.
However, members of the Trump administration started taking a softer approach to the provision. Press secretary Kayleigh McEnany told reporters during a briefing on Friday that liability protection is McConnell's "priority" and Trump is "very keenly focused on unemployment insurance."
White House Chief of Staff Mark Meadows told reporters he was supportive of addressing other, more pressing issues, such as expanded unemployment, first and then including liability protection in a broader package. Although the White House doesn't have a strong position on liability protection, according to Meadows, he told Bloomberg on Friday that the administration supports McConnell's decision to require it be included in a package.