Two Seattle Police Accountability Offices Criticize Cops' Use of Force During George Floyd Protests
On Friday, Seattle's Office of Police Accountability (OPA) and Community Police Commission (CPC) released reports providing opinions on the Seattle Police Department's (SPD) use of less-lethal munitions on racial justice protesters.
The subject has set the City Council and racial justice protesters on one side of a federal court battle against the SPD's former chief and the U.S. Department of Justice. The OPA and CPC's reports were meant to provide guidance on the dispute.
On June 15, the Seattle City Council voted unanimously to block SPD from using crowd-control weapons like tear gas against protesters. Reports accused SPD officers of using tear gas, a chemical weapon banned in war zones by the Geneva Conventions, and other less-lethal munitions against non-violent demonstrators and journalists. The gas and weapons also affected nearby infants and children as well as the ventilation systems and residents of nearby buildings.
The U.S. Department of Justice (DOJ) and the SPD's now-resigned police chief publicly opposed the city council's ban. The DOJ even filed for a temporary restraining order against the ban, stating that it was likely to increase the use of potentially lethal force by police and violate a 2012 Consent Decree agreement between the federal government and the SPD meant to examine reduce the SPD's alleged use of unconstitutional policing and excessive force during 2011.
The CPC's report wrote said the SPD's own policies on the use of less-lethal munitions are regularly ignored by police or have been proven "wholly insufficient" to stop their indiscriminate use. The CPC also said its past recommendations for the SPD's more peaceful management of protests had gone disregarded.
As such, the CPC's findings supported the city's ban and suggested that the SPD immediately revise their crowd control policies, training and tactics to comply with the city's ban, allowing the CPC, OPA, Seattle's Office of the Inspector General (OIG) and Federal Court to oversee their development and implementation.
The CPC also advised the SPD to consider non-lethal patrolling techniques and alternatives to police use of batons and riot shields, implements of force that do "not promote community trust" and add to the "warrior mentality" of SPD officers.
The CPC said it wants city leaders to improve standards for when police and the mayor are able to legally declare unlawful assemblies, riots and curfews. Current state and local laws allow police to declare a riot and use less lethal munitions against hundreds and thousands of protesters if there are just three or four unruly people among them.
Also, Mayor Jenny Durkan issued a 5 p.m. curfew for protesters at 4:46 p.m. on the day it was instated, which the CPC alleges put many unaware protesters in inadvertent defiance of her order.
Lastly, CPC recommended a full review of the SPD's use of force policies; a review of SPD's strategic plans to search for disparities in the way officers attend, appear, and use force during demonstrations; and an inventory of the SPD's remaining crowd control munitions with plans to dispose of them while maintaining a prohibition of their sale to other law enforcement agencies.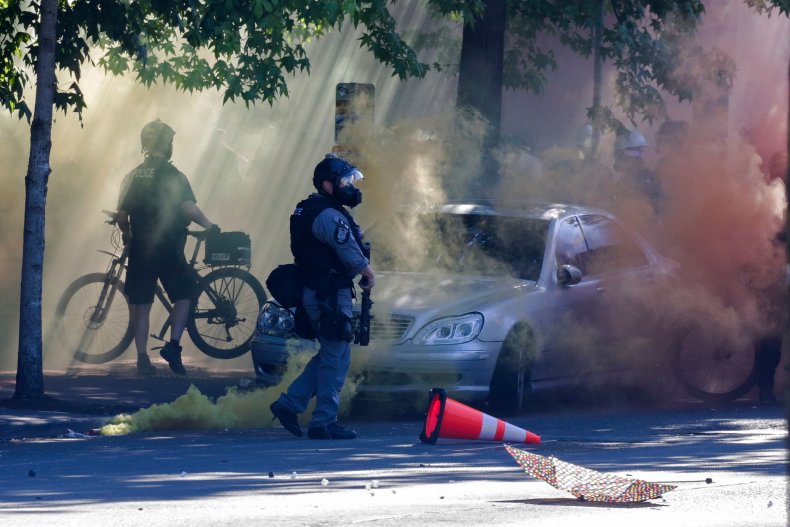 The OPA's report agreed that the use of tear gas on protesters should be banned, but said that less-lethal munitions—like pepper spray, blast balls (a type of noise flash diversionary devices) and blunt-impact munitions, like 40-millimeter Blue Nose "sponge grenade" Launcher—are necessary to disperse crowds if there's an imminent threat of harm to people. Otherwise, the report said, officers will have to resort to using batons to beat back instigators of violence.
As such, the OPA supported current SPD policy language forbidding officers from the "indiscriminate usage" of such munitions or shooting them at people's heads and "other sensitive areas."
The OPA wrote that the SPD's use of less-lethal munitions during the recent racial justice protests "served no clear law enforcement purpose: they did not prevent property damage, effectively disperse the crowd, or allow peaceful demonstrators their right to protest."
The OPA wrote that the use of the munitions should always be authorized by an incident commander rather than by individual officers on the front lines. The OPA also wrote that commanders should create a detailed Incident Action Plan (IAP) outlining the circumstances and geographical directions needed for crowd dispersal, a clear indication of who will give the orders, how and the justifications for these decisions.
The report suggested that officers should monitor police-related protests at a distance rather than deploying many officers close up where their presence could escalate tension.
It also suggested that the SPD use portable public address systems to announce dispersal orders to a crowd and develop ways to individually apprehend violent or property-destroying individuals rather than denying the masses their rights to free speech by dispersing entire crowds when individuals violently act out.
However, the OPA report said that requiring mayoral approval for all use of less-lethal munitions would be impractical because the mayor or city officials can't be expected to oversee the 300 or more protests that occur in the city every year. Furthermore, the City Charter vests such oversight power into the police chief, not the mayor, rendering such an approval process potentially illegal.
Seattle's Office of the Inspector General (OIG) also released a 90-page report on the same issues.
Two Seattle Police Accountability Offices Criticize Cops' Use of Force During George Floyd Protests | U.S.