Two Sisters Almost Got Away With the 'Perfect Murder,' Until They Started A Relationship With The Same Man
Four years after their 85-year-old father died of apparent natural causes, two sisters allegedly confessed to killing him at his Florida home.
Mary-Beth Tomaselli, 63, and Linda Roberts, 61, are accused of killing their father in March 2015. The women nearly got away with the "perfect murder" until they both became romantically involved with the same man, Pinellas County Sheriff Bob Gualtieri told reporters on Tuesday.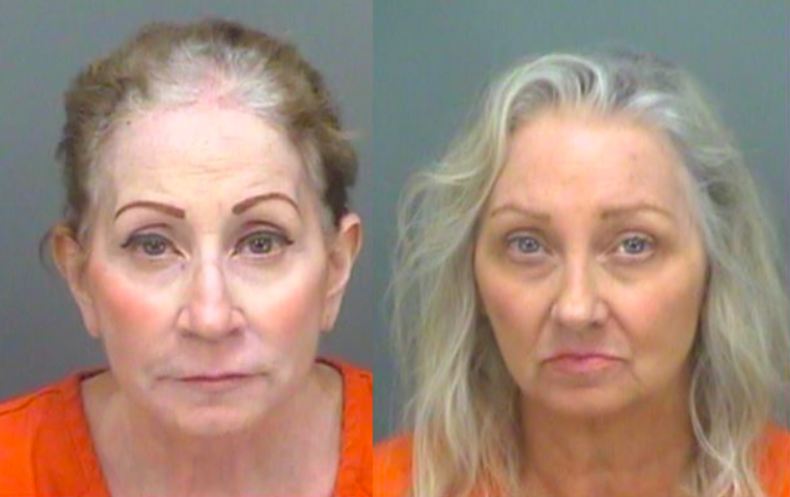 Anthony Tomaselli was found unresponsive at his Palm Harbor, Florida, home on March 6, 2015. Paramedics attempted CPR, but Tomaselli was pronounced dead shortly before 6 a.m.
Officials did not suspect foul play at the time, a statement from the sheriff's office said. His primary care physician ruled Tomaselli had died of natural causes "due to Tomaselli's advanced age and medical history."
The two sisters were at their father's home at the time and both claimed their father had fallen asleep on the couch the night before and was not breathing the following morning. The women said they attempted CPR and called 911.
However, sheriff's officials said that the sisters actually schemed to kill their father because he would not to move into an assisted living facility. Mary-Beth told police that she gave her adult daughter, who was in the home at the time, sleeping pills so she would not know what truly happened to her grandfather.
The sisters then reportedly gave him alcohol laced with sleeping pills, hoping that would kill him. When that did not work, the sisters attempted to suffocate him by placing a pillow over his face, the sheriff's office said in a statement. When that failed, the sisters stuffed a rag down his throat, pinched his nose and held his arms until he stopped breathing, the Washington Post reported.
The two women would have gotten away with the killing, but they began a sexual relationship with the same man last fall, Gualtieri said. The sheriff said the man noticed "odd behavior" from Linda and that "something was troubling her." On February 12, Linda confessed to killing her father with her sister.
"Because of Linda's statements, the male subject took out his cellphone and began to videotape and audio tape Linda's statements," Gualtieri said.
Linda admitted on the recordings that the killing was "premeditated" and that they "euthanized" their father because he was going to die soon and he refused to move into an assisted living facility.
The man then contacted authorities a day later and turned in the recordings. He worked with detectives and made additional recordings of statements by both women. The sisters even revealed details of their father's death.
Following his death, the sisters sold his home and split the $120,000 profit with their brother, who was not involved in the alleged murder.
They were arrested nearly four years to the day on March 5, and charged with first-degree murder. The sheriff's office said both admitted to killing their father.
Two Sisters Almost Got Away With the 'Perfect Murder,' Until They Started A Relationship With The Same Man | U.S.