Two Southern Churches Reclose Indefinitely After Pastor Dies and Leaders, Churchgoers Catch Coronavirus
Two churches—Catoosa Baptist Tabernacle, in Ringgold, Georgia and Holy Ghost Parish in Houston, Texas—have decided not to resume in-person services after an outbreak of COVID-19 amongst its members. One of the priests at the Texas church, Father Donnell Kirchner, is believed to have died of coronavirus.
Executive orders issued by the governors of Texas and Georgia both allowed churches to meet during the ongoing coronavirus epidemic, albeit with some social distancing measures in place. Both churches say they'd been observing those measures when holding in-person services.
Catoosa Baptist Tabernacle had resumed its in-person services on Sunday, April 26. The church said approximately one-fourth of its usual congregation attended, and that the congregants sat six feet apart from one another in addition to being made to enter and exit in a way that observed social distancing.
Nevertheless, the church decided on May 11 to stop holding services after an unspecified number of families contracted coronavirus.
"Though we feel very confident of the safe environment we are able to offer in our facilities, the decision was made ... that we would discontinue all in-person services again until further notice in an effort of extreme caution for the safety and well-being of our families," the church said in a statement.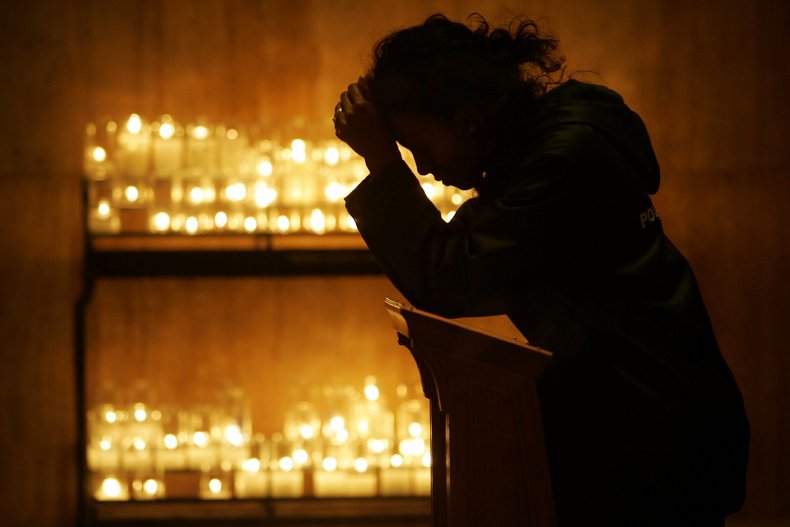 Holy Ghost Parish continued its in-person masses on May 2 but decided to discontinue them on May 14, the day after Kirchner died from what church leaders believe may have been COVID-19. The Archdiocese of Galveston-Houston said he had been diagnosed with pneumonia before dying on May 13.
Five members of the church's religious order have since tested positive for COVID-19. All five are reportedly asymptomatic and now in quarantine within the parish's residence.
The parish had reportedly followed the state's suggested recommendations of requiring attendees to wear faces masks and sit in alternating rows. The church had also allowed only 179 people to sit in its 900-seat sanctuary.
However, the church is now suggesting any attendees monitor themselves for symptoms and get tested as a precautionary measure.
Newsweek reached out to Holy Ghost Parish for further information. This story will be updated with any response.
Churches have proven a thorny battleground for states during the coronavirus epidemic. Last Tuesday, Chicago Mayor Lori Lightfoot said the city will enforce the stay-at-home orders against churches that continue to hold services in defiance of Democratic Illinois Governor J.B. Pritzker's shelter-in-place order.
Churches that have defied such orders set up a potential church-versus-state battle over the First Amendment's promise to free exercise of religion and the state's power to protect public health.