In March 2020 I was pregnant with my second child, around two days past my due date and rather fed up. My mom had flown into the U.K. from Malaysia two weeks prior to help us with the new baby, but there was nothing for her to do—although I confess our house had never been so clean.
Around 7.30am on March 5, I woke up to some mild contractions and suggested to my husband Tony that he took the day off work—I felt certain the baby was arriving soon. As he took our eldest son, Oliver, who was three-years-old at the time, to nursery, I gave our midwife a call. She asked me how I was feeling and I explained that I was having contractions every three to five minutes. She advised that I still had a while to go before birth, and so suggested we start making our way to the hospital, but not to rush so I didn't have a long wait when we arrived.
We took that advice and started packing things up but as traffic from our home to the Chelsea and Westminster Hospital in London can be pretty bad in the mornings, we chose to wait until after 9am to leave.
As we got in the car, I immediately felt like I should be on all fours, sitting down simply wasn't an option. So, I was forced to sit hunched over in the back seat as we navigated the heavy traffic. Tony then took a wrong turn, so while it must have been 30 minutes at most, the journey felt like it lasted a lifetime. I suspect I was transitioning by this point, as the contractions were so strong, I soon wasn't able to speak.
By the time we finally arrived in the hospital car park at around 9.30am, I was struggling to move. I remember telling Tony that the baby was going to arrive in the parking lot because I wasn't going make it into the hospital itself. He had to really encourage me to even get out of the car and try to walk to the hospital. Truthfully, just moving from the car to the nearby lift felt like a momentous task; I would walk a few steps and then double over as I experienced a massive contraction.
We were only halfway through the parking lot before I started to feel the weird sensation of the baby crowning, which made it even harder to walk. Tony flagged a young man down and asked him to get us some help or a wheelchair. I suspect he was quite shocked but sped off in search of assistance. When he eventually returned with a receptionist and a wheelchair, I sat down and finally felt a wave of relief as the receptionist rushed to call the birth clinic. I can vividly remember that we were standing right by the lift in the parking lot, just behind the main reception of the hospital entrance—quite a busy area with lots of people walking past, though by that point, I was completely past caring.
Suddenly, I was overwhelmed by a really primal urge to push. I could feel that the baby would be arriving any minute so Tony ran to get help, but while he was gone, I felt I simply had push. I stood up from the wheelchair, turned around, and as I did, the baby was born. It happened so quickly that he just slid out, down my legs and was luckily caught in my leggings, right by ankles.
My whole body was shaking and I was in complete shock when Tony returned seconds later, only to be told that the baby had already arrived. He looked down at my legs and must have realised that the bulge he saw was our newborn son.
Tony and I really weren't thinking straight; it hadn't even occurred to me that I should pick the baby up. So I am incredibly thankful that two very kind women happened to walk past just at that moment and stopped to offer us assistance. Tony then instinctively pulled my leggings down and we saw that the baby looked gray and wasn't moving. Terrified, Tony reached in and picked the tiny bundle up, handed him to me and thankfully he started crying.
As we stood, completely dazed, those two strangers stepped in. They took their jackets off and used them to shield me from other people passing by. The sight of a woman giving birth in a parking lot had caused a small crowd to gather and the two kind strangers were quick to tell people to move away.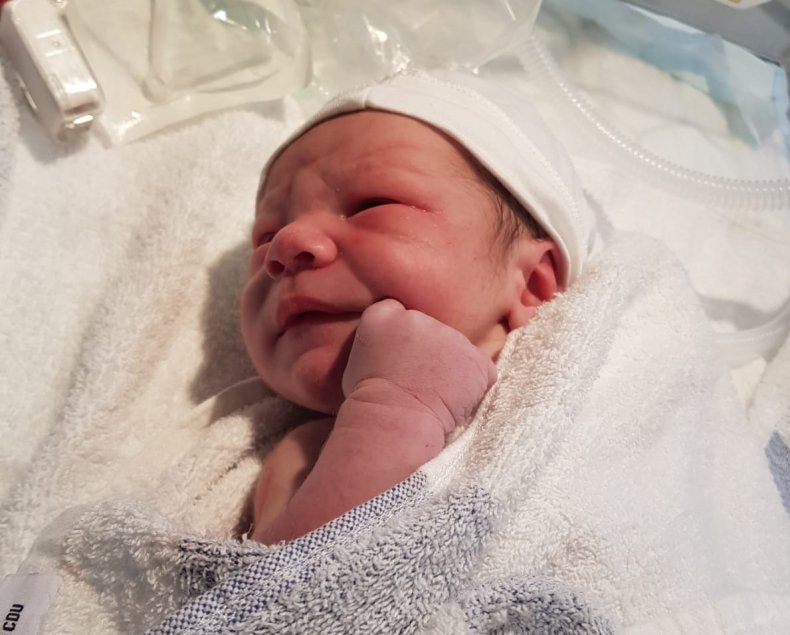 One then held our baby, who we named Oscar, and put him on my chest for skin-to-skin contact. She helped me latch Oscar on to my breast and fortunately he began feeding straight away. Worried about Oscar being cold, she then instructed me to wrap him up in my jumper while comforting me at the same time. Meanwhile, the other woman had asked for some sheets. She gave one to me and used the other as a sort of privacy cover, all while admonishing passers by for staring.
Although it passed in a daze, one funny memory I have from the birth is of a cleaner who happened to walk past, see the mess and place a couple of the 'Beware of Slippery Floor' signs beside us before running off to fetch a mop.
When a porter arrived shortly afterwards, we only had time to say a quick "thank you" to the two women before we were rushed off—because of the unusual way he was born, there were concerns that baby Oscar might have been starved of oxygen at birth. I desperately wish that I had asked them for their names or for a way to stay in touch.
Sadly, I can't even recall in any detail what they looked like. One was wearing a khaki colored parka-style coat, and the other was quite tall, with shoulder length hair. I vaguely remember they had lanyards around their necks, so I have wondered if they worked for the hospital in some capacity.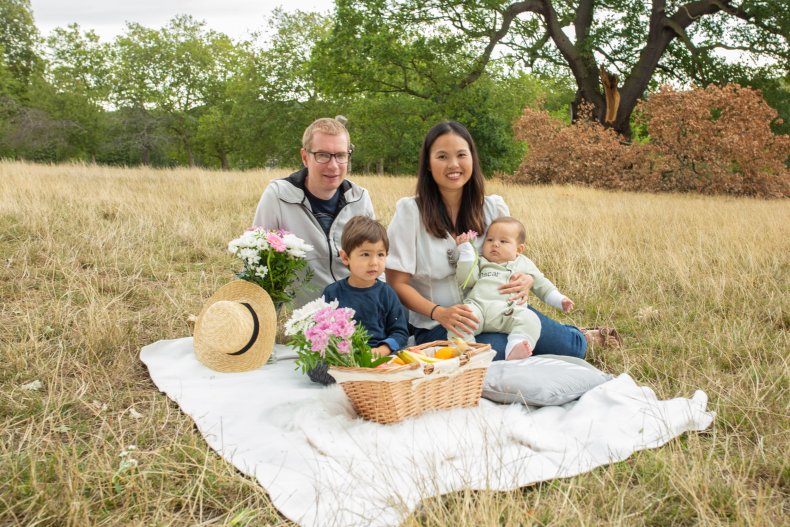 I deeply regret not getting their names and in the months since, I have been posting on local social media pages and reached out to staff at the hospital to see if anyone might know them, but I haven't had any luck.
Even now, Tony and I talk about how lucky we were that they helped us—especially at the time, which was right when the pandemic had just hit the U.K. and COVID-19 cases were skyrocketing. It is so heartwarming to know that there are still people willing to show kindness.
Oscar is now almost one and he is a healthy, happy little boy who loves smashing his toys and chasing after our cat. But had I not had the help of those two strangers, it could so easily have been a very different outcome.
Perhaps I will never see them again, but if I could, I would tell them this: Thank you so much for helping us when I was in such a vulnerable state. Thank you for taking the lead and putting Oscar on me for skin-to-skin contact and making sure that he was kept warm. Thank you for keeping me calm, comforting me, giving me some privacy and helping me retain my dignity. Thank you so much—from the bottom of my heart.
Katherine Goodes owns a small business Chewie Cat which specialises in handmade and personalised baby gifts such as teething rings, dummy clips, clothing and more for the special little baby in your life, based in South West London. She lives in London with her husband and two children.
All views expressed in this article are the author's own.