Two Suspects Arrested in Shooting of Black Georgia Jogger Ahmaud Arbery as Governor Condemns 'Horrific' Killing
Arrests have been made in the case of an unarmed black man who was fatally shot while jogging through a Glynn County neighborhood in Georgia earlier this year.
On Wednesday, the Georgia Bureau of Investigation (GBI) said Gregory McMichael, a former law enforcement official, and his son, Travis McMichael, were arrested in connection with the February 23 shooting of Ahmaud Arbery.
According to a statement from the GBI, the men "were both charged with murder and aggravated assault. The McMichaels were then taken into custody and will be booked into the Glynn County Jail."
News of the arrests came after a video of the shooting began circulating on social media earlier this week. The video, which showed 25-year-old Arbery falling to the ground after a confrontation with two men traveling in a white truck, quickly drew national attention and calls from both public figures and civil liberty organizations to launch an investigation into Arbery's death.
Attorney Alan David Tucker of Brunswick, Georgia, said he released the video of Arbery's shooting, which was posted to the website of a local radio station, because he felt "people had the right to know." Tucker did not reveal how he came to be in possession of the video.
"There had been very little information provided by the police department or the district attorney's office, but there was entirely too much speculation, rumor, false narratives, and outright lies surrounding this event," Tucker told Georgia Public Radio in a Thursday email.
"My sole purpose in releasing the video was absolute transparency because my community was being ripped apart by erroneous accusations and assumptions," Tucker added.
Georgia Governor Brian Kemp addressed Arbery's murder Thursday during a news briefing. Kemp said he had watched the video.
"I can tell you it's absolutely horrific," Kemp said, "and Georgians deserve answers. In these moments, I would ask that you continue to pray for his loved ones and the local community, as well as our state."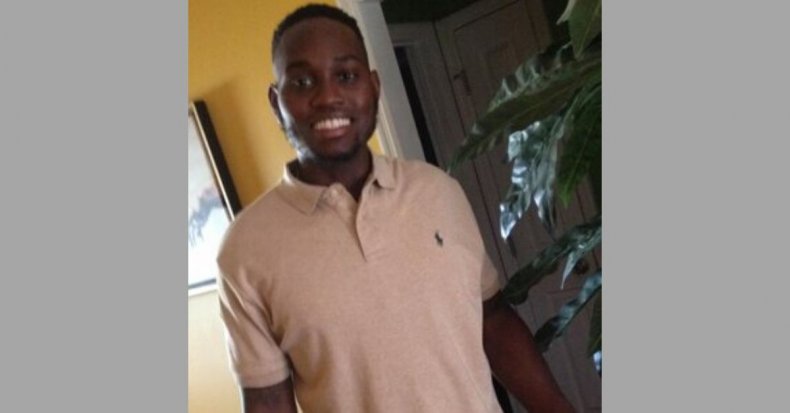 District Attorney Tom Durden formally requested the Georgia Bureau of Investigations launch a grand jury investigation into the incident Tuesday. In a press release, Durden said two other district attorneys recused themselves from the investigation before Durden became involved on April 13 "because of either prior employment and/or familial relationships" with individuals involved in the investigation.
"Having neither previous knowledge of the incident nor any relationship with the investigators or witnesses, I accepted the appointment to review the case and take the action that I thought was appropriate," Durden said in the release.
In a police report obtained by The New York Times, law enforcement officials said Gregory McMichael told Glynn County police he saw Arbery running the afternoon of February 23 in a neighborhood near Brunswick. Gregory McMichael suspected Arbery had been involved in burglaries reported nearby, the report said. McMichael then told authorities he invited his son, Travis McMichael, to join him in following Arbery. Once the two caught up to the jogger, events quickly unfolded with at least two shots fired before Arbery fell to the ground, the report said.
Several individuals and organizations have criticized the speed of the investigation into the shooting, which the National Association for the Advancement of Colored People referred to as a "modern-day lynching" and which others have called a murder. The timing of the incident also drew comment from the American Civil Liberties Union of Georgia, which compared Arbery's death to the 2012 killing of 17-year-old Trayvon Martin. In Martin's case, his shooter later said during an investigation that he had followed and shot Martin because the teenager looked suspicious.
While news of the arrests indicates a step forward in the investigation, the case is expected to encounter additional delays due to COVID-19 restrictions currently in place throughout Georgia's court system, which are expected to expire after June 12. In his press release, Durden wrote that once the restrictions are lifted, "I do intend to present the case to the next available grand jury in Glynn County."
District Attorney George Barnhill suggested in an April letter to Glynn County Police Captain Tom Jump that Arbery was shot because he was suspected of committing a burglary, but an attorney for the Arbery family disagreed.
"They have made reference to ongoing burglaries in this community, but some obscure indistinct crime in the community does not empower the entire community to hunt down black men," said attorney Lee Merritt, according to WJXT. "These men were not performing any police function or any duty as a citizen of the state of Georgia. These men were vigilantes. They were a posse and they were performing a lynching in the middle of the day."
Correction, 05/13/20, 10:20 a.m.: This story has been updated to correct the spelling of McMichael in the second paragraph. In the previous story, Gregory and Travis McMichael were referred to as Gregory and Travis McMichaels.