Two-Thirds of Independents, a Key Biden Demographic, Oppose His $3.5 Trillion Bill: Poll
President Joe Biden's approval rating has slipped among Independents and support for the spending bill that includes key campaign promises is far weaker among Independents than Democrats, according to a new poll.
The $3.5 trillion spending package includes provisions for universal pre-K, two years of free community college and an expansion of Medicare. Democrats hope to pass it by way of reconciliation, thereby bypassing Republicans in the Senate, but two members of their party aren't keen on the price tag and legislators acknowledge it may have to be pared down.
A CNN poll released on Wednesday found only 36 percent of Independents supported passing the bill with all of the proposed social and climate change policies. That's less than half the 75 percent of Democrats who support the bill passing in its entirety. Only 6 percent of Republicans surveyed back the plan.
Thirty-two percent of Independents support a scaled-down package that enacts fewer policies but costs less money and Congress not passing any version of the bill. A total of 1,000 people were surveyed and the poll has a margin of error of plus or minus 4.2 points.
Just as Democrats were far more likely than Republicans to support the package, the same was true for voters who lean one way or another. Among Democrat-leaning voters, 68 percent supported Congress passing the package as it currently stands but only 9 percent of Republican-leaning voters felt the same way. Nearly 60 percent of Republican-leaning voters polled didn't want to see the package pass at all.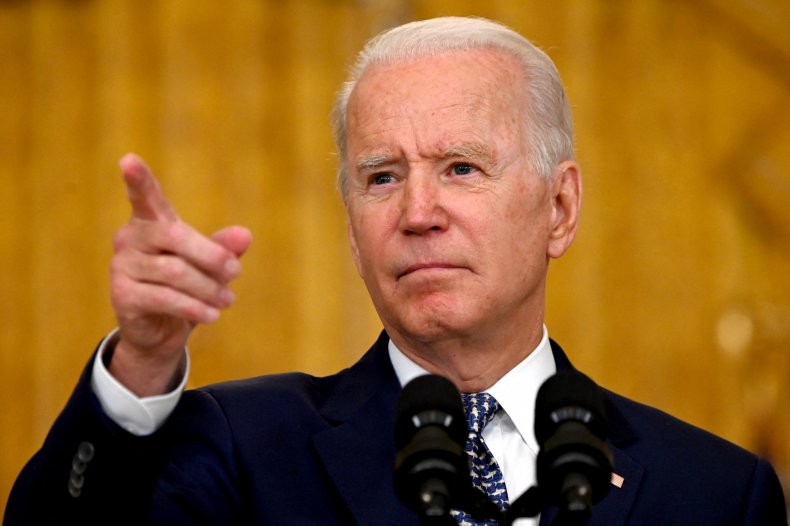 The gap between Republican- and Democrat-leaning voters lessened when it came to Congress passing a scaled-down version of the current spending package. Twenty-six percent of voters who lean toward Democrats and 35 percent of voters who lean toward Republicans supported a smaller package.
Reconciliation requires Democrats to have a unified caucus in the Senate, something they don't have with the bill's current state. Biden met with both Senators Joe Manchin of West Virginia and Kyrsten Sinema of Arizona multiple times in an effort to close the deal on the package, but he failed to convince them to vote yes on the package.
The White House has prepared legislators that the spending bill will likely have to be cut to pass the Senate, and while progressives say they're willing to negotiate on the price tag, they've balked at Manchin's $1.5 trillion maximum. Looking at a likely cut of at least $1 trillion, Speaker of the House Nancy Pelosi acknowledged that "difficult decisions" will have to be made in order to meet the October 31 deadline.
Progressives have been wielding their power to keep aspects of the package in place they consider to be non-negotiables by threatening to withhold votes for a bipartisan infrastructure package. It passed the Senate with 19 Republican votes, but Washington Representative Pramila Jayapal, chair of the Progressive Caucus, has said that you can't have one bill without the other and they both must move forward together.
While Democrat-leaning voters agree Congress should pass both packages, even if it's a scaled-down spending bill, they don't predict it'll have a major impact on their lives. Only 43 percent of Democrat-leaning voters believe their lives will be better off, according to the CNN poll, and a majority of 51 percent believe their lives will stay the same.
A stronger majority of 62 percent of Republican-leaning voters polled believe their lives will be worse off and 33 percent believe they'll stay the same. Only 5 percent predict an improvement if the bills pass.
Amid a showdown between moderates and progressives in the Democratic caucus, Independents are split on who is doing more to help the party. A majority, 58 percent, back moderates who are trying to contain government spending, and 42 percent side with progressives who want to enact ambitious liberal policies.