A majority of Republicans say they are not confident the November 3 election will be held fairly, according to a new poll.
The survey, which was conducted by NBC News/SurveyMonkey, found that 65 percent of those who identify as Republican or "lean Republican" said they lack confidence in the election's fairness. Among the 65 percent, 37 percent said they are not too confident, while 28 percent said not at all confident.
Thirty-four percent of Republicans said they are confident the election will be held fairly, with 9 percent saying they are very confident and 25 percent saying somewhat confident.
The poll surveyed 44,601 U.S. adults from August 3 to 9 and has a margin of error of plus or minus 1 percentage point.
In comparison, 46 percent of Democrats said they are not confident in the election's fairness, with 30 percent saying not too confident and 16 percent saying not at all confident.
A majority of Democrats (53 percent) said they were confident the election will be held fairly, with 20 percent saying very confident and 33 percent saying somewhat confident.
Among independents, the poll found a majority (53 percent) saying they are confident the election will be held fairly, while 46 percent saying the opposite.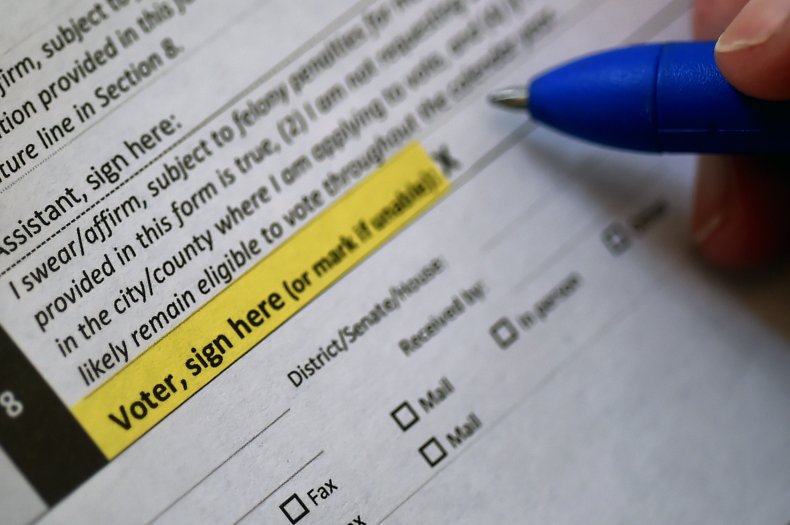 The poll's findings come as President Donald Trump has repeatedly criticized the voting system, specifically voting by mail.
"I want to have the election. But I also don't want to have to wait for three months and then find out that the ballots are all missing and the election doesn't mean anything. That's what's going to happen," Trump said at a recent news conference.
"Mail-in ballots will lead to the greatest fraud," he added.
Despite this criticism, on August 4 Trump made an apparent reversal and encouraged Florida voters to vote by mail.
"Whether you call it Vote by Mail or Absentee Voting, in Florida the election system is Safe and Secure, Tried and True. Florida's Voting system has been cleaned up (we defeated Democrats attempts at change), so in Florida I encourage all to request a Ballot & Vote by Mail!" he recently tweeted.
Republican National Committee press secretary Mandi Merritt told Newsweek that Republicans oppose "a rushed and forcibly implemented nationwide vote-by-mail experiment that would eliminate...safeguards, invite fraud and weaken the integrity of our elections."
She added, "Republicans have always supported absentee voting with safeguards in place and want to make sure every valid vote is counted and our elections are free, fair and transparent."
The poll also found a majority of Americans (55 percent) said they favor changing election laws to allow everyone to vote by mail, with 35 percent saying they strongly favor this and 20 percent saying they somewhat favor it.
On the other hand, 42 percent said they oppose changing election laws, with 12 percent saying they somewhat oppose the move and 30 percent saying they strongly oppose it.
The November election's outcome is also the subject of strong opinions from other nations. A top U.S. intelligence official recently warned that China "prefers" Trump's defeat in November, while Russia is trying to "denigrate" presumptive Democratic nominee Joe Biden.
"We assess that China prefers that President Trump—whom Beijing sees as unpredictable—does not win reelection," said William Evanina, director of the National Counterintelligence and Security Center, in a statement.
"We assess that Russia is using a range of measures to primarily denigrate former Vice President Biden and what it sees as an anti-Russia 'establishment.' This is consistent with Moscow's public criticism of him when he was Vice President for his role in the Obama Administration's policies on Ukraine and its support for the anti-Putin opposition inside Russia."
Evanina added that Iran is attempting to "undermine U.S. democratic institutions, President Trump and to divide the country."
This story was updated with comments from Republican National Committee press secretary Mandi Merritt.