Two-Thirds of Republicans Want More Politicians Like Donald Trump, Poll Shows
Republicans seemingly want more politicians like President Donald Trump. At least, that's according to a new poll released Wednesday by YouGov.
The firm asked, "Do you wish the candidates who run for Congress this year will be more or less like Donald Trump?" Sixty-seven percent of GOP respondents said "more like Donald Trump." Nineteen percent of Republicans responded "less like Donald Trump" and 14 percent responded "not sure."
Unsurprisingly, Democrats were not eager to have more politicians like Trump. Just 7 percent responded "more like Donald Trump" while 78 percent said fewer. Overall, 32 percent of respondents said they wanted more congressional candidates like Trump and 46 percent said they wanted fewer.
The survey interviewed 1,500 U.S. adults from June 17 through June 19. It had a margin of error of plus or minus 3 percentage points.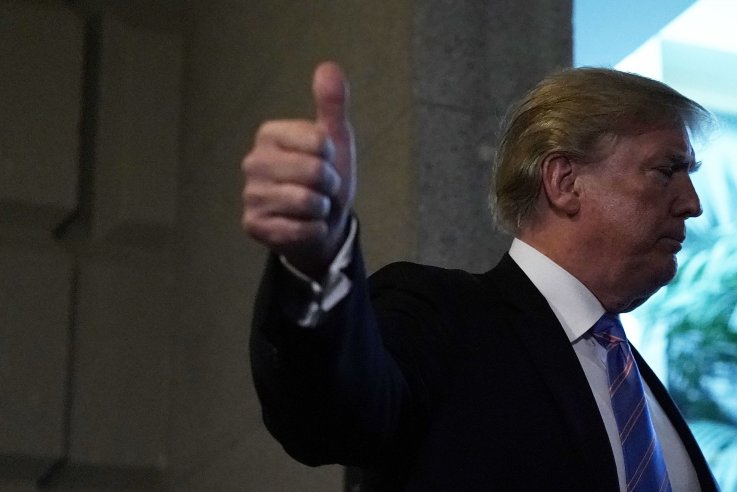 Trump has already begun to make his presence felt regarding the 2018 elections. And while he remains relatively unpopular—his approval rating hovering around 42 percent—some GOP candidates have seemingly embraced his brash style and lobbied for his support. Others have steered clear.
Trump, for instance, has a rally planned in Minnesota on Wednesday. Some local politicians, like Republicans Governor Tim Pawlenty, seem wary of entirely hitching their respective wagons to the president.
"Like a lot of Republicans, and I think many other Minnesotans, I'm concerned sometimes about his behavior and his language," he told MPR News last week. "But in terms of his policy priorities and areas of focus I agree with many of them, most of them."
The Trump administration has spent the past few days dealing with the fallout of its widely unpopular policy of separating children from parents at the border. Images of kids in chain-link cages and audio of wailing children have dominated headlines and disturbed many people across party lines. The YouGov poll, for instance, found a majority of Americans—54 percent—disapproved of separating the children from their families while just 29 percent approved. Still, 55 percent of Republicans approved of separating the undocumented kids from their families, according to YouGov. Thirty-one percent disapproved.
Two-Thirds of Republicans Want More Politicians Like Donald Trump, Poll Shows | U.S.