Two Turkish Journalists Face Prison for Publishing Charlie Hebdo Cartoons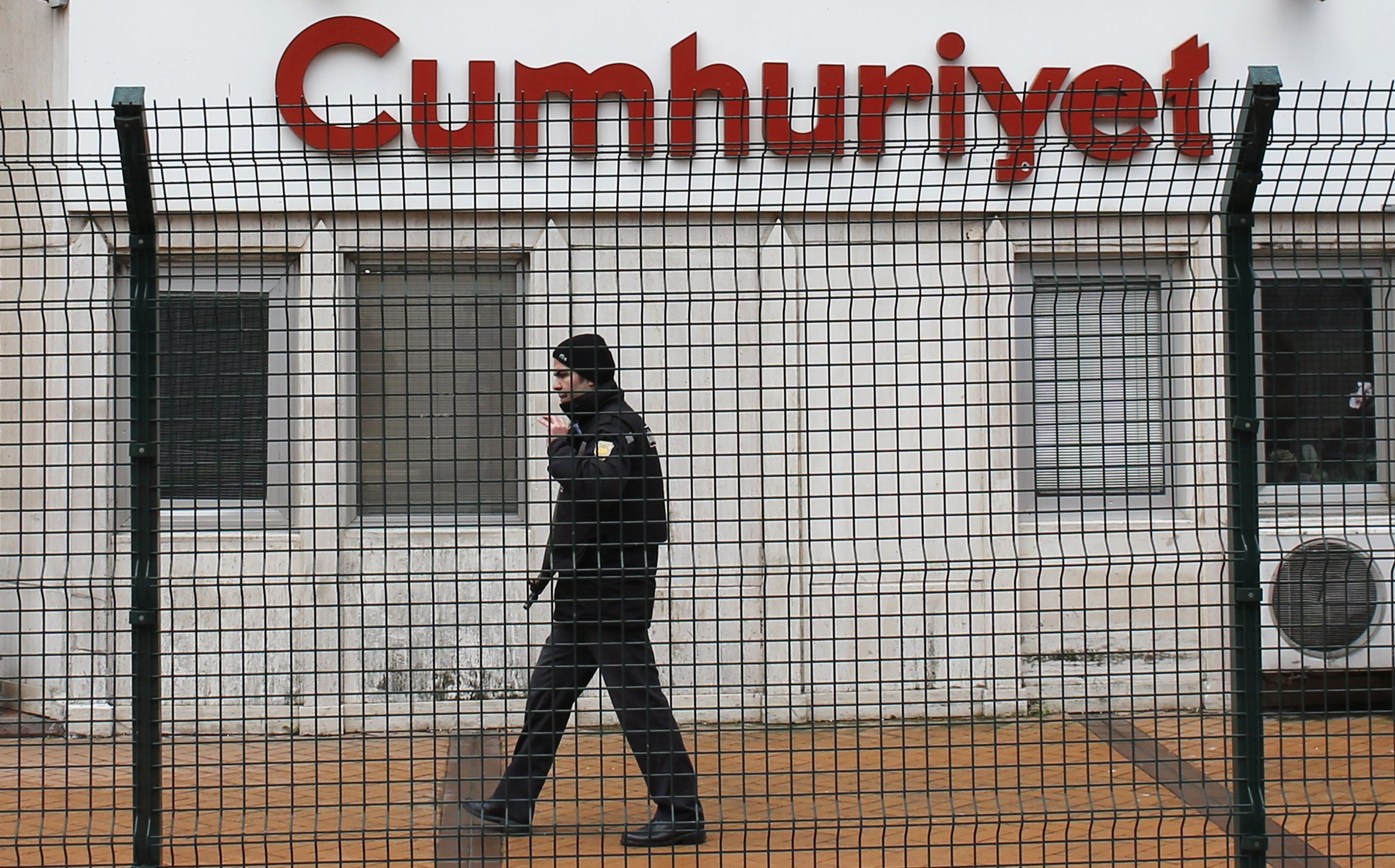 Turkish prosecutors are calling for a prison sentence of four and a half years for two Turkish journalists who featured the controversial Charlie Hebdo cover in their articles.
The pro-secular Cumhuriyet journalists, Ceyda Karan and Hikmet Cetinkaya, have both been charged by Turkish authorities with "openly insulting the people's religious values" for using the image of the Prophet Muhammad as depicted by the satirical magazine.
Turkish daily Today's Zaman reported that the two were charged after 1,280 complaints were received over their use of the cartoon. It also came after Turkish prime minister Ahmet Davutoglu said that his ruling Justice and Development (AKP) party would never allow "insults to our Prophet".
The newspaper Cumhuriyet had printed cartoons in solidarity with the magazine after two radical Islamists launched a deadly attack on its offices in Paris in January but had not published the cartoons which depicted Muhammad, deemed offensive to many Muslims, until both Karan and Cetinkaya used the cartoon in their columns.
"We are being threatened with prison for defending free speech. To threaten a journalist because he or she printed a drawing that does not include an insult can only come from a religious, authoritarian government," Karan told Reuters. "Neither of us will abandon our defence of free speech."
Yesterday a Turkish prosecutor called for the acquittal of Dutch freelance journalist Frederike Geerdink, who was charged with sharing "terrorist propaganda", specifically social media messages which were allegedly supportive of the Kurdistan Worker's Party (PKK), which is a designated terrorist organisation within the country.
Ilhan Tanir, Washington D.C.-based Turkey analyst, says that these cases demonstrate how Turkey's slide into conservatism and Islamism is putting additional pressure on the country's secular press.
"I don't think there is a criminal article in Turkish laws to prosecute these two journalists," he says. "The prime minister [Davutoglu], Erdogan and officials have been trying to make this argument that you are free as long as you don't offend Sunni Muslims."
"Turkey is becoming more and more conservative, more and more Islamist," Tanir adds. "It is putting a lot of pressure on secular journalists and the newspapers that are not conservative or Islamist."
In January, Erdogan claimed that Turkey has the freest media in the world despite a number of arrests of journalists opposed to his rule. Last December, the editor of the country's biggest-selling newspaper was arrested in raids along with 26 others.
"I am saying this assertively. There is no media either in Europe or in other countries in the world where the media is as free as it is in Turkey. We all know this," he told Turkish ambassadors at a lunch, according to Today's Zaman.
"Attack the president or the prime minister in those countries if you can. No, you cannot. You cannot do this in the U.S., in Germany or in Russia."
In the 2014 World Press Freedom Index, published by Reporters Without Borders, Turkey placed 154 out of 180 countries for freedom of information. A document leaked earlier this week showed that the country's National Security Council (NSC) ranked social media as a top national security threat alongside terror group's such as the PKK and ISIS.