Two U.S. Service Members Killed in Insider Attack in Afghanistan
Two American service members in Afghanistan were killed Monday afternoon in what a Defense Department source described as an apparent insider attack by a member of Afghanistan's national army.
While an exact location for the attack is not yet known, the Defense Department official Newsweek spoke to on Monday said the two American service members are apart of Train Advise Assist Command - South (TAAC-South) led by U.S. Army Brigadier General Miles Brown.
The unit oversees operations primarily in the provinces of Kandahar, Uruzgan, Zabul and Daykundi. Two other subordinate units are assigned to the southern Helmand Province.
The two American service members were killed while inspecting a new base of operations when a savage fusillade of gunfire rained down on the U.S. forces from one of the guard towers.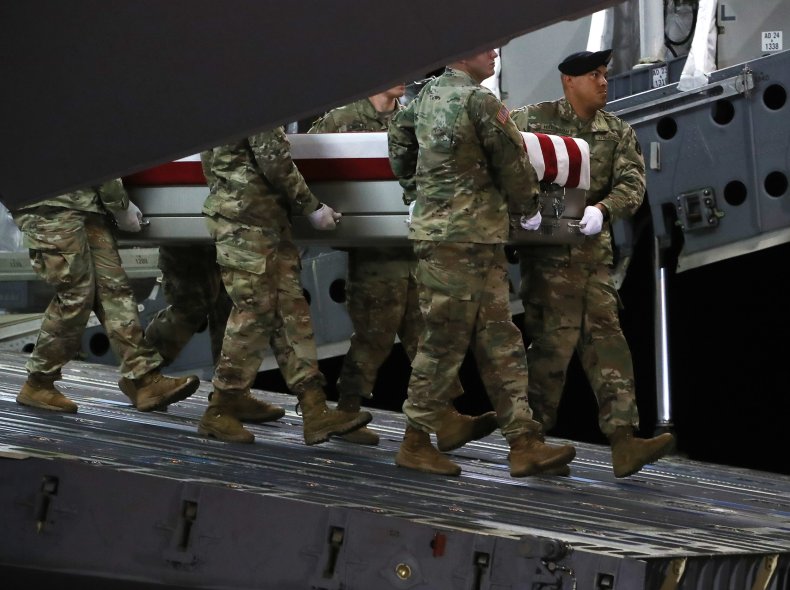 The Defense Department source, who spoke to Newsweek on condition of anonymity, said besides the two Americans killed, no other injuries were reported. The gunman was arrested by authorities.
Pentagon officials did not identify either service member on Monday in a press statement, pending family notification. Newsweek is withholding publishing the names of the two U.S. service members killed and their military unit until the Pentagon completes the notification process.
The attack on Monday brings the Defense Department's death toll to a total of twelve this year and comes a day after the kickoff of Afghanistan's presidential election season. In 2018, 13 American troops were killed in combat — up from 11 in 2017.
Earlier this month, U.S. Army Sgt. Maj. James G. "Ryan" Sartor, 40, of Teague, Texas, was killed during combat operations in Afghanistan's Faryab Province.
The Green Beret left behind a wife and three children.
This article will be updated as more information becomes available.