Two Weeks After Protests Over George Floyd's Death Began, New Coronavirus Cases in Minnesota Continue to Drop
As protests over George Floyd's death continue, public health officials warned the large gatherings could foster the spread of a new coronavirus, but so far, Minnesota hasn't seen a large spike in cases.
Floyd's death on May 25 sparked days-long protests in Minneapolis that quickly spread nationwide. Minnesota businesses were reopening by the time protests started and photos showed many people wearing masks, but Dr. Anthony Fauci, director of the National Institute for Allergy and Infectious Diseases, was concerned about the impact thousands of people being in one place could have on the pandemic.
"Masks can help, but it's masks plus physical separation, and when you get congregations like we saw with the demonstrations like we have said—myself and other health officials—that's taking a risk," Fauci told Good Morning America on Wednesday. "Unfortunately, what we're seeing now is just an example of the kinds of things we were concerned about."
Over the past three weeks, Minnesota has seen a weekly decline in new cases of COVID-19, the disease caused by a new coronavirus. Minnesota recorded about 2,500 fewer new cases in the two weeks after protests started than in the two weeks prior, according to a tracker maintained by Johns Hopkins University.
Hennepin County, where Minneapolis is located, has also seen a continued decline in new cases over the past four weeks, the Department of Health reported.
While the number of tests being conducted can skew trends, that does not appear to be the case in this instance. In the two weeks since protests started, Minnesota conducted about 30,000 more tests than in the two weeks prior, according to the Department of Health, and the positive test rate dropped by about 4 percent.
Dr. Daniel Havlichek, chief of the College of Human Medicine's Infectious Diseases Division at Michigan State University, told Newsweek there are "a million possible explanations" for the decline. Among those explanations are that cases were already declining, people stayed home if they were sick or distanced themselves at the protests and that asymptomatic transmission isn't as prevalent as was once thought.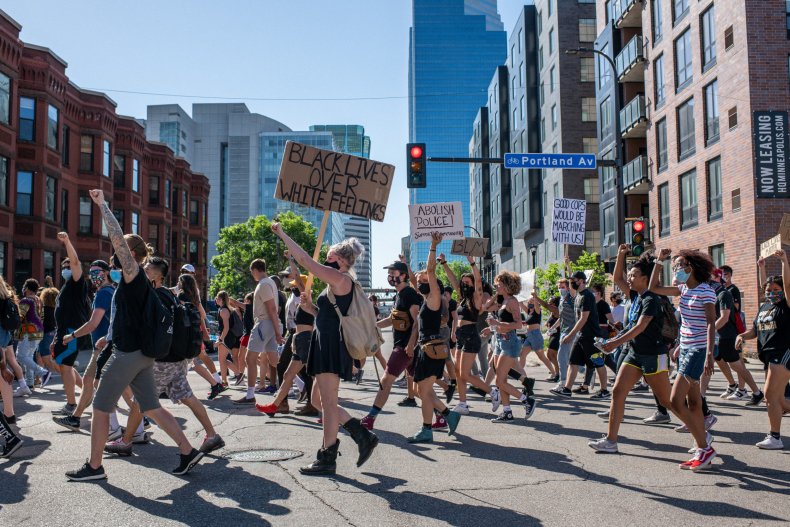 On Monday, Dr. Maria Van Kerkhove of the World Health Organization said asymptomatic transmission appears to be "rare." She clarified the comment on Tuesday, saying that asymptomatic transmission is possible and that officials need to "better understand" how many asymptomatic individuals transmit the virus to others.
Minnesota's stay-at-home order expired on May 18, allowing businesses to reopen with restrictions, followed by restaurants and bars on June 1. Those reopenings, combined with Memorial Day weekend gatherings, could complicate being able to peg any increase in cases directly to protests, Dr. Sadiya Khan, assistant professor of medicine at Northwestern University Feinberg School of Medicine, told Newsweek.
"I think there are a lot of people who are worried about [an outbreak] and I think there are people who are going to extrapolate that connection," Khan said. "I don't think there's any direct data that will make that very clear unless we did contact tracing and identified the most likely origin."
Havlichek called tracking the origin of an outbreak to a protest an "epidemiology nightmare." Since people often attend protests in clusters of friends, classmates or coworkers and not "independent units," it's difficult to know if someone was exposed because of a stranger at the protest or someone they know who was exposed somewhere else.
An almost "impossible" task to definitively track cases to a protest, Havlichek said if there was a substantial bump in the numbers, officials would likely go with the "best explanation." If March Madness occurred and there was a big spike in cases, that would be the best explanation because it was an event that drew large crowds and right now, officials would likely ascertain the origin of a massive spike to protests.
"I really was heartbroken by the police brutality issue, so I can understand why people would protest that," Havlichek said. "I lived through the '60s, we're going backward here."
Minnesota Health Commissioner Jan Malcolm acknowledged during a briefing on Monday that data is encouraging, but she urged people not to become complacent. Along with a lag time between exposure and people developing systems, Malcolm said, for a number of people, time only made their conditions worse instead of better.
A big spike in cases could decrease the possibility of live sporting events happening in the fall and Khan is concerned that a regression on progress America's made will reflect negatively on demonstrations. She said protests over Floyd's death and police brutality highlighted another public health emergency in which minority communities were adversely affected by the new coronavirus.
Data showed racial and ethnic minority groups bore a disproportionate burden of illness and death from COVID-19, according to the Centers for Disease Control and Prevention. Health disparities include minority communities not having health insurance, higher rates of underlying medical conditions and living in densely populated areas because of residential housing segregation.
"It's remarkable to think about the difference in where you are born and the concept of place that is so intimately connected in this country with race," Khan said.
Given delays in testing and the onset of symptoms, which can take up to 14 days, experts say it'll likely be another week or two before any impact the protests had could be analyzed.