Health officials worried that Thanksgiving would add to the nation's already increasing cases of coronavirus, and now, two weeks after the holiday, America's new cases and deaths are breaking records.
In the two weeks since Thanksgiving, the record for the highest number of new cases in a single day has been broken four times, according to Johns Hopkins University's data tracker. The new record, 231,775 cases, was set this past Friday. While an increase in testing could contribute to more cases, the positivity rate (the percentage of people who test positive for the virus) is also increasing in all but two states and the District of Columbia, indicating a possible rise in infections.
As of Monday, Vermont and Hawaii are the only states to see their positivity rate decrease from the previous week, according to Johns Hopkins. The seven-day moving average for the United States as a whole is up about 2 percent from where it was around Thanksgiving.
Compared with the two weeks leading up to Thanksgiving, coronavirus cases and hospitalizations are up by 20 percent, and the number of deaths rose by more than 30 percent, in the two weeks after. Last Wednesday, daily deaths surpassed 3,000 for the first time since the start of the pandemic, a record that was broken two days later when 3,300 deaths were reported. As of Monday, 300,267 people have died from COVID-19, according to the Johns Hopkins tracker.
"We are in the time frame now that, probably for the next 60 to 90 days, we're going to have more deaths per day than we had at 9/11 or we had at Pearl Harbor," Dr. Robert Redfield, director of the U.S. Centers for Disease Control and Prevention, said during a Council on Foreign Relations event last Thursday.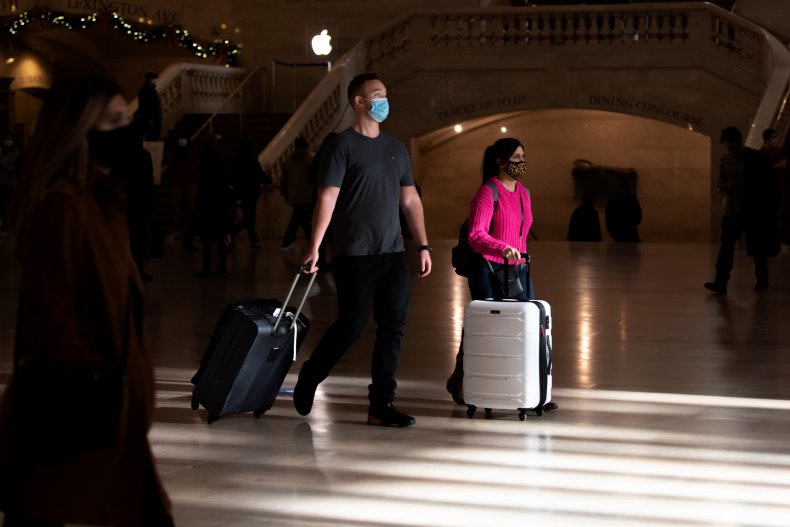 At the two-week mark, officials could start seeing the impact of Thanksgiving travel and gatherings on the pandemic. But Dr. Anthony Fauci, director of the National Institute of Allergy and Infectious Diseases, said the "full brunt" of it may take another week.
"I think we have not yet seen the post-Thanksgiving peak," Fauci told the Today show on December 4. "The thing that concerns me is that [it] abuts right on the Christmas holiday as people start to travel and shop and congregate."
The spike in cases is putting additional strain on health care facilities that are already being stretched thin. To help mitigate the outbreak, state and local officials are cracking down on social gatherings and banning indoor dining. Unlike in the spring and summer, when restaurants could move tables outdoors to keep their business running, the cold temperatures and winter weather pose significant challenges for restaurants that are under outdoor-dining-only mandates.
Restaurant and hospitality associations are pushing back. Melissa Fleischut, president and CEO of the New York State Restaurant Association, called the ban on indoor dining a "huge blow" to New York City's restaurants. The "unfair and devastating" action, she said, will "inevitably result in massive layoffs and vast closures right before the holidays."
Fauci has acknowledged that people are getting pandemic fatigue and may be finding it difficult to continue social distancing, avoiding gatherings and wearing masks. However, during a December 7 interview on CNN's New Day, he urged Americans to continue doing basic mitigation efforts and not get discouraged, because help in the form of a vaccine was "right around the corner."
This past Friday, the Food and Drug Administration granted emergency use authorization to Pfizer for its vaccine candidate, and on Monday health care workers began to receive it. Depending on the rollout's efficiency, Fauci told MSNBC on Monday, vaccination could be widely available to Americans by spring.
"Sometime by the end of March, the beginning of April, the normal healthy man and woman in the street who has no underlying conditions would likely get it," Fauci said.
If that happens, Fauci said, the level of infections could be so low by fall that America could start "approaching some form of normality."