Two Weeks. Two Conventions. Two Completely Different Countries | Opinion
Two weeks of back-to-back conventions have made clear that our country's two parties don't just have different visions for our country's tomorrow. They seem to be living in different countries today. And in the aftermath of 18 hours of speeches, videos, montages and, yes, fireworks, voters are left with a stark choice between them.
For four nights, Joe Biden and Democrats held a convention in a country in the middle of a deadly pandemic that has killed more than 180,000 people. A country where the failed and incompetent response from the Trump administration has made the fallout from the virus far worse than it needed to be. A country where many kids can't go to school and many adults can't go to their offices. A country facing the worst economic crisis since the Great Depression, with tens of millions of Americans unemployed, many businesses permanently closed and millions of Americans on the verge of losing their homes or not knowing where their next meal will come from. A country in which every aspect of our lives and our livelihoods has been ravaged by a virus that could have and should have been contained by now. A country facing, and embracing, the largest civil rights movement in a generation and ready to tackle racial injustice. A country in which our democracy is under threat from a president who has repeatedly abused the power of the presidency for his own personal gain. And a country where there is a president who is more interested in creating chaos, division and distractions than finding solutions to our nation's problems.
A few days later, Donald Trump and Republicans kicked off their convention trying to convince the nation that we actually live in a different country—and reality. A country where coronavirus is a thing of the past, thanks to Trump's bold and decisive actions to tackle the deadly virus. A country where the president built the greatest economy in human history, which is moving full-steam ahead. A country where the biggest threat to the health and safety of all Americans is not coronavirus but rather so-called "cancel culture." A country where angry mobs are overtaking every suburban Starbucks. A country where school choice is the most pressing educational issue. A country where the president has brought about peace in the Middle East, tamed China and ended the threat of a nuclear North Korea. A country in which the president is a champion of women's rights, racial justice and immigration. And a country where Trump is the greatest president since Lincoln and has accomplished more in his first four years in office than any president has in eight years.
But the country that Trump and Republicans presented at their convention does not exist for the overwhelming majority of Americans. In fact, it does not exist outside the Fox News ecosystem that Trump has cocooned himself inside for the past four years. It is a distorted reality completely detached from that of most Americans.
Newsweek subscription offers >
Although the vast majority of Americans do not watch the conventions, and most who do are not undecided voters, they remain significant. They are the best opportunity for political parties to communicate directly to the American public for hours on end in prime time without much filter from the media. And how the 2020 campaigns chose to use their hours of free prime time was revealing about their strategies for victory.
For four nights, Democrats leveraged their air time to roll out an all-star lineup of the biggest names in politics, including three former presidents, three former first ladies, four former nominees, former primary rivals and, yes, even some Republicans, to prosecute the case against Trump and present a united front in support of Biden.
Republicans countered with Trump, Trump and more Trump. All four nights of the prime-time lineup featured appearances by Trump. When it wasn't the president on TV, it was his family or those on his payroll. It was the crowning moment of his four-year hostile takeover of the Republican Party.
While Democrats featured numerous governors, senators and rising stars throughout the party, Republicans gave more speaking time to a gun-toting St. Louis couple charged with a felony weapons count than nearly all the Republican governors.
Newsweek subscription offers >
Trump and the Republicans have made their bet, and it was on full display at their convention. They have bet that, through revisionist history, distortion of reality, lies, conspiracy theories, racial dog whistles and grievance politics, they can juice enough of the base vote, plus peel off just enough white suburban women, to eke out another Electoral College win. The Republican bet is that Trump has magical powers to make the pain and suffering of the past six months disappear and make people believe they live in the country that was presented at his convention.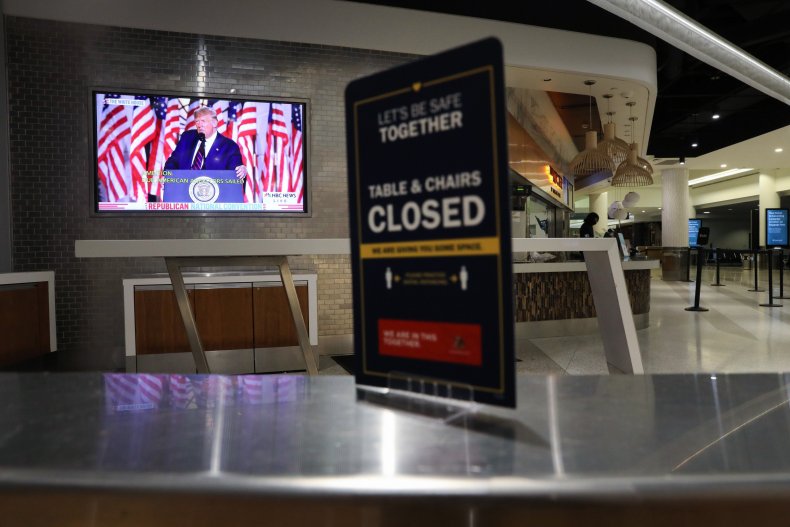 Joe Biden and the Democrats have made a very different bet. They have bet voters will not be distracted from the coronavirus. They have bet voters will not overlook the nearly 6 million people sick and more than 180,000 dead, as well as the obvious failures of the Trump administration that caused U.S. rates to be so much higher than the rest of the world. They have bet voters understand the economy is more than the stock market, that it is the tens of millions of jobs that have been lost and the many businesses that have permanently closed. They have bet on a country that wants unity over division and calm over chaos. They have bet that the president has mostly kept his base, but not been able to expand it, and that it will not be enough to carry him to victory. They have bet on a country that sees that a reality TV star has never grown into, and is not capable of growing into, the most important job in the world. They have bet that we live in a country where the president's repeated abuses of power and his seeking to use the presidency for his own personal gain are rejected by the majority of voters. And they have bet that more Americans live in the reality-based country they presented at their convention than live in the distorted-reality country Trump presented at his.
Two weeks. Two conventions. Two different countries. And in just over two months, voters will choose which country we live in.
Doug Gordon is a Democratic strategist and co-founder of UpShift Strategies who has worked on numerous federal, state and local campaigns and on Capitol Hill. He is on Twitter at @dgordon52.
The views expressed in this article are the author's own.
Two Weeks. Two Conventions. Two Completely Different Countries | Opinion | Opinion