With Two Weeks Until Election Day, These Nine GOP Senators Are in Danger of Losing Their Seat
With just two weeks remaining until the November 3 election, there are nine Republican senators who are in danger of losing their seat to a Democratic challenger, political forecasts show.
The Senate has 35 seats up for grabs in the 2020 election, with 23 of those belonging to the GOP. Nine Republican senators are at risk of losing re-election, according to the Cook Political Report, a nonpartisan newsletter tracking election forecasts.
They are Susan Collins of Maine, Steve Daines of Montana, Joni Ernst of Iowa, Cory Gardner of Colorado, Lindsey Graham of South Carolina, Kelly Loeffler of Georgia, Martha McSally of Arizona, David Perdue of Georgia and Thom Tillis of North Carolina.
Gardner and McSally remain at the highest risk of losing the upcoming election to their Democratic competitors, according to the report. A Civiqs poll conducted October 11-14 among 1,013 likely voters showed Democratic candidate John Hickenlooper leading Gardner, 53 to 42 percent.
According to a recent YouGov poll conducted October 13-16, Democratic candidate Mark Kelly is leading McSally among 1,065 likely voters by 11 percentage points. Kelly received 52 percent of voters' support, compared to McSally's 41 percent.
The other seven GOP seats up for grabs remain toss-ups, according to the Cook Political Report. Among the most contentious races include Collins and Graham, as both candidates have served in their respective positions for more than 15 years.
In Maine, recent opinion polls have shown Democratic candidate Sara Gideon leading Collins by a narrow margin. A Pan Atlantic Research survey conducted October 2-6 placed Gideon ahead by seven percentage points, receiving 47 percent of voters' support compared to Collins' 40 percent.
A survey conducted October 9-14 by Sienna College/The New York Times Upshot showed Graham leading his Democratic challenger Jaime Harrison 46 to 40 percent.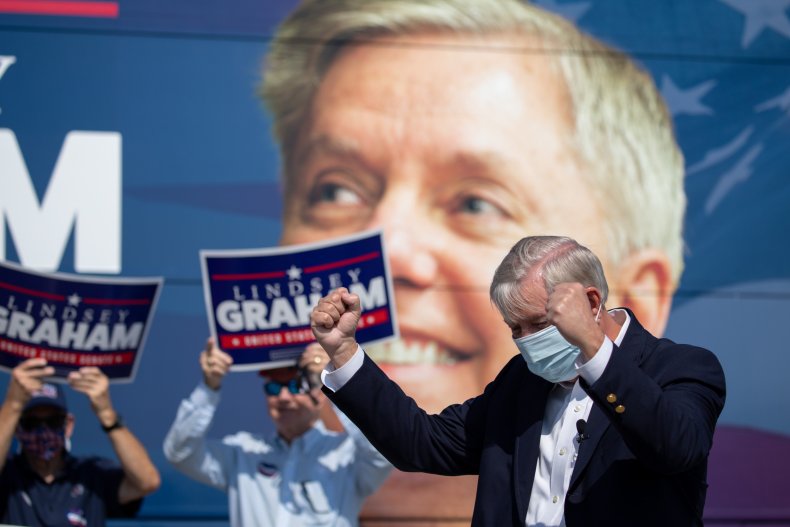 Republicans currently hold the majority in the Senate, filling a total of 53 seats to Democrats' 45. Independent senators, who caucus with Democrats, occupy the two seats remaining.
Democrats could secure the majority if they gain at least three additional seats and defend their 12 seats up for grabs. They would need to win four GOP-held seats if President Donald Trump is re-elected and Mike Pence remains vice president.
Only one of those 12 seats is at risk of turning red, according to the Cook Political Report. Senator Doug Jones of Alabama is trailing his Republican opponent Tommy Tuberville in nearly every recent poll. An Auburn University survey conducted from September 30 to October 3 put Jones behind by 12 percentage points, receiving 42 percent of registered voters' support compared to Tuberville's 54 percent.