Two White Alabama Police Officers Charged in 'Brutal' Beating of Black Man
Two white Alabama officers have been charged in the "brutal" beating of a Black man after a road-rage incident involving the wife of one of the officers.
Dallas County District Attorney Michael Jackson announced felony assault charges against former Selma Police Detective Matthew Blaine Till and former Dallas County Sheriff's Deputy John Nicholas Taccone on Wednesday.
Till was fired from the Selma Police Department and Taccone is no longer employed at the sheriff's office, Jackson said.
The charges stem from an incident on April 30 after Till's wife got into an argument with the victim in Selma.
Court documents say she then called her husband to let him know about the incident with a "Black guy in a red Charger."
Both Till and Taccone, who were on duty and in uniform, arrived at the scene and ordered the man out of his car.
After the man pulled over, Till managed to get one handcuff on the man and a struggle took place.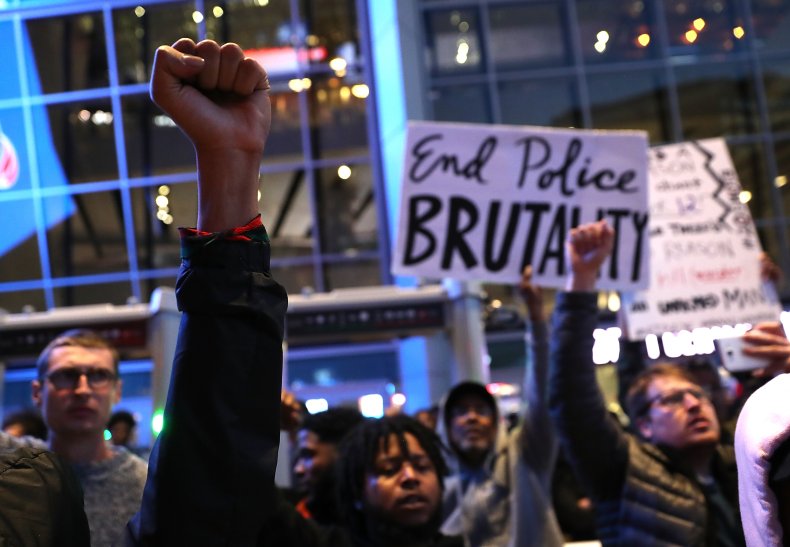 "Till pulls out a gun and says he's going to kill him," Jackson said. "They Tased him multiple times, threw him to the ground and were punching and kicking him. It was a brutal beating."
Throughout the encounter, Jackson said the victim had repeatedly asked the officers, "What did I do?"
He added: "These officers escalated a personal matter that should have been a traffic stop at worse into a Rocky Horror beating."
The Black man, who was not identified, eventually managed to get into his car and fled the scene, but crashed a short time later, Jackson said.
The AP reported he was transported to a cell at the Selma police station where he was interviewed about weapons found inside his car.
Both Till and Taccone were indicted by a grand jury on charges of felony second-degree assault, unlawful imprisonment and obstructing governmental operations.
Announcing the charges, Jackson said the officers "will pay the consequences."
He said public officials are "held to a higher standard" and called the incident a "bullying situation."
"The badge is a symbol of integrity and protection. The officers handled it wrong. When you go outside the law, you pay a price. You want the public to have faith in the justice system."
Till pleaded guilty in federal court last week to an obstruction charge for telling Taccone not to speak to anyone—including federal authorities— about the call he received from his wife before the April 30 incident.
Court documents show Till sent a text message that said: "The indictments are coming for us. We need to get on the same page and use the same attorney. I don't care what they threaten you with. If we don't fight this together we are both going to be getting in trouble."
A federal judge has set Till's sentencing for December 28. He is facing up to 20 years in prison.
The Dallas County District Attorney's Office, the Selma Police Department and the Dallas County Sheriff's Office have all been contacted for comment.