Two-Year-Old Handles Massive Snake With His Bare Hands in Nerve-Wracking Clip
Footage of toddlers doing just about anything naturally evokes a reaction of "oos" and "ahs" from anyone who watches, and a recent video posted by a famous "Outback Wrangler" in Australia is no different.
Matt Wright, who stars on National Geographic's Outback Wrangler has done everything from being a horse wrangler to Australian Army soldier to crocodile egg collector, according to his website. On the show, Wright tracks down and relocates a variety of dangerous animals including crocodiles and wild buffalo.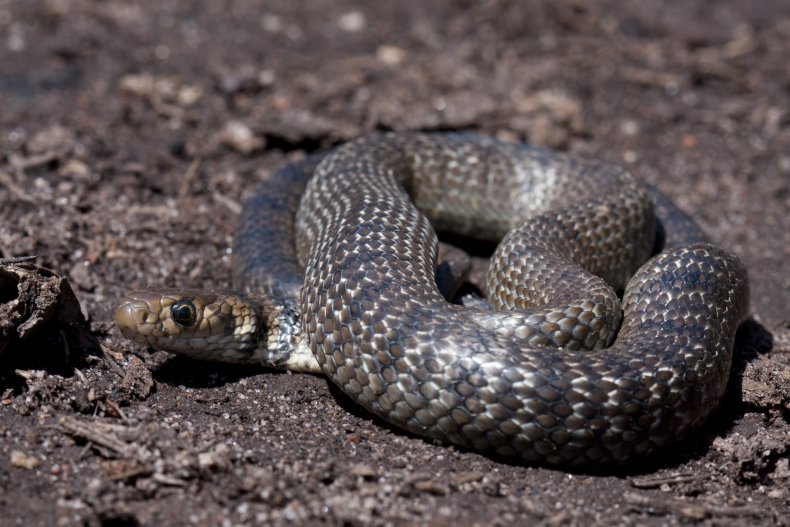 In a clip posted to his Instagram, Wright's 2-year-old son Banjo is seen handling a snake that would make many adults squirm. The large snake, which is more than twice the young boy's size, is seen wrapping the top part of its body around a pillar as Banjo pulls it with two hands by its tail.
"Pull him out, pull him over in the bushes," Wright says in the video to his son.
After pulling at his tail for a few seconds ,Banjo runs back toward his dad who is standing by the snake's head. Wright redirects his son to stay closer to the tail.
"Quick, grab him, he's going to bite dad," Wright says after his son runs back to the tail.
The 45-second video has welcomed over 1,300 comments varying from supportive and impressed to critical.
"This man is very clever there is no way he would put his child in danger or a snake," one commenter said.
Another commenter said "he reminds me of Steve Irwin," referencing the 'Crocodile Hunter,' who died in 2006 after being stabbed by a stingray.
However, some viewers were not as supportive of the video of the actions depicted.
"Normally I love your videos but I'm not a fan of this behavior. No need to stress the animal just for an Instagram video," said one of the critics.
Newsweek contacted Wright, but he did not respond in time for publication
Wright's Instagram is filled with photos and videos of his numerous adventures and up-close encounters with massive crocodiles. In addition to his show, Wright owns two resorts and a tour agency. Many of the videos on his Instagram were taken at Top End Safari Camp in Darwin, a city in Australia's Northern Territory, which offers visitors crocodile encounters, airboat cruises and helicopter rides, according to its website.
In one video, Wright holds a long pole that he dips into the water as he awaits a crocodile with a photographer to his side. Out of nowhere, the massive animal pops out of the water and lunges toward Wright, who is holding food for the crocodile.
According to Northernterritory.com, there are more than 100,000 crocodiles in the wild in the Northern Territory of Australia.