U.S.-Mexico Border: 2-year-old Migrant Injured After Being Dropped From 18-Foot Fence
A two-year-old Central American immigrant was injured and then arrested along with other family members after they entered the U.S. over an 18-foot border wall.
The family, which hailed from Guatemala, managed to scale the barrier on Monday near the San Luis Port, in Arizona, along the 27-mile Yuma Sector of the border, U.S. Customs and Border Protection (CBP) said in a statement. After two adult family members were helped over the wall from the Mexican side by another migrant, the children—ages 2, 7 and 10—were dropped to be caught below.
A video of the incident posted to Twitter by CBP Arizona shows the silhouettes of the two adults waiting on the U.S. side of the wall to catch the children from above. The toddler suffered minor injuries to her face during the crossing, according to authorities. She has since been treated and detained along with the others. Agents said that the individual dropping the children from the Mexican side, who is also reportedly a family member, fled the scene, but was later apprehended as well.
"Federal law allows agents to charge individuals by complaint, a method that allows the filing of criminal activity charges without inferring guilt," the CBP statement about the family explained. "An individual is presumed innocent unless and until competent evidence is presented to a jury that establishes guilt beyond a reasonable doubt."
The incident comes as national attention has been focused on the southern border after the arrival of thousands of Central American migrants. Since October, the caravan—which began its journey in the so-called Northern Triangle comprised of Honduras, Guatemala and El Salvador—has been repeatedly attacked by President Donald Trump, who has called the immigrants "invaders" and "criminals."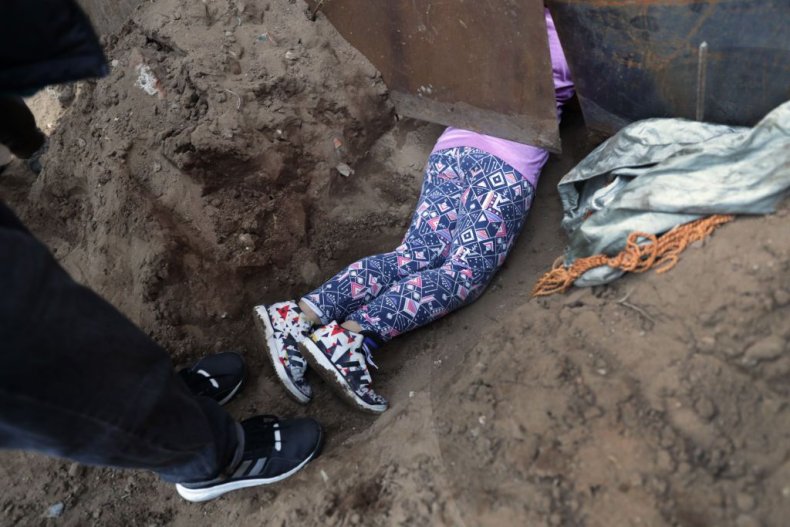 In a controversial decision, blasted by many critics as a political stunt ahead of the early November midterm elections, Trump ordered the Pentagon to send thousands of troops to bolster security along the Mexican border. The president also drew national outcry after he announced that he had authorized the soldiers to use "lethal force" against the asylum seekers, a group including many women and young children.
Elsewhere along the border, a 19-year-old mother from Honduras was recently caught on camera and captured as she crawled under a border wall to enter California with her three-year-old daughter, ABC 13 Eyewitness News reported Wednesday. Rachel Rivera reportedly explained that she came to the U.S. in hopes of giving her daughter a better life.