An Orphanage Braves Airstrikes Years Into Yemen's War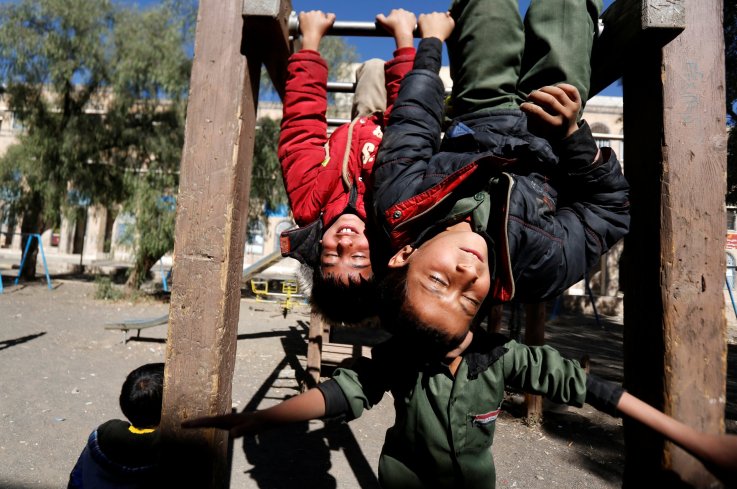 As the war in Yemen enters its third year, about 100 civilians per month are dying from the Saudi-led coalition's airstrikes, according to the United Nations human rights office. Yemenis struggle through a mounting food crisis, infrastructural collapse and a lack of access to medical care as blockades cut off humanitarian aid and trucks carrying vital resources, while falling bombs pummel the buildings and bodies around them.
The International Committee of the Red Cross announced on March 22 that the world has three to four months left to save millions of people in Yemen from starvation. Currently, an estimated 17 million people, or 60 percent of the population, do not have reliable access to sufficient quantities of nutritious food, according to an Oxfam report.
Children have borne the brunt of Yemen's collapse—according to UNICEF, one child dies in Yemen every 10 minutes from preventable diseases including malnutrition, respiratory infections and diarrhea. Those still fortunate enough to have their health and access to basic resources suffer through a constant state of fear and trauma.
At an orphanage in Sanaa, Yemen's capital, children dream only of normalcy. The al-Shawkani Foundation for Orphan Care is located just 100 yards from al-Nahdain mountain, widely believed to be an arms depot that has been repeatedly bombarded by the Saudi-led coalition's fighter jets. Since the peak is stocked with explosives, each strike rattles the whole city and sends huge mushroom clouds into the skies.
These photos show how life for these children goes on in a state of everyday resistance. The simple joys of childhood, the meals they share and the dreams they take with them to the classroom become treasured rituals before a backdrop of constant tension, uncertainty and ceaseless violence.