Tyler Baltierra Doesn't 'Deserve' Catelynn and Talks Separation: 'I Wasn't Going to Let My Girls Live in Chaos!'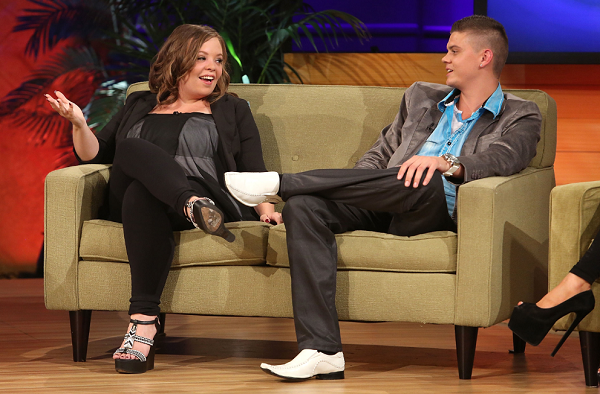 Tyler Baltierra took some digs at his haters on Twitter Tuesday. The star mocked some of his followers after they accused him of not being good enough for his wife, Teen Mom OG star Catelynn Baltierra. Both stars have struggled this season, revealing they were having a hard time with their marriage. Tyler admitted he fantasized about other women, wasn't ready to have a third child and moved out of his shared home with Catelynn for 30 days so they could "separate."
"Your a scum bag. You don't deserve Cate. I hope karma bites you in the ass," one Twitter user wrote. He responded: "You're absolutely right...I don't deserve Cate & trust me, karma has bitten me many times before, so I'm well equipped when she comes knocking again!"
Tyler also hit back at people who criticized their separation. "The 30 days wasn't even a total isolated 'separation.' I was 8 min down the road & we had dinner dates, family movie nights, went on a mini vacation & it was EXACTLY what we needed for US! People can hate on me all day but my self-assurance is not reliant on society's acceptance," he tweeted.
Tyler also added: "I only spent the first week of the 'separation' in the new house on an air mattress in the middle of construction to get it completely ready for Cate & Nova. Then I went to the old house for the rest of the time. I wasn't going to let my girls live in chaos!"
Newsweek subscription offers >
On December 5, Catelynn similarly addressed her followers when news about their 30-day separation was revealed. "YES we are having a 30-day reflection time. NO we are not getting a divorce! YES I know what I put him and Nova through when I left for treatment! He was AMAZING and supported me the whole time! I also knew I had to go so I wouldn't commit SUICIDE! I am supporting what he wants now! WE love each other and ALWAYS WILL!" she wrote, adding: "So my family would have been better off if I just took my own life? NO! Now GOODBYE and I'm done explaining myself!"
Tyler Baltierra Doesn't 'Deserve' Catelynn and Talks Separation: 'I Wasn't Going to Let My Girls Live in Chaos!' | Culture