Tyler Breeze Talks Returning for NXT Takeover 25, Velveteen Dream and How Saturday is "Sink or Swim"
If you look at the names on the NXT Takeover 25 card you may be surprised to see Tyler Breeze penciled in.
NXT fans are of course familiar with Tyler Breeze, the vane, selfie-taking heel who is aces in the ring. But after four years on the brand, Breeze would fail to capture a title before being called up to the main roster in 2015.
While we saw flashes of brilliance from Breeze when he teamed with Fandango as part of the Fashion Police, he has "floundered" on RAW and SmackDown, a point that his Takeover 25 opponent Velveteen Dream has made repeatedly in the weeks leading up to their match.
Breeze is set to take on Velveteen Dream for the NXT North American Championship on Saturday and it marks Prince Pretty's first Takeover since Respect back in 2015. Although Breeze has popped up at NXT live events and on NXT television, Takeover 25 marks the return of Tyler Breeze in what he calls a "sink or swim" match for him.
Newsweek caught up with Breeze ahead of his NXT Takeover 25 match to talk about returning to the brand and this new opportunity.
Note: This interview has been lightly edited for clarity and length.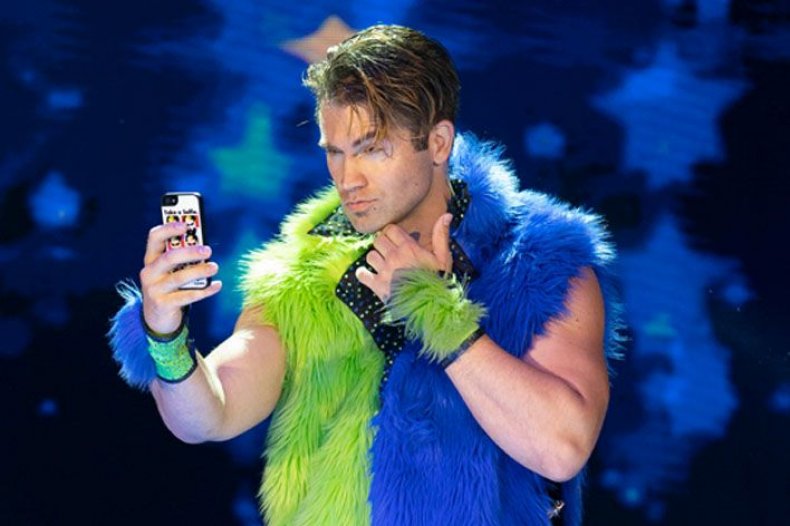 You were on the first Takeover card and now you're coming back for Takeover 25. How do you feel returning after all this time?
I feel good. Even if you look back at everything I did. Filming NXT when it was still becoming a thing, not being there for four years, I don't know how long it feels for everyone else but it flew for me until I stopped and thought, "holy crap it's been four years?" And then you pop back up down here and people make it known that they appreciate it. The fact that I get to do a Takeover, I've been wanting to do a Takeover for awhile, and I think especially Dream and me together is a perfect match and a perfect welcome home for me. I look forward to it.
After four years on the main roster and then reappearing on NXT here and there, was there a feeling out process to get reacclimated to that style and to the crowd?
The only one who doubts anything is me. The crowd has always been solid. It's like being back in 2015, like I never left. Any time I'm around they are always cool. Full Sail was like that in my match with Ricochet. Basically, for the past four years people have been almost waiting for me to come back. Being one of, if you wanted to brand us, "the originals" - or something like that - a lot of people have been sitting there like "come on man, come back to NXT. We're waiting for you." They've been waiting for me with open arms and it's exciting.
NXT has evolved into something different since you were there. Do you feel the time to be a part of the brand has passed you by?
I don't think anything has passed me by. It's cool when you hear all the internet talk when things go down. The wrestling community likes to be involved in everything and they have a lot of opinions on things. And me coming back [to NXT] they raised a lot of questions. "Why is he coming back to NXT? Is he getting demoted?" And that's not a thing. To me, personally, and to them more than ever at this point, NXT is a third brand. It's RAW, SmackDown and NXT.
So it's not getting sent back anywhere, it's a lateral move. I'm going back somewhere where they have room for me. They have a spot where I can do it and no one else can. I'm going to slide right in there and the crowd knows what they are going to see when they see me on NXT as opposed to RAW or SmackDown. This is the Tyler Breeze that we want to see. As much fun as me and Dango had on RAW and SmackDown with the Fashion Files and everything else, this is where it's fun.
Some people think that those [NXT] years have passed me by and I'm not the same wrestler or the same guy I was before. There's another group that for four years they say "he did other stuff" but that guy was still there just not being utilized. Now is the chance for me to get tagged in, come off the bench and say I'm better than before.
Older NXT fans know Tyler Breeze, the first takeovers and the original crew. They go "oh my god, you guys don't even know what you're about to get." And the new fans are used to either Tyler Breeze and the Fashion Police or someone like Velveteen Dream and they're going "I don't know what to expect from them." And it's kind of cool because they've never seen it before. So either way it's a win win and I think people are looking forward to it.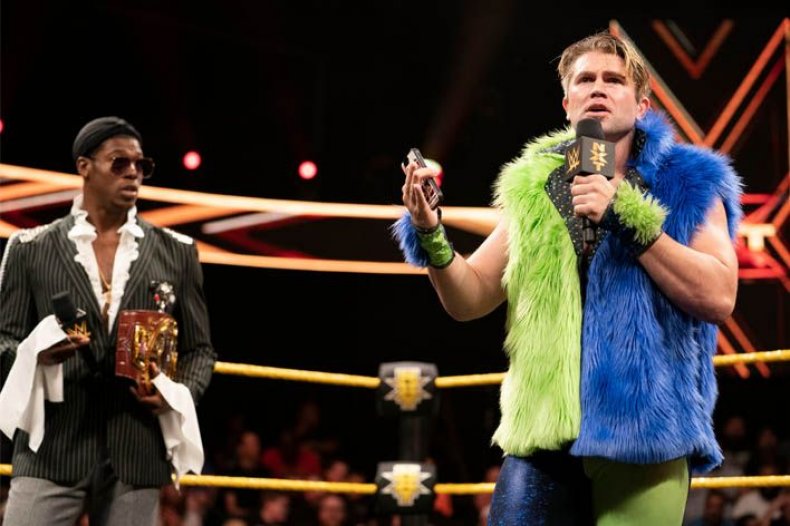 NXT has become bigger than ever. Takeover is not attached to a main roster pay-per-view so there will be more eyes on it. Is there an added pressure of showing what you can do since there is a disconnect between NXT and the main roster?
You're not wrong on the disconnect. You can even look at some numbers. When you look at Tyler Breeze on RAW or SmackDown over the past year or so, especially with Dango, I will be very realistic—I'm at the bottom of the barrel in terms of how I'm used and stuff like that. But that doesn't mean by any means that the people are not stars. When I came back to NXT, I did an interview segment with Dream where I hit him with the phone and left him laying. The usual NXT stuff when it gets put on YouTube does like 60-70 thousand views. They uploaded me and Dreams segment and it got over 600 thousand views. If you want to attribute that to both of us or the combination of star power that RAW or SmackDown gives [someone like me] that's a big thing.
I don't think the pressure is there, man. I'm different when it comes to that. I know people say "if you're not nervous when you go out there then you shouldn't be doing this." I'm different, I'm very confident in what I can do, how the crowd will react. I know my stuff. And luckily I have someone across the ring, in Dream, who knows his stuff as well. In terms of going out there with pressure, it's more I'm going to breathe a sigh of relief. Look around, take it in, smile and enjoy every second of it because I'm not worried about us not delivering. I know exactly what the crowd is going to get and what the crowd reaction is going to be. I'm amped for it. It's going to be a good form of stress relief for me.
Speaking of Dream, can you talk about him as a performer and your feud.
The video package building us up, it's a hell of a video package. And it's cool because I was [in NXT] and killing it when Dream was born, essentially. He'll never admit it to you, but I guarantee that he was studying my stuff, adding some stuff to it. Realizing he has a little bit of the same past as me.
We got into [the business] because we like the wrestling aspect of it, we want to do the moves that's why the fans love it. But you realize that it's a lot more than that. You need to have a hook, have a personality that's larger than life and that's when Dream was born. That's how Tyler Breeze was born. Whether or not he wants to admit it, I know he was watching when I was there and when I was getting called up. So he's taken everything about me and made a persona that people will pay to see and they look forward to matches [like ours] because there's a contrast there.
The video package had me amped. Some people say it leans more towards him, but it's the stuff that we can't ignore. There's four years of underutilization. I've been off the map for four years even when I was doing stuff with Dango. It's wildly different than what I was doing before. He's been down here and he's been killing it. I have no doubt that if I was down here for the past four years it would be wildly different.
What gives me the advantage is that I've been on RAW, SmackDown, WrestleMania. Dream has never been on any of those things, so it's easy to say "hey, Breeze you couldn't hack it." When in reality he never had the opportunity to do it. He's never been able to try it. That's a little bit of fear projecting itself, especially if he's following in my footsteps. And now that I'm back here to say, look man, I've been through it. I've been exactly where you are. I love the confidence, but you have a handful coming.
He's on top of his game right now. But after taking some time off, working some house shows, I'm a different performer from a week, month and year ago. I'm ready to go.
You mentioned the stuff in the video package where Dream brings up your call up and how you were used on the main roster. Were you surprised they would use that?
I would be disappointed if he didn't take the shots that he took. They are wildly obvious. If we ignored them we would be insulting everyone. I lived through it, he lived through it, the fans lived through it. I hear on a weekly basis "why isn't Tyler Breeze on RAW or SmackDown?" Another thing I hear is "why did he ever leave?"
I'm not thrown off guard when he says things like "you can't hack it up there" or whatever. It's not about not hacking it. There's categories. You can see how people are used and not used but in the end it's the exact same story as before. As much as you want to say NXT has changed it is very much the same thing. If you remember my time there I worked with Sami Zayn, Finn Balor, Kevin Owens. I worked with all these guys who ended up winning the NXT championship and then going up to RAW or Smackdown. That's the story of my career, I've never been NXT Tag champion, NXT champion, Intercontinental Champion, WWE champion any of these things, but I've also worked with everyone who has.
Dream may have the North American championship, which is great. It wasn't around when I was there, which is kind of the reason why I want to go back and get it. I'm used to this position, and that spot, and it feels very familiar. I'm very comfortable there.
Would winning the North American championship on Saturday put a bow on your NXT career or is it just the beginning?
I'm kind of deciding that myself. Around WrestleMania time I was doing some inner thinking, looking at the landscape, just kind of thinking about everything. Dango still isn't back, which is big because we were having a blast. Him getting injured derailed a lot of stuff.
So while I was floundering for the last year, I was thinking what do I want to do here? Is NXT an option? I'm only 31 years old. It's not like I'm looking to transition into a coach, or agent or retire anytime soon. I've been very fortunate with injuries. I'm healthy, I feel great, the things I do in the ring don't feel shaky. I don't know if its wrapping a bow on anything, it just might be another tab in the book. When I came back to NXT I want to leave it open-ended. If I win the North American Championship, why stop there? The NXT championship is a thing that's always eluded me as well so I don't want to put a cap or anything or say it's a one-time appearance. If I come back, and give everyone a reminder of what exactly I can do and who Tyler Breeze is then we kind of go from there.
It's really not up to me whether I get utilized a certain way or not. I can just show what I can offer, see if the crowd, the fans want it. If they want more of it or reject it. I can only do so much. This is where I either sink or swim myself and I wouldn't have it any other way.
So after Saturday, whether you stay in NXT or not, what's next for Tyler Breeze?
This isn't one of those things where I'm a nostalgia act do that for the next 30 years of my life. I'm not going to do that. I'm taking everything that you knew and everything that you've seen and adding new stuff to it. I have a different look, a bit more attitude and, in reality, you're looking at how in four years I'm a whole different person. I've grown up. As much as it's the same it's different. In terms of maturity, how you deal with people, the company everything. And my mindset changes. Going into this match and into this Takeover, which I think my last Takeover was Respect with Apollo Crews, I'm a totally different person and a very different performer. There is no reminiscing, there's excitement for what's to come and I'm not limiting it. If anything this is just a preview of what we can do.
NXT TakeOver: XXV will stream live this Saturday at 7 p.m. EDT on the WWE Network.