Jaden Smith Congratulates 'Boyfriend' Tyler, the Creator For Grammy Win
Tyler, the Creator wasn't the only one thrilled for his big win at the 2020 Grammy Awards. Jaden Smith, who claims to be the rapper's "boyfriend," was also excited to see Tyler take home an award during Sunday's ceremony.
Tyler won the Best Rap Album award for his 2019 hit Igor, beating out nominated albums from rappers including J. Cole, Meek Mill, YBN Cordae and 21 Savage. Smith was quick to give him a shout out on Twitter. However, he raised a few eyebrows with his message after he implied having a romantic relationship with Tyler.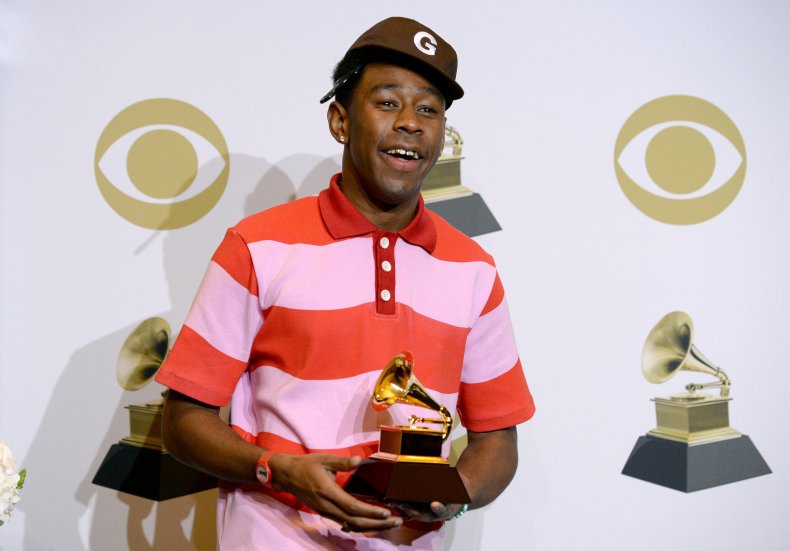 "My Boyfriend Just Won A Grammy," Smith tweeted.
This isn't the first time the ERYS rapper has referred to Tyler as his boyfriend. At the 2018 Camp Flog Gnaw festival—Tyler's annual music and arts festival held in Los Angeles—Smith paused his performance and told the crowd he and Tyler were dating while Tyler watched in the audience.
"I just wanna say Tyler, the Creator is the best friend in the world," Smith said. "And I love him so f**king much. and I wanna tell you guys something, I wanna tell you, Tyler doesn't wanna say, but Tyler is my mother f**king boyfriend and he's been my motherf**king boyfriend my whole life."
Smith followed up with the claim in a Twitter post days later, writing, "Yup @tylerthecreator I Told Everyone You Can't Deny It Now."
The 21-year-old eventually deleted the tweet, but not before Tyler, 28, replied. "Hahaha you a crazy n***a man," he wrote.
Smith doubled-down on the claim during an interview with Beats 1 Radio in November. "I recently said that Tyler, the Creator is my boyfriend, and that's true," he said, adding, "So, just so you know."
Fans were just as amused by Smith's post on Sunday as they were when he first claimed to be dating Tyler.
At the Grammys, Tyler brought his tearful mother on stage to help him accept the award, during which he thanked his fans for accepting "all the crazy stuff I do."
"I never fully felt accepted in rap and stuff, so for y'all to always stand by me and get me here I really appreciate that," he said.
Tyler also gave a shout out of his own to singer, rapper, songwriter and super-producer Pharrell Williams, who he claimed inspired him to remain true to himself.
"And I don't know if he's here but I really want to thank Pharrell Williams, because, again, growing up feeling left to center to a lot of stuff that I saw on TV, that man has allowed me to be comfortable with myself and has opened up doors that you guys cannot imagine, before I met him and when I met him, so thank you P. I love y'all," Tyler concluded.